Lamar Odom Reportedly in Talks to Sign with Los Angeles Clippers
June 25, 2012

Jeff Gross/Getty Images
It appears that Lamar Odom may be headed back to Los Angeles after all, just not to the team you might have expected.
Update: Tuesday, June 27th at 12:19 a.m. ET
Rumors of the Clippers' interest in Odom continue to heat up. According to ESPN's Marc Stein, a third party may have to be involved in order to make this deal a reality:
Yet the deal, sources said, could hinge on the willingness of a third team to take on the contract of Clippers veteran guard Mo Williams, which would allow the Dallas Mavericks to send Odom to the Clippers with no significant money coming back to the Mavericks.
According to Stein, the Mavs have a Friday deadline to buy out the last year of Odom's deal for $2.4 million. Time is of the essence, and it will be interesting to see if the Clippers will be able to land Odom before he slips into free agency.
-----------End of Update--------------
According to RadarOnline.com staff, the former Laker (and Clipper) is in the midst of negotiations with the Los Angeles Clippers:
"Lamar's agent is in talks with the Clippers," a source close to the NBA star told RadarOnline.com. "He and Khloe are thrilled that he'll be returning to the team and that they will get to stay in LA and be close to their families."
In order to sign him outright, the Clippers will likely need to make use of a cap exception that would pay Odom significantly less than the $8.9 million he was paid last season.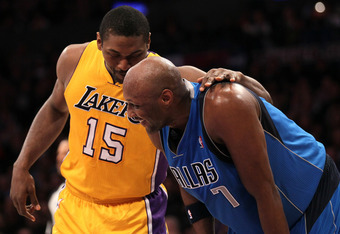 Stephen Dunn/Getty Images
After a subpar season in which the versatile big man did anything but increase his market value, a pay cut was almost assuredly in the offing. Odom might even benefit from a one-year deal that would allow him to prove himself before pursuing a long-term deal in the summer of 2013.
On the other hand, the 32-year-old may be content to play out a few years at a reduced rate for the peace of mind alone. Needless to say, he never adjusted to life away from Los Angeles this year.
In fact, he had easily the worst season of his career and averaged just 6.6 points over the course of 50 games before Mark Cuban had finally had enough.
Only one year ago, though, Odom had the most efficient shooting season of his career in what would become his final tour with the Lakers. There's little doubt that a change of scenery and relocation back to Los Angeles will go a long way in re-establishing the forward's career.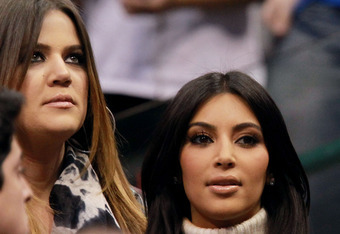 Ronald Martinez/Getty Images
Odom would presumably take on the role played by veteran Kenyon Martin for the latter half of this season. Martin is a free agent this summer, and there haven't been any indications he'll return.
In fact, Broderick Turner of the Los Angeles Times thinks otherwise:
Veteran Kenyon Martin's preference is to be a starter. He wanted more playing time than he got; Martin probably will move on.
Martin could be a grittier defender, but Odom is the better all-around player—at least, he was while playing for the Lakers.
Khloe Kardashian Odom's other half passes well for a big man, and that could enable him to play some minutes at both forward positions so that he's not entirely stuck behind Blake Griffin. Odom's size and his ability to rebound could even earn him some minutes in the middle behind DeAndre Jordan.
Nothing is official yet, but this is certainly an arrangement that makes sense both on and off the court.
At the very least, Odom will be one step closer to the reality-television empire of which he's become a totally bizarre bit player. With promising opportunities like that, who needs more than a mid-level exception anyway?