Columbus Blue Jackets: Is Sergei Bobrovsky Really the Answer in Net?
June 25, 2012

Rob Carr/Getty Images
It was no secret around the NHL that the Columbus Blue Jackets were in the market for a veteran goaltender this offseason.
Former Calder Trophy winner Steve Mason has had three consecutive seasons of inconsistency, and the Blue Jackets were through with the idea that he was the future for the franchise in net.
Names like Vancouver's Cory Schneider and Roberto Luongo, Los Angeles' Jonathan Bernier, and Boston's Tuukka Rask were all names that were brought up as possible targets for the Jackets via trade or free agency.
However, one name that was not mentioned much as a possibility was the Philadelphia Flyers' youngster Sergei Bobrovsky.
Apparently, Columbus had a lot of interest in the Russian as on Friday, the team dealt three draft picks to the Flyers in exchange for the 23-year-old netminder.
Bobrovsky was thought to be the Flyers' future in net after a stellar rookie season in 2010-11. However, an inconsistent postseason that year led Philadelphia to go shopping in the offseason. They ultimately signed Ilya Bryzgalov last summer to a massive nine-year deal, sending "Bob" to the bench.
In his second season, this time as the backup, Bobrovsky put up so-so numbers with a 14-10-2 record and an unimpressive save percentage of .899, allowing a little over three goals a game.
Looking at the stats from the last season brings about a very crucial question in Columbus, is Bobrovsky truely the answer in net?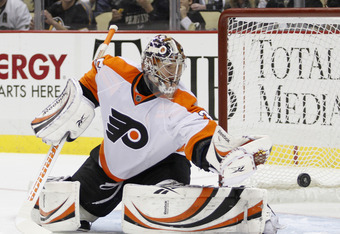 Justin K. Aller/Getty Images
Bobrovsky was clearly not the top goaltender in the trade or free agent market this offseason, and the Jackets could have acquired a better goalie in the unfortunate, but inevitable trading of Rick Nash.
However, before the competition for the top available players even began, Columbus traded for a still unproven youngster.
Weren't the Jackets trying to acquire a proven goaltender because their previous unproven youngster could not cut it?
This season is a make-or-break season for general manager Scott Howson, and he cannot afford to make such a risky move.
If Bobrovsky puts up similar numbers to last season, Howson can pretty much start updating his resume, because he will be looking for a new job.
The Jackets had plenty of options available to them this summer in net, and yet, Howson shows his hand early. Howson also believes that the combo of Bobrovsky and Mason is good for the team moving forward.
Would you be okay with a goalie pairing that posted a combined 30-36-5 record last season, with an average goals against average of 3.21? Not many teams in the NHL would.
The acquisition of Bobrovsky does not answer the question for the Jackets in net; it only creates a similar dilemma.
But who knows, without the pressure that comes from being a goalie in Philadelphia on his shoulders, Bobrovsky's numbers may improve next year.
However, Columbus does not have the time or the patience for another building project in net.
They need to drastically improve from last year or else the fans will be asking the same questions next year, along with looking for a new general manager.