Power Ranking All 30 NBA General Managers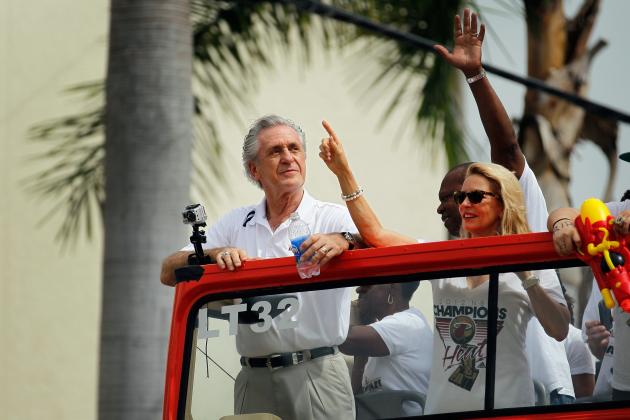 Joe Raedle/Getty Images

You have problems if you aspire to be a general manager in the NBA.
As fun as it may seem to create your personal roster via trades and signings, you also have the pressure of spending millions of dollars in search of the perfect fits to make your team competitive.
Most everyone outside of that team's fanbase doesn't have a clue what your name is, yet the pressure to sign, draft and trade players rests firmly on your shoulders.
Look at San Antonio Spurs GM R.C. Buford: He's been there for three championships and hardly anybody knows who he is outside of San Antonio.
Here, we will take a look at Buford, as well as the league's 28 other general managers, and rank them from worst to first.
Begin Slideshow

»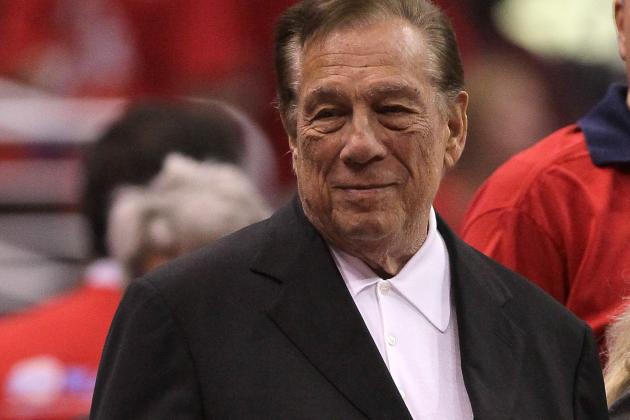 Stephen Dunn/Getty Images

The Los Angeles Clippers have been without a general manager since allowing Neil Olshey to take the same job with the Portland Trail Blazers.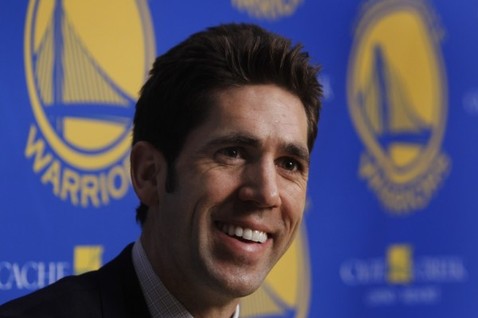 Photo via San Francisco Chronicle
Promoted to general manager in April of 2012, former sports agent Bob Myers will be given a chance to show off his basketball knowledge in the NBA draft this Thursday.
With four picks at their disposal, the Warriors have the opportunity to upgrade several positions or possibly make some noise with a draft-day trade.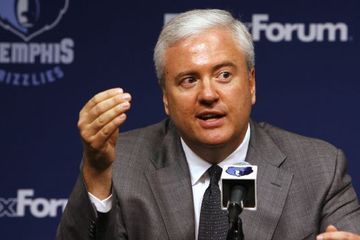 Photo courtesy of MemphisSport.com
He traded Pau Gasol for Kwame Brown, Javaris Crittenton, Marc Gasol and two first-round draft picks that would later turn out to be Donte Greene and Greivis Vasquez.
While Marc has panned out nicely, nobody knew that when the trade happened in 2008. People just thought of Marc Gasol as the younger, inferior brother of Pau.
Even today, this is widely perceived as one of the worst trades to ever go down in professional sports.
So he got Zach Randolph. Guess what else he did? Help draft Hasheem Thabeet with the No. 2 pick. Wouldn't the Grizzlies look a lot better with James Harden at shooting guard?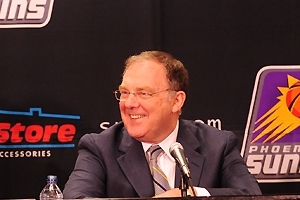 Barry Gossage/NBAE/Getty Images
Mostly recognized as an agent for NBA players like Ray Allen and Grant Hill, Lon Babby has been the President of Basketball Operations for the Phoenix Suns since the summer of 2010.
Babby has a tall order on his plate this upcoming offseason. He will have to make some significant moves in order to keep Steve Nash in Phoenix, or else the point guard who has led the Suns to past success will end up leaving for a team with championship aspirations.
Since taking over his job for the Suns, Babby has overseen the signings of Josh Childress and Shannon Brown, and traded for Marcin Gortat.
"Meh" would be the best way to describe his first two years with the Suns.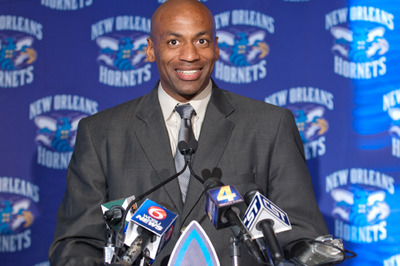 Getty Images (h/t CBS Sports)
The general manager of the New Orleans Hornets since 2010, Dell Demps will probably be most remembered for trading franchise cornerstone Chris Paul.
It's not Demps' fault that Paul wanted to leave. Sure, Demps didn't exactly give many reasons for Paul to stay in the one year he watched him play, but neither did his predecessor who had overseen Paul since 2005.
Demps at least managed to score Eric Gordon, Chris Kaman, Al-Farouq Aminu and a lottery pick out of the deal. Aminu may not pan out and Kaman was a short-term rental, but Gordon is set to take the league by storm after spending most of last season injured.
Demps will look to continue building this Hornets team with the No. 1 and 10 picks in the draft.
David Sherman/NBA Getty Images (h/t Fox Sports North)
David Kahn certainly didn't leave a good taste in fans mouths with his handling of the 2009 draft.
With three picks in the first round, Kahn used each and every one of them on point guards. He started off with Ricky Rubio at five, Jonny Flynn at six and finally Ty Lawson at 18th. Flynn would be the only one to play immediately the next season, with Rubio staying in Europe and Lawson getting traded for Luke Babbitt.
Kahn deserves credit for taking Rubio, but sticking with Flynn while giving away Lawson was a foolish move to say the least.
His best moves have been drafting Derrick Williams and Nikola Pekovic, although signing J.J. Barea for far more than what he was worth hurts his standing on this list.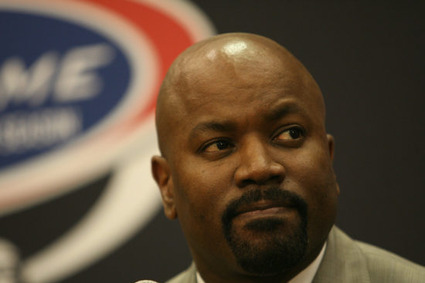 Photo courtesy of NorthJersey.com
There may not be a hotter seat in sports than the one Billy King is sitting on.
The expectations are for King to re-sign Deron Williams and then make the team into a playoff contender.
Talk about pressure.
Prior to joining the Nets, King was the general manager of the Philadelphia 76ers from 2003-2007.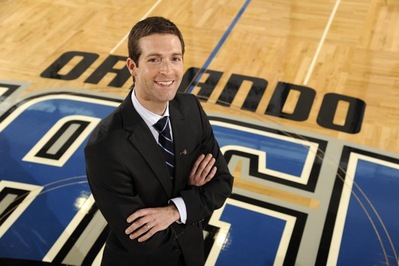 Photo courtesy of ESPN.com
Spending his previous seasons in the front offices of the San Antonio Spurs and Oklahoma City Thunder, Rob Hennigan will have to get to work quickly for the Orlando Magic.
His first order of business? Either convincing Dwight Howard to stay or figuring out a way to get the most out of him if it comes down to a trade.
Hennigan doesn't deserve that. But neither did Otis Smith—and look at him now.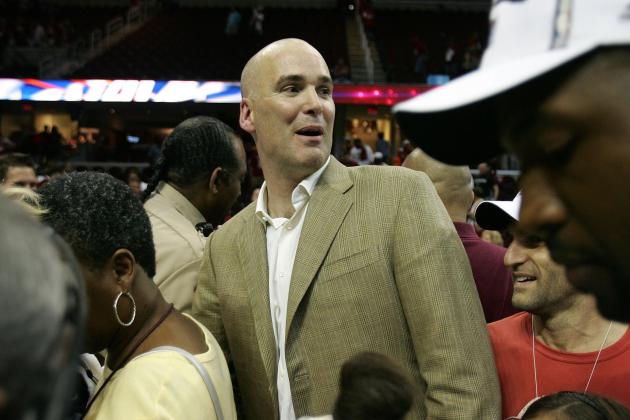 Jonathan Daniel/Getty Images

The most recently hired general manager in the NBA, Danny Ferry was picked up by the Atlanta Hawks just this week.
Ferry's resume includes working with the Cleveland Cavaliers from 2005 up until 2010, six days before LeBron James left for Miami.
During his time with Cleveland, Ferry didn't give James many reasons to stay in Cleveland. He helped acquire combo guard Mo Williams, and a pair of aging players in Antawn Jamison and Shaquille O'Neal, with the belief that they were a sufficient supporting cast.
History tells the story of what happened shortly thereafter.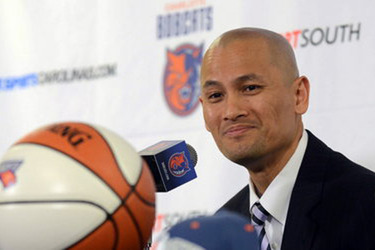 Photo courtesy of Charlotte News-Observer
Rich Cho was at the helm for the historically bad Charlotte Bobcats of 2011-12, but that does not tell the full story.
Cho has been in the game since 1995 and was the assistant GM for the Seattle Sonics/Oklahoma City front office from 2000-2010. The Sonics made the playoffs only twice during his tenure, while the Thunder had their first playoff season in his final year with the organization.
Most notably, Cho was present for the selection of Kevin Durant, Russell Westbrook, James Harden and Serge Ibaka—every key cog in the current OKC powerhouse.
Cho joined the Portland Trail Blazers in 2010 and was fired a year later before being picked up by Charlotte.
Good luck, Rich.
Photo courtesy of AP.org
The general manager of the Cleveland Cavaliers since June of 2010, Chris Grant is essentially Barack Obama to the mess that George Bush (or Danny Ferry in this case) left behind.
No LeBron James? No chance, right? Well, not really, because Grant has actually pulled off some moves that should make the Cavaliers relevant within the next few seasons.
With the luck of a few ping pong balls, Grant was given the opportunity to draft Kyrie Irving with the first pick and Tristan Thompson with the fourth pick last year. Irving is the reigning Rookie of the Year, while Thompson has shown flashes of being a strong post defender.
There isn't much else in Grant's career to make note of as he continues embarking on a huge rebuilding process with the Cavaliers franchise.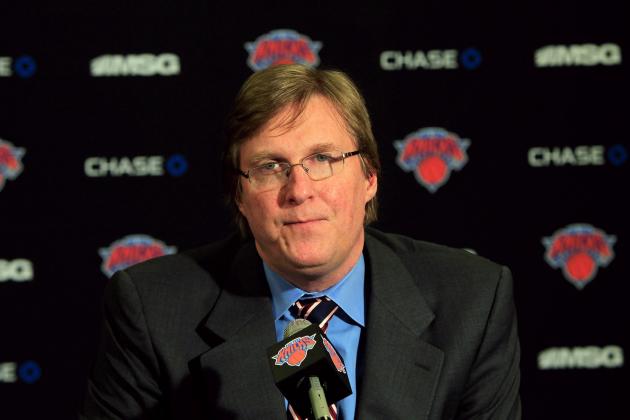 Chris Trotman/Getty Images

He can't be much worse than Isiah Thomas, right?
Wrong. Before being fired as GM of the Toronto Raptors, Glen Grunwald reportedly turned down a trade that would have brought both Steve Nash and Dirk Nowitzki north of the border.
Since being promoted to GM in June of 2011, Grunwald has saved some face by striking gold with Jeremy Lin off waivers and signing Tyson Chandler for just over $15 million per season.
Now let's see if he can keep Carmelo Anthony and Amar'e Stoudemire happy for the long haul.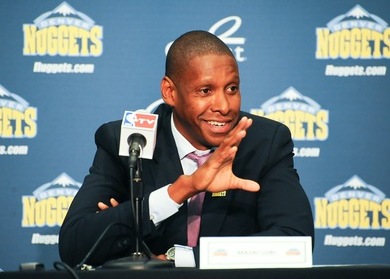 Photo courtesy of ProSportsColorado.com
The first Africa-born general manager in U.S. professional sports, Masai Ujiri is currently running a Denver Nuggets squad that may have more potential than any other NBA team.
This team is absolutely stacked with talent thanks to Ujiri. He's been general manager since 2010 and overseen trades such as Nene Hilario for JaVale McGee and signings such as Al Harrington, who suddenly became one of the league's top sixth men last season.
Ujiri is also the head of the leading program that promotes basketball throughout Africa, just in case you have yet to realize how awesome he is.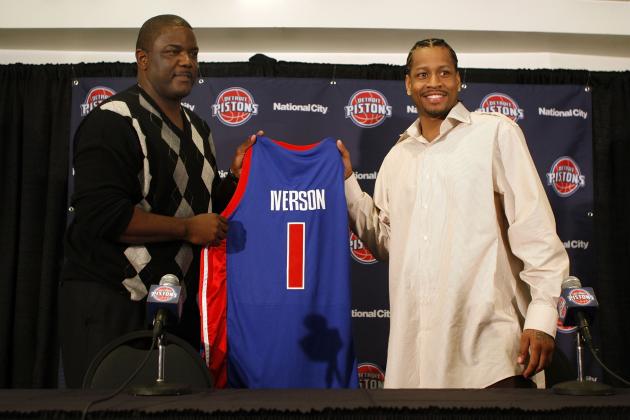 Gregory Shamus/Getty Images

It's going to be a long road of rebuilding for Joe Dumars, and that's only if the Detroit Pistons allow him to stick around.
Dumars, who was the NBA's Executive of the Year in 2003 and the GM of a championship team in 2004, has had his ups and downs with the Pistons.
He's made impressive signings like Chauncey Billups for next to nothing, but has also signed Ben Gordon and Charlie Villanueva for too much. He's drafted Tayshaun Prince and Greg Monroe, but also infamously drafted Darko Milicic and Arron Afflalo, before sending Afflalo off in a trade to Denver, where he would flourish.
He also traded away Grant Hill for Chucky Atkins and Ben Wallace, and also broke up the dynasty when he traded away Billups for Allen Iverson.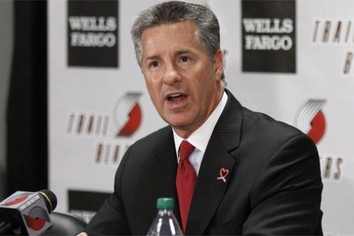 Mike Tokito/The Oregonian
Neil Olshey became the Portland Trail Blazers' GM on June 5 after spending the previous two seasons as the Los Angeles Clippers' GM.
In his time with the Clippers, Olshey oversaw the drafting of Blake Griffin and DeAndre Jordan, as well as the deals that brought in Caron Butler, Mo Williams and Chris Paul.
Basically, this guy was the savior for the Clippers. Portland may have just found the perfect man for a rebuilding job.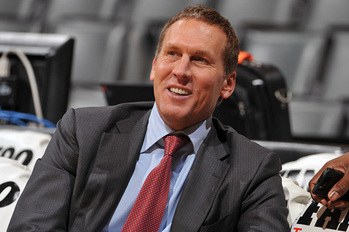 Garrett W. Ellwood/NBAE via Getty Images
Let's get this started on the right foot.
Bryan Colangelo's first trade as acting GM for the Toronto Raptors was giving up famed draft bust Rafael Araujo for Robert Whaley and Kris Humphries. Not much, but it at least rid the team of the stench that Araujo's game left behind.
He also traded Charlie Villanueva for T.J. Ford, and then traded Ford for Jermaine O'Neal three years later.
Colangelo earned Executive of the Year in 2007 for turning a 27-55 Raptors team into an Atlantic Division champion and playoff contender.
However, he couldn't do enough to keep Chris Bosh around, and the Raptors currently find themselves in a rebuilding stage with DeMar DeRozan and Andrea Bargnani leading the way.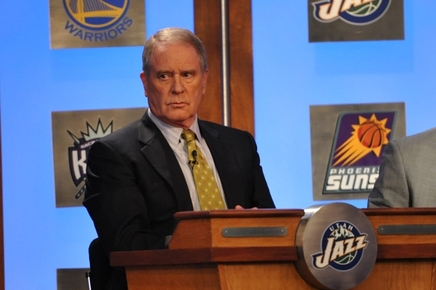 Photo by Jesse D. Garrabrant/NBAE via Getty Images
Kevin O'Connor made the wise decision to draft Deron Williams in 2005, only to trade him away to the New Jersey Nets in return for Devin Harris and Derrick Favors.
O'Connor was also forced to oversee the resignation of longtime Utah Jazz coach Jerry Sloan.
He's just trying to make do now; he recently hired Tyrone Corbin as the team's newest head coach and has brought in the likes of Al Jefferson, Paul Millsap and Gordon Hayward to form one of the league's strongest frontcourts. With Favors and last year's No. 3 pick, Enes Kanter, coming off the bench, the Jazz continue to boast an extremely talented frontcourt.
However, O'Connor has yet to bring any sort of playoff glory to the Jazz outside of a lone conference-finals appearance.
He'll need to find replacements for Devin Harris and C.J. Miles in the backcourt if he is looking to make the Jazz into any sort of contender.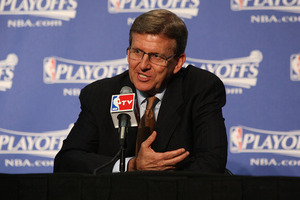 Photo by Gary Dineen/NBAE via Getty Images
The NBA Executive of the Year for 2010, John Hammond has helped the Milwaukee Bucks reach heights they had not seen in awhile.
Joining the team as its GM in 2008, Hammond has brought the Bucks to the postseason, drafted Brandon Jennings, signed John Salmons and just recently flipped the oft-injured Andrew Bogut for volatile shooting guard Monta Ellis.
Hammond has done some great work with the Bucks, but the team still has a ways to go before even thinking about becoming a championship contender in an Eastern Conference that's currently dominated by two teams.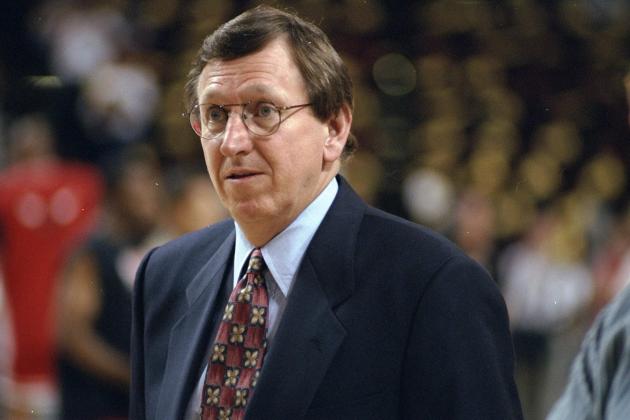 Jonathan Daniel/Getty Images

The NBA Executive of the Year in 2002 after overseeing the success of the New Jersey Nets, the Philadelphia 76ers hired Rod Thorn prior to the start of the 2010-11 season.
However, he only received exclusive rights as a GM when he was promoted to the position in October 2011 following the resignation of Ed Stefanski.
Thorn hasn't done much worth noting with the Sixers. Philadelphia hasn't made many moves since allowing Thorn to become the GM, although it's going to be extremely interesting to see how he builds off the team's success following a seven-game series with Boston in this year's semifinals.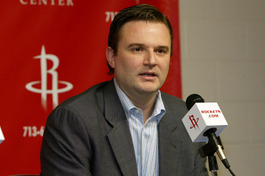 Bill Baptist/Getty Images
The Houston Rockets' GM since May 2007, Daryl Morey better start making some moves that will enable his team to make the postseason again, or he will most likely be let go.
These current rumors swirling around Dwight Howard are a start.
Morey has made some fair moves in the past, but his claim to fame is utilizing the system featured in Moneyball, which uses the analysis of advanced stats to make the right trades and signings.
Until it pays off in the form of playoff appearances, however, Morey isn't going to find himself any higher than where he is currently listed.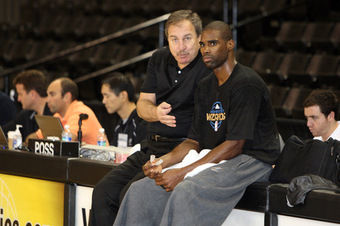 Ned Dishman/NBAE via Getty Images
Ernie Grunfeld has had shades of brilliance and pure ignorance since joining the Washington Wizards as their GM in June 2003.
Grunfeld completed the genius move of signing free agent Gilbert Arenas and then combined him with Caron Butler, Antawn Jamison and Brendan Haywood to form one of the league's most dangerous cores.
Butler was acquired by trading away Kwame Brown. That move alone speaks volumes about the job Grunfeld has done with the Wizards.
The Wizards would remain a playoff contender during that group's tenure together, before injuries and weapon issues eventually broke the team apart.
Since then, Grunfeld has been attempting to rebuild a new team, and he's done a great job in doing so. He drafted John Wall, traded JaVale McGee for Nene Hilario and got rid of one of the league's worst contracts in Rashard Lewis, acquiring Trevor Ariza and Emeka Okafor in the process.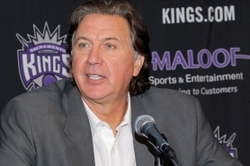 Getty Images (h/t ProBasketballTalk)
A two-time NBA Executive of the Year since joining the Sacramento Kings in 1994, Geoff Petrie has overseen some of the best and worst teams to inhabit the NBA.
Petrie is credited with creating one of the league's most feared teams in the form of the Kings of the early 2000s. That team, consisting of the likes of Chris Webber, Peja Stojakovic and Mike Bibby, was constantly revered as a championship contender. However, numerous unsuccessful seasons, injuries and age were starting to play too large a factor.
Petrie is now attempting to make things work with an inexperienced roster. He made a brilliant move by drafting Tyreke Evans fourth in 2009, as well as drafting DeMarcus Cousins in 2010. While Cousins has dealt with problems involving Kings personnel, he's also becoming one of the league's top big men.
Evans may also become one of the league's top point guards if he can maintain a healthy status and consistently achieve the type of success he saw in his rookie season.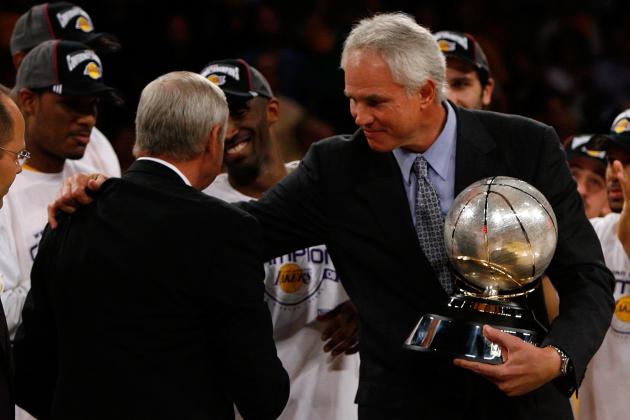 Jeff Gross/Getty Images

A part of the Los Angeles Lakers' front office since 1986, Mitch Kupchak only became the team's official general manager in 2010, once Jerry West quit.
It's been a roller-coaster ride since.
While Kupchak has his feats—bringing in Pau Gasol for next to nothing; trading Brian Cook and Maurice Evans for Trevor Ariza—he's also had his fair share of moves that he'd probably prefer not to mention.
Trading Shaquille O'Neal, for one. While it was definitely the right move to trade away O'Neal and not Bryant, the Lakers still probably could have gotten more than Lamar Odom, Caron Butler and Brian Grant out of the deal. Odom ended up being the only player out of those three to contribute to the team in the long run, while Butler and Grant would be gone within a year.
Still, the Gasol trade was legendary, even if it did mean Memphis Grizzlies GM Chris Wallace had completed the worst trade in NBA history.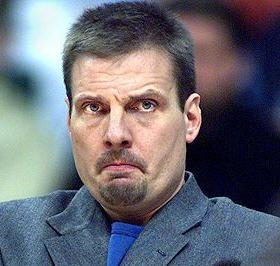 Paul Buck/AFP/Getty Images
Donnie Nelson has been involved with the Dallas Mavericks since 2008.
In that time, the Mavericks have become perennial championship contenders—which finally made it all worthwhile in 2011, when a championship actually came to fruition—as they regularly win at least 50 games in the regular season.
Among his best moves includes creating the championship roster you saw last year. He brought in Shawn Marion, Caron Butler, Brendan Haywood and, most importantly, Tyson Chandler, who ended up becoming the team's anchor on defense and the main reason the Mavericks would become the 2011 NBA champions.
Additionally, he played a key part in trading Robert Traylor for Dirk Nowitzki.
He's also made some questionable moves, however. Trading Antawn Jamison for Devin Harris, Jerry Stackhouse and Christan Laettner probably wasn't the best move. Neither was allowing Steve Nash to walk to Phoenix, inevitably creating their playoff rival as a result.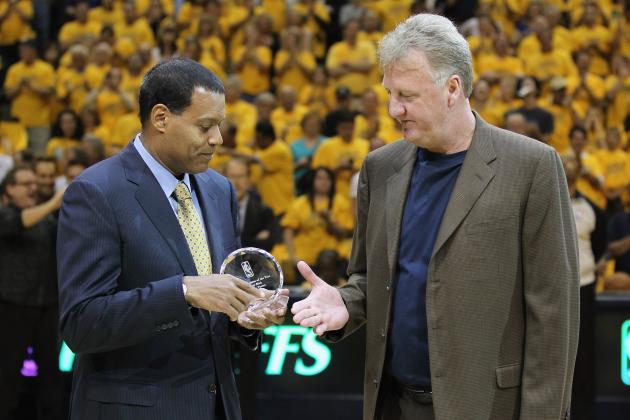 Jonathan Daniel/Getty Images

The league's most recent Executive of the Year, Larry Bird received the award after making good on his promise to go out and get the players needed to turn the Indiana Pacers into a contender.
After finishing 37-45 and earning an eighth seed the previous season, Bird went out and got the free agents necessary to actually convert the Pacers into a team that seriously has a chance to make deep postseason runs.
In one offseason, Bird traded Kawhi Leonard for George Hill and acquired All-Star power forward David West. Prior to that, he also drafted 7'2" center Roy Hibbert and athletic swingman Paul George, and traded for former New Orleans Hornets point guard Darren Collison.
Surrounding Danny Granger with those players has been a tremendous upgrade from the previous Pacer teams that had struggled since the departure of guys like Jermaine O'Neal, Stephen Jackson and Al Harrington.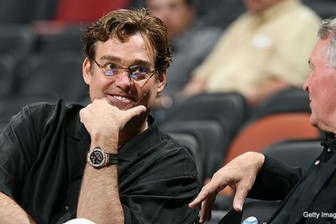 Garrett W. Ellwood/NBAE via Getty Images (h/t Fox Sports Southwest)
In 1999, R.C. Buford was named the San Antonio Spurs vice president/assistant general manager.
The Spurs must have known what they were doing because it's led to nothing but success.
Since Buford was given a more significant say in the organization, he's won three titles as GM and overseen the drafting of guys such as Manu Ginobili and Tony Parker, as well as the recent influx of role players who have managed to become significant on the current Spurs team.
We can't give Buford too much credit, however. Role players like Gary Neal and Danny Green don't just become important parts of a team simply because they sign with San Antonio. They're huge role players because reigning Coach of the Year Gregg Popovich turned them into the players they are today.
Props to Buford, but he doesn't get all of the props for the overall success of this team over the past decade.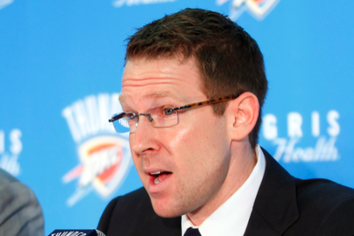 Layne Murdoch/Getty Images
The guy has created one of the league's youngest and most potential-laden rosters—what else is there to ask for?
Since taking over duties as GM for the Oklahoma City Thunder in 2007, Sam Presti has overseen the drafting of Kevin Durant, Russell Westbrook, James Harden and Serge Ibaka, and traded Jeff Green for Kendrick Perkins.
It took Presti barely four years to create one of the league's most viable starting lineups. Solid work, if I do say so myself.
Presti also hired Scott Brooks after P.J. Carlesimo wasn't getting the job done, and he also traded away Ray Allen and Rashard Lewis to begin the phase that led to this team becoming a championship contender.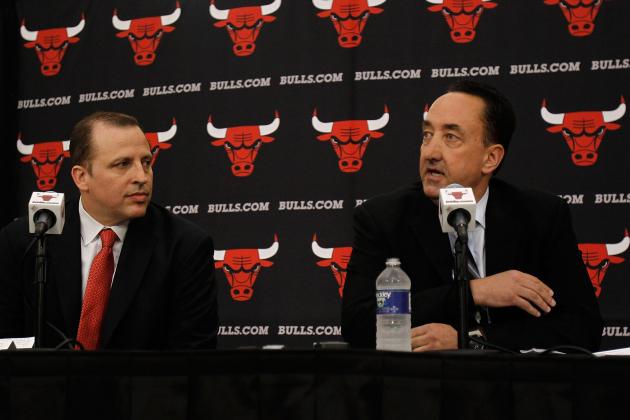 Jonathan Daniel/Getty Images

Thank goodness he took over for John Paxson; otherwise, we might have seen Derrick Rose getting traded for someone far inferior.
Paxson was relieved of his duties as GM in 2009, but they should have let him go sooner. Anyone that trades away LaMarcus Aldridge for Tyrus Thomas doesn't deserve to be around any NBA team.
Gar Forman has picked up the pieces significantly for Paxson. While Paxson made the obvious decision of drafting Rose with the first pick, he was the mastermind behind selecting Taj Gibson, Kirk Hinrich and Ben Gordon, too.
Forman also made signings that resulted in Carlos Boozer, Kyle Korver, Ronnie Brewer, Omer Asik and C.J. Watson, essentially the Chicago Bulls' supporting cast you see now.
He won Co-NBA Executive of the Year in 2011, because signing those five are the equivalent to landing the top-three free agents and making it to the NBA Finals in the same season.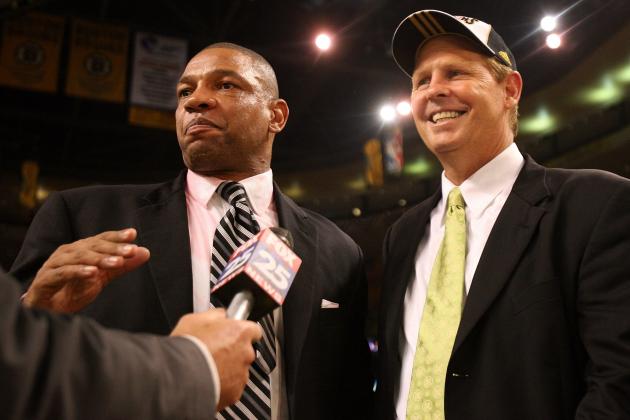 Elsa/Getty Images

An absolute genius, Danny Ainge was able to create one of the greatest three-man cores in NBA history by trading away barely anything.
However, it hasn't all been good. Since joining the team in 2003 as its director of basketball operations, Ainge has done outlandish deals such as trading away Antoine Walker in one of the biggest trades in NBA history. The Celtics got Qyntel Woods, Curtis Borchardt and two second-round picks that wouldn't pan out.
Of course, he made up for all of it in the summer of 2008 by trading Ryan Gomes, Gerald Green, Al Jefferson, Theo Ratliff, Sebastian Telfair and two future first-round picks for Kevin Garnett. A month earlier, he traded Jeff Green, Wally Szczerbiak and Delonte West for Ray Allen and Glen Davis.
The core of Allen, Garnett and Paul Pierce would win a title in their first year together, and they remain contenders even today.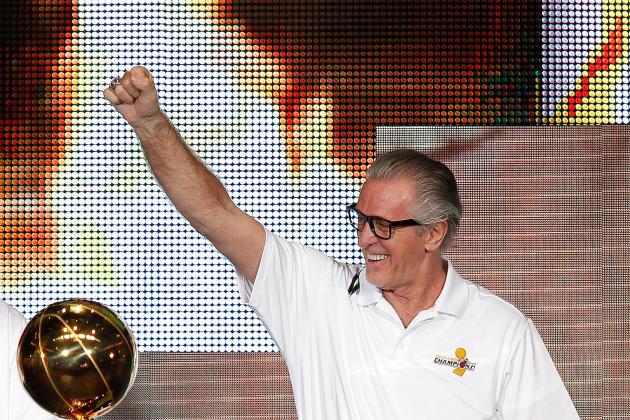 Mike Ehrmann/Getty Images

LeBron James, Chris Bosh and Dwyane Wade are on the same team.
He's good at what he does.