NBA Rumors: J.R. Smith Declining Option Will Lead to Breakup with Knicks
June 25, 2012
Chris Trotman/Getty Images
Perhaps no team has more questions heading into the offseason than the New York Knicks. A slew of impending free agents and a rash of injuries have left the roster depleted, and the team's lack of cap space has left them in a very precarious situation.
Now, according to Howard Beck of the New York Times, J.R. Smith will decline the $2.5 million player option of his contract and enter unrestricted free agency. While Beck reports that Smith "intends to re-sign for longer term with New York," there is simply no way J.R. Smith will be a Knick at next season's opening tip.
Smith undoubtedly wants a pay raise, as he had the option to stay on the Knicks at a discount. While this is understandable, particularly if it is true that Smith was broke prior to signing with New York, the termination of his contract also spells the end of J.R.'s brief tenure at Madison Square Garden.
In addition to Smith, New York has five key players who are entering free agency this summer. Jeremy Lin, Steve Novak and Landry Fields are all free agents, although the trio have Bird Rights, meaning the Knicks can exceed the salary cap to retain them. However, Smith, Baron Davis and Jared Jeffries are all unrestricted free agents and played crucial roles on the team last year.
Even a major-market team like the Knicks cannot retain every piece they want, and if they do go over the cap limit to re-sign Lin, Novak and Fields, they will still have to deal with the reserve point guard spot behind Lin and another 2-guard until Iman Shumpert is fully healthy.
The last full deal Smith signed with an NBA team was a 2008 deal with the Denver Nuggets that netted him $17.3 million over three years. Because of his ability to spread the floor and score in bunches, a new deal will likely be around the same figure, as there are plenty of teams that need instant offense and perimeter scoring.
Last season, Smith averaged 12.5 points, 3.9 rebounds and 2.4 assists as New York's sixth man, coming off the bench to keep the offense running smoothly and often spending most of his time on the court with the ball in his hands. These numbers aren't staggering, but they will undoubtedly earn Smith some sizable multi-year offers from teams that are looking for quality guard depth.
The reality, though, is that even if Smith is willing to accept a deal in the $4-5 million neighborhood, the Knicks should let him go. Smith was a bargain at $2.5 million because of the production he gave them, but he can be too detrimental to a team's success to give a long-term deal, especially a team as fragile as the New York Knicks.
J.R. Smith has a well-earned reputation as a ball-stopping guard. He's a serial over-dribbler who will whittle the shot clock down and force up a bad, low-percentage shot. The Knicks already have Carmelo Anthony, who can cause the offense to stagnate with his reliance on isolation plays, and it is simply not a good idea to have two players that stop ball movement, especially if one of them is a franchise player and the other is a first guard off the bench.
The Knicks were playing their best basketball under Mike Woodson when they ran a mix of Jeremy Lin pick-and-roll plays with Amar'e Stoudemire and Tyson Chandler, in addition to running clear-out plays for Anthony. J.R. Smith simply does not fit into the offensive equation long term.
As long as Shumpert is mostly the same after his ACL tear, then the Knicks have their starting 2-guard. He is a far better defensive player than Smith thanks to his quickness, length and relentlessness; Smith was effective at times, but he simply did not bring the necessary effort on every possession. Shumpert can also spend time running the offense, which Smith had trouble doing effectively when called upon.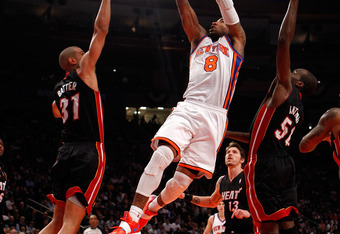 Jeff Zelevansky/Getty Images
Although Landry Fields may not have the talent of J.R. Smith, he is a young, hard-working player who fits in with the team's culture and can play solid defense. In addition, he is more versatile, being able to step outside and hit the three, slash to the rim and rotate between the shooting guard and small forward spots to back up Carmelo Anthony.
Should the Knicks look to free agency to grab another shooting guard and let Fields walk, they can do better than Smith. The New York Daily News reports that the team is extremely interested in Ray Allen, O.J. Mayo and Jason Terry, all established players who could be great additions to the team. Though Mayo and Terry are a little far-fetched due to their likely asking price, Allen would be a great addition.
As long as he is willing to take a pay cut, bringing Ray Allen in would be much better for New York than keeping J.R. Smith on the roster. Allen is not only a better shooter, but he's demonstrated better shot selection, he is a better team player, he's more consistent defensively and he has the kind of championship pedigree that the team is undoubtedly seeking.
There is no questioning J.R. Smith's talent and that the team would have loved having him back on the second year of his contract, but since Smith opted out, he has played his last game in a New York jersey. It appears safe to say that Smith will be breaking plays and launching 30-footers in another uniform come October.