Michigan Football: What Will It Take for Wolverines to Earn BCS Title Shot?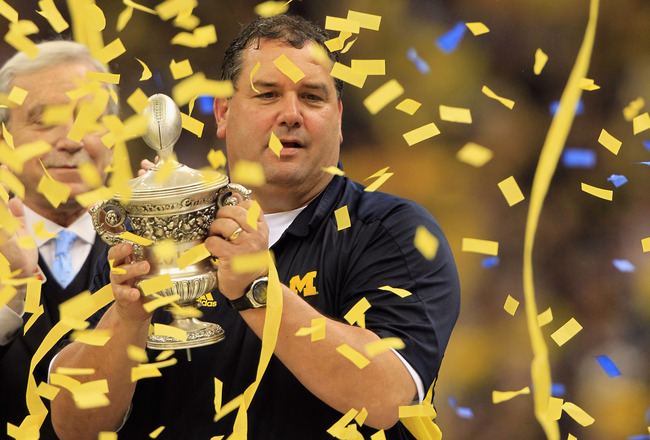 Matthew Stockman/Getty Images
Some people think that despite their tough schedule, Michigan has a reasonable shot at a national title. Others think that this team has little to no shot at one. I would have to agree with the latter.
However, I will take a look at what needs to happen for Michigan to at least compete for a national title. Again, I'm not saying that they will, but instead what all has to happen for them to have a chance.
A Victory over Alabama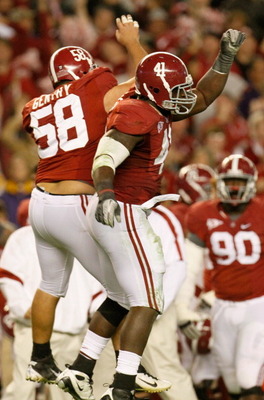 Kevin C. Cox/Getty Images
I think that this one is a must. What if Michigan loses to Alabama, but then goes on to win the rest of their games? Would they make the national title then?
It's obviously possible, but a victory over Alabama would secure it. With the brutal schedule that Michigan has, there's no way they wouldn't make the title game if they went undefeated.
Beating Alabama is the first step.
A Big Ten Championship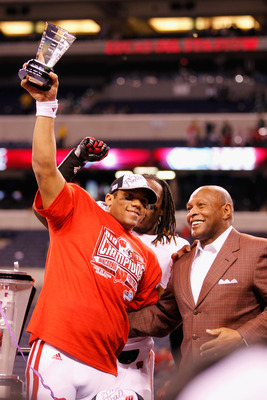 Gregory Shamus/Getty Images
Wisconsin won the first Big Ten title game last year. Michigan definitely needs to do it in 2012 if they want a shot at a national title.
Chances are that Wisconsin will be making another appearance; however, this Wisconsin team figures to take a big step back from the 2011 version.
Michigan not only needs to win the Legends Division, but the whole conference as well to even be in the discussion for a national title. I don't think we'll see the whole Alabama/LSU situation again like we saw last year.
Things Need to Go Right for Both the Offensive and Defensive Lines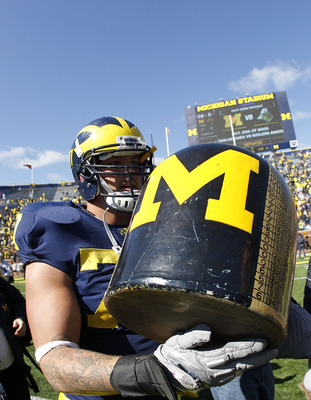 Leon Halip/Getty Images
How well the offensive and defensive lines play is obviously critical to any team's success, but it is even more crucial for this 2012 Michigan team.
The offensive line has absolutely no depth, and therefore must stay healthy. If one or two starters go down with injury, it could be disastrous. If they can stay healthy the entire year, though, much like they did in 2011, this unit should be fine.
The defensive line, on the other hand, needs to be completely rebuilt. Three new faces will be starting, and there will be plenty of youth and inexperience across this line. These men will need to grow up fast, seeing as how they are going up against Alabama's monstrous offensive line in Week 1.
For Michigan to have any hope of a national title in 2012, the starters on the offensive line need to stay healthy, and the new faces on the d-line need to grow up fast and produce.
The Ball Needs to Bounce Their Way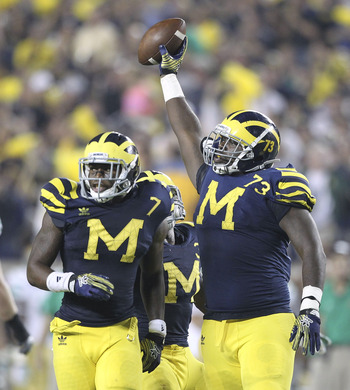 Leon Halip/Getty Images
Let's face it: Michigan got extremely lucky at times in 2011. The Notre Dame game comes to mind right away, as some still can't believe they won that game.
The Sugar Bowl also comes to mind, as Michigan played terrible for the majority of that game, yet was able to win when a few lucky bounces went their way.
Are they going to catch as many breaks in 2012? Well, it seems like every national champion has a few moments throughout their season where they get extremely lucky, or catch a huge break.
Michigan is certainly going to need to receive a number of breaks in 2012 to compete for a national title. "Sometimes it's better to be lucky than good" is a much-used, but very true statement.
Mental Toughness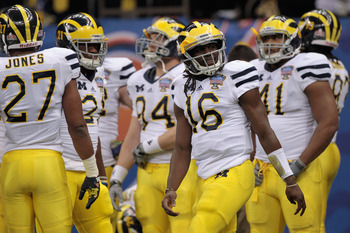 Chris Graythen/Getty Images
This 2012 team is going to have to be mentally tough. They will face plenty of adversity, and it will be interesting to see how they handle it.
There will be an extremely strong group of seniors who will be the ones in charge of keeping this team together when adversity does hit.
How will the team respond to night games in venues such as Notre Dame and Nebraska? Or a prime-time affair in Dallas against Alabama? Or a trip to Columbus, Ohio?
Stay tuned.
Keep Reading

Michigan Wolverines Football: Like this team?