15 NBA Stars We'd Love to See Debate Skip Bayless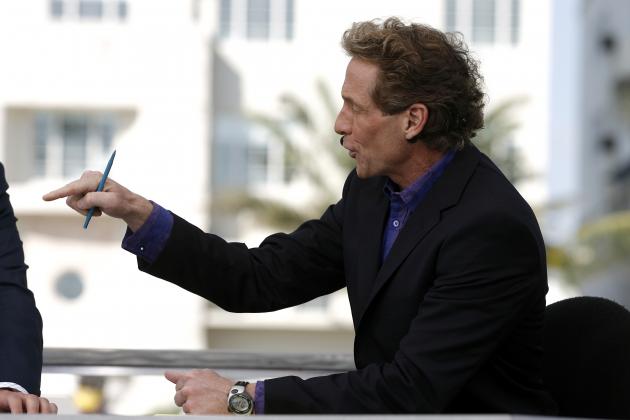 Allen Kee/Getty Images

Earlier this week, Dallas Mavericks owner Mark Cuban tore ESPN on-air personality Skip Bayless to shreds.
Cuban correctly called Bayless out for how little he knows about basketball and the manner in which he builds his arguments. Bayless tends to make broad generalizations and often fails to give credit to those who deserve it.
Seeing Cuban destroy Skip in their debate was pure entertainment. It would be even better to see Skip debate against the athletes that he talks about everyday.
It would bring nothing but joy to viewers to see one of the players that Skip wrongly criticizes so often demolish him in a debate. They could school Skip with their basketball knowledge and easily prove how the majority of his criticisms are incorrect and stupid.
Here's a list of 15 players who would make ESPN's First Take must watch television.
Begin Slideshow

»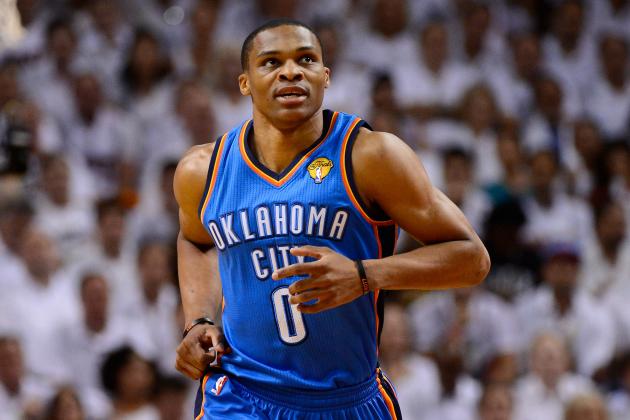 Ronald Martinez/Getty Images

Russell Westbrook proved in the NBA Finals that when he is playing well, he is virtually unguardable. That isn't enough for Skip Bayless though as he has continued to chastise Westbrook for his decision making.
Westbrook did the turn the ball over 3.6 times per game, but all of the good that he does easily cancels out his turnovers. Granted, Westbrook must take care of the ball better, but he is an asset to the Thunder at all times.
Westbrook said the following when asked about the constant criticism that comes out of Bayless' mouth. From newsok.com:
"I don't really have no thoughts," Westbrook said when asked about Bayless. "That's his job. He's supposed to do that. He finds somebody that he wants to talk about and that's what he does. He (doesn't) play so he don't know. That's how I look at it. I really don't care. Nobody says that honestly. But when it comes to him, he doesn't play. He hasn't played in the NBA. So he wouldn't know what's going on at all.
What Westbrook said makes perfect sense and Bayless hasn't done himself any favors in building his credibility. However, it would be interesting to see if Westbrook would snap back at Bayless if he was sitting right across a table from him on national television.
Ronald Martinez/Getty Images

The biggest story of this year's NBA regular season was the Dwight Howard situation. In training camp, Howard requested a trade to either the Brooklyn Nets, Dallas Mavericks or Los Angeles Lakers. Chaos ensued.
As of now, Howard is still a member of the Orlando Magic but that may change before next season starts.
Skip Bayless has gone on record staying that Howard will sign an extension with the Magic. This hasn't happened and even the most optimistic of Magic fans don't expect that to happen.
During the regular season, Bayless tweeted that he would take San Antonio Spurs star Tim Duncan rather than Howard for this season. When Howard was told about that, he said the following via The Orlando Sentinel:
"Well Skip Bayless can call me out a million times. I don't think he's ever put on a jock strap, stepped on the floor and played any type of basketball. That's his job. That's their job to criticize players. Only people that we have to listen to are our coaches. Those are the guys that get paid to make us better players. Skip, he's called everybody out. He's called LeBron "Prince James." LeBron's one of the best players in the world, and he doesn't think LeBron is good. It's somebody just talking."
That quote perfectly sums up how Howard feels about Bayless. It would be nothing short of amazing to see him tell Bayless his feelings to his face.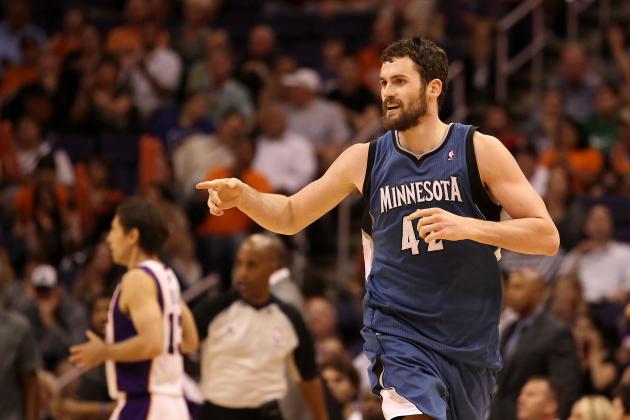 Christian Petersen/Getty Images

Kevin Love will be in the MVP conversation next year, as he would have been in that conversation this year if it weren't for a concussion that he suffered.
He is a superb stretch power forward and is adept at sinking three-pointers and rebounding equally. Love is the second dominant power forward that the Minnesota Timberwolves have had in the last fifteen years, with the other being Kevin Garnett.
However, Skip Bayless doesn't think that Love is a franchise-changing player, which is utterly ridiculous.
There are more organizations in the league that would be willing to sign Love to a maximum contract than those who wouldn't. The Timberwolves will certainly do all they can to retain Love, and it would be a surprise at this point if Love didn't make Bayless eat his words, and proves that he is indeed a franchise altering player.
Love is intelligent, well-spoken and is an excellent basketball player. He would have no problem talking circles around Bayless, as he shows everyone watching that he is much smarter than ESPN's on-air personality.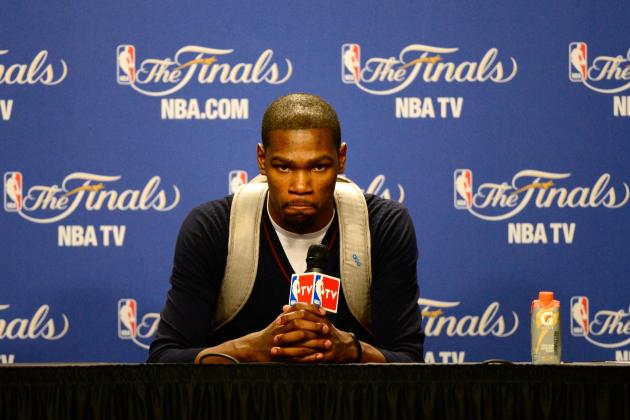 Ronald Martinez/Getty Images

Kevin Durant is the most talented scorer in the NBA, as evidenced by his three consecutive scoring titles. Durant is undeniably the best player on the Oklahoma City Thunder, but he doesn't always take the most shots.
It is not unusual for starting point guard and fellow superstar Russell Westbrook to take more shots than Durant
This has often incensed Skip Bayless, which has led him to wildly criticize Westbrook for not knowing his place on the team. The fact of the matter is that the Thunder desperately need Westbrook to score because outside of Durant and James Harden, the team struggles to score.
Westbrook's production is crucial to the success of the team, but somehow Bayless finds away to criticize him for shooting too much.
Durant said the following about Bayless after the latter ripped Westbrook. Via Yahoo:
"Like I said, that guy doesn't know a thing. I don't think he watches us. I think he just looks at the stats. And traditionally, a point guard is not supposed to take more shots than everybody else on the team. But we're better when he does do that and he's aggressive. And I'm better when I'm out there facilitating, rebounding, defending and being more efficient on my shots with less shots."
Imagine how entertaining it would be to see the humble Durant shut Bayless up. All we as an audience can do is to hope it happens.
Durant could also clear up what Bayless said about LeBron playing harder than him in the finals, which was absurd, even for Skip.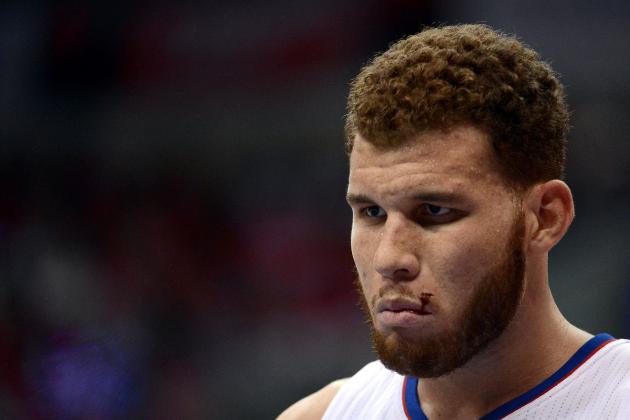 Harry How/Getty Images

Blake Griffin was the first overall selection in the 2009 NBA Draft and his arrival started the change of culture that the Los Angeles Clippers have undergone.
In many ways, the arrival of Griffin made the Clippers relevant for the first time in a long time. Before Griffin, the Clippers were the joke of the league and were among the worst franchises in all of sports.
Now that Griffin has been joined by perennial all-star Chris Paul, the sky is the limit for the Clippers next season.
All of Griffin's success hasn't impressed Skip Bayless enough though. Bayless feels that Griffin is overhyped and that he gets by solely on his athleticism.
Although Griffin is an unbelievable athlete, he is also a very good all-around basketball player.
Are their aspects of Griffin's game that need work?
Absolutely, but you can say that about every 23-year-old in the NBA.
The truth is that Griffin's dunks are exceptional but he also manages to score in other ways around the hoop.
Griffin is among the best power forwards in the league, yet Bayless gives him very little credit as a basketball player.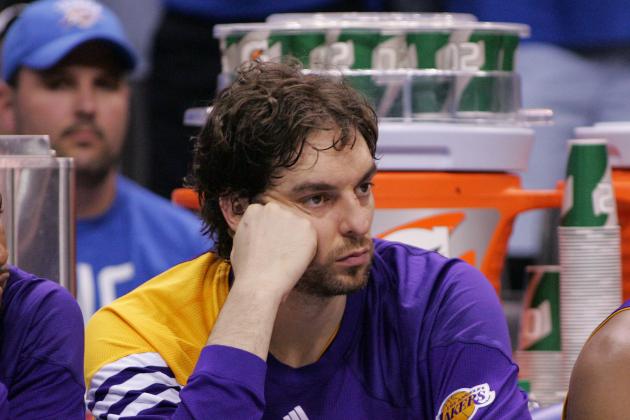 Brett Deering/Getty Images

Pau Gasol has been called soft due some of his past performances and Skip Bayless is among those who have uttered that sentiment about the two-time NBA Champion.
However, the claim simply isn't true.
Was Gasol soft when he out-played Dwight Howard in the 2009 NBA Finals?
No.
Was Gasol soft when he banged around with Kevin Garnett and the Boston Celtics in the 2010 NBA Finals?
Certainly not.
The truth is that Gasol is best when he is in the post, not on the wing where new Los Angeles Lakers head coach Mike Brown had him situated for most of this season.
Gasol is far from a soft player, as he has proven on multiple occasions. He is one of the most talented offensive big men in the league and is always solid on the glass. Simply put, you don't win two NBA titles if you are a soft player. Perhaps one day Bayless will understand that.
Gasol is well educated, and has proved that he has good manners, but an opportunity to jump down Bayless's throat might be too much for the Spaniard to resist.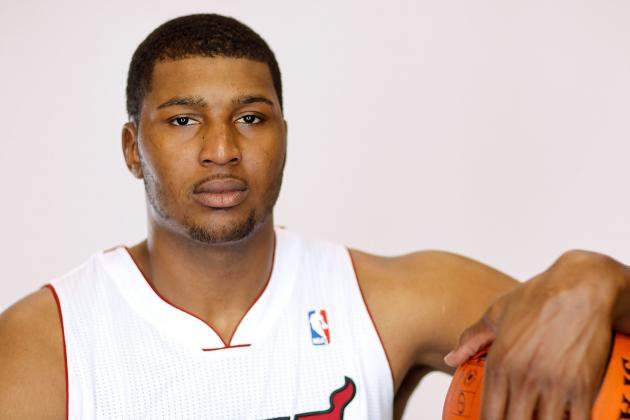 Mike Ehrmann/Getty Images

Dexter Pittman proved in the Eastern Conference semifinals that he will do whatever it takes to protect his teammates from any form of abuse.
In that series, Pittman threw a blow at Lance Stephenson's throat after Stephenson made a choking gesture aimed at LeBron James in Game 3. Pittman made it clear that he has no patience for those who disrespect his team mates.
It would be very entertaining to see the 6'11", 285 pound Pittman sit across the table from Skip Bayless as he talks his usual nonsense.
Would Bayless have the guts to take his usual smack about LeBron James with his team mate glaring at him from across the table?
Pittman may not have been a very important member of the Miami Heat's championship team, especially when Chris Bosh returned from injury, but there is no doubt that he would shut down Bayless's unfair criticism of LeBron.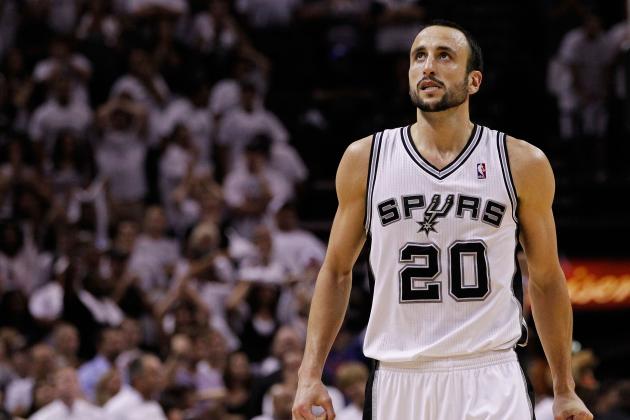 Tom Pennington/Getty Images

It is no secret that Skip Bayless has a huge man crush on Manu Ginobili.
Ginobili is a great player, as evidenced by his three NBA titles. He was a key contributor on each of those teams and deserves his fair share of credit for those results.
However, Ginobili is not one of the best closers of all time, a thought that Bayless has shared in the past.
If Ginobili ever decided to go on ESPN's First Take, Bayless would probably have a heart attack due to the presence of the Argentine.
Skip does in fact love Ginobili that much, because anyone that doesn't wouldn't even consider uttering his name in the same sentence as Michael Jordan.
An appearance from Ginobili would make Bayless act like a schoolgirl in the third grade in the presence of their crush.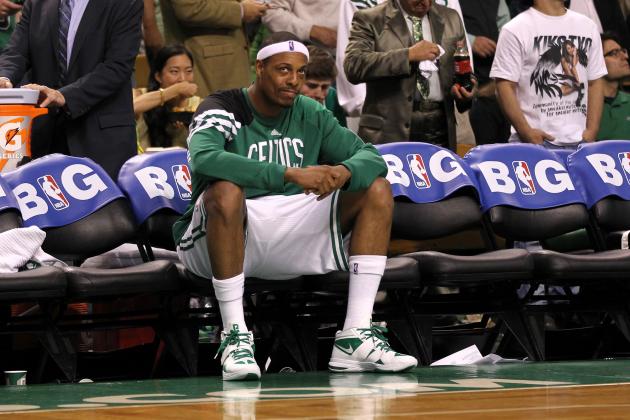 Jim Rogash/Getty Images

Skip Bayless was very critical of Paul Pierce after Game 2 of the Eastern Conference semifinals.
Pierce is a no-nonsense type guy and if he had his chance to sit across from Skip Bayless he would tell him how it is. He wouldn't pull any punches and by the end of their debate, viewers would actually start to feel bad for Bayless.
The veteran with the nickname "The Truth" would explain to Bayless in an honest and up-front manner just how stupid the majority of his ideas are.
Pierce is without a doubt one of the toughest players of his generation and he would have no issue chewing Bayless up and spiting him out on national television.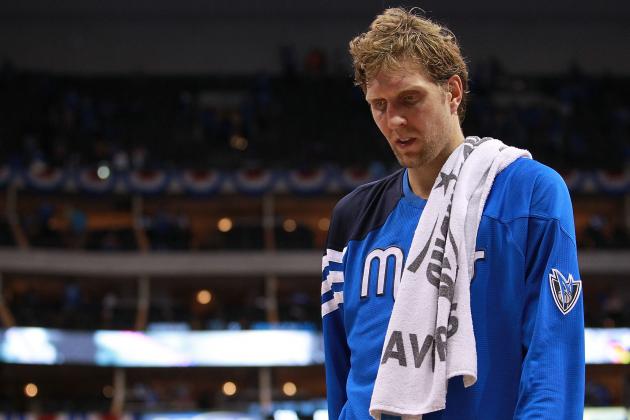 Ronald Martinez/Getty Images

Skip Bayless never gave last year's NBA Champions, the Dallas Mavericks, the credit they deserved.
For Bayless, it was all about how LeBron James faded away in the big moments and how James just didn't play his best basketball in the finals.
Apparently, Bayless thinks that James decided to just stop playing basketball in last year's finals and that the Mavericks' efforts had nothing to do with his lack of success.
Nowitzki, who was by far the best player in last year's finals, would certainly be able to set Bayless straight. He could explain to Bayless about all the different zones that the Mavericks had to employ to stop James and the rest of the Miami Heat.
Like Dallas Mavericks owner Mark Cuban did recently, Nowitzki would have no problem making Bayless look stupid as he properly explains how the NBA works.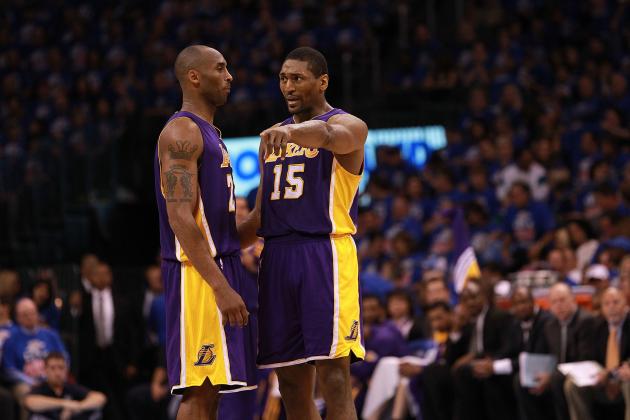 Ronald Martinez/Getty Images

Metta World Peace is among the most controversial players in the history of the NBA.
If you need proof of this, just take a look at his elbow to James Harden during this year's regular season or his role in the Malice in the Palace fiasco.
Peace has never been known to hold his tongue. Let us not forget that he was told reporters that he drank Hennessy at halftime of games.
Imagine what he would say to Skip Bayless when he gets out of line. Say what you want about Peace, but he always plays the game as hard as he can and doesn't do well with excuses and other hogwash.
There is no denying the fact that Peace would have no trouble telling Bayless how stupid some of his opinions are and that's probably one of the reasons that Peace hasn't joined the show yet.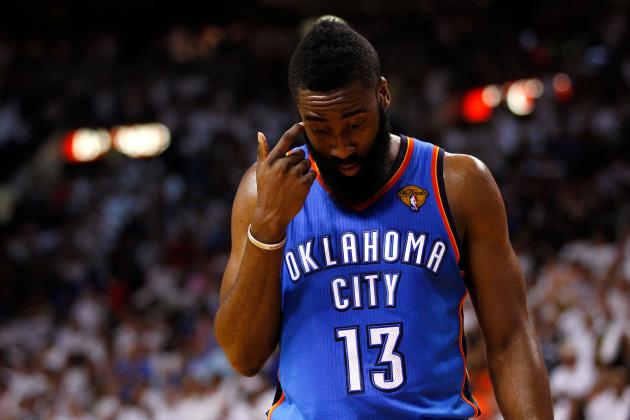 Mike Ehrmann/Getty Images

James Harden suffered a concussion when Metta World Peace elbowed him in the head at the end of the regular season. The elbow landed Peace a seven-game suspension, which caused him to miss almost the entire first round of the playoffs.
Skip Bayless feels that Harden is somewhat at fault for taking an elbow to the head. It should be noted that the elbow came after a play, when Peace wildly swung his elbows to celebrate a slam dunk.
Bayless said the following about how he felt about Harden's role in the event. Via newsok.com:
"I'm going to give Harden a little bit of the blame here," Bayless said. "James Harden is known to be a shrewd operator in the NBA already at a young age. He likes to get under the opponent's skin. He likes to get in Kobe's face. They got into it in Oklahoma City before the All-Star Game."
It only seems fair that Harden should get the opportunity to debate with Bayless about just how stupid his viewpoint is.
Harden got knocked to the floor after the play and Peace has no possible defense for his actions. As always, Bayless was simply taking a minority opinion to get a rise out of his audience. Now it's Harden's turn to make Bayless look silly in front of that same audience.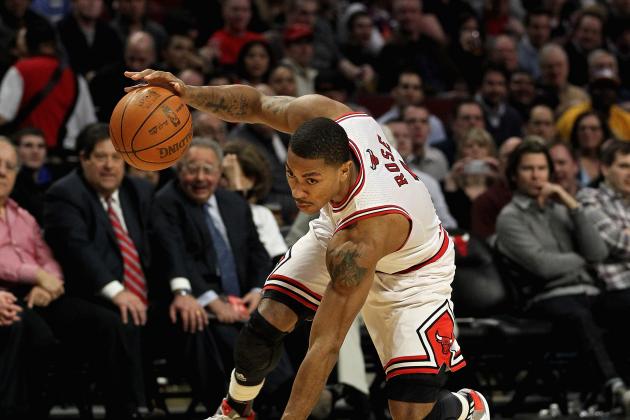 Jonathan Daniel/Getty Images

When Derrick Rose is healthy, he is one of the three best point guards in the NBA. He was awarded the 2011 NBA MVP for his efforts in leading the Chicago Bulls to the league's best record.
Rose is the unquestioned leader of the Bulls and is the definition of a humble, talented superstar. None of that can be argued with, but Skip Bayless manages to find ways to say illogical things about Rose.
In the past, Bayless has said that he doesn't love Rose on the floor. Somehow, someway, Bayless doesn't like what he sees from Rose on the floor.
It makes no sense, and there is no reason to further discuss this absurd theory, but it would be very entertaining to see the mild-mannered Rose debate with Bayless.
Honestly, anyone that has watched Rose play in the NBA has respect for the way he plays the game. Not only is he super talented, but he clearly has a deep passion for the game and is an absolute joy to watch.
This is just another example of Bayless saying something to get people to listen and respond to his garbage.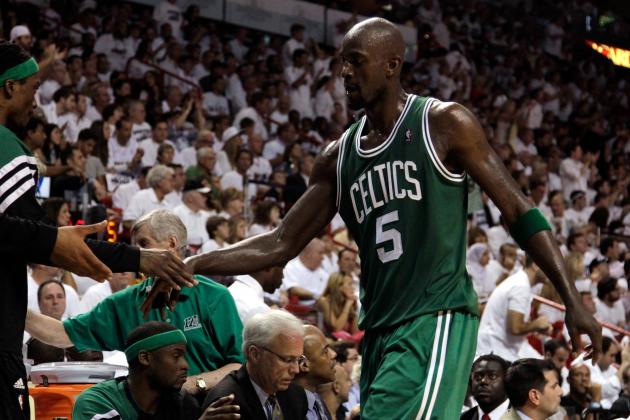 Mike Ehrmann/Getty Images

Kevin Garnett has never been known as the nice guy, but instead has earned a reputation as a tough, hard-nosed player who isn't to be messed with.
Garnett has always been known to be a trash talker and those skills would be on display if he joined Skip Bayless at the debate desk.
KG has been playing in the NBA for a very long time, as he was drafted way back in 1995. This has given him plenty of time to refine his trash talk, just in time for his debate with Bayless.
Will this debate take place?
Well, KG is coming to the end of his career and if he decides to pursue a career in broadcasting after his playing days are over, then an appearance on First Take wouldn't be all that unlikely.
Whether Garnett ever debates with Bayless is up in the air, but if it did happen, I would be worried for Bayless.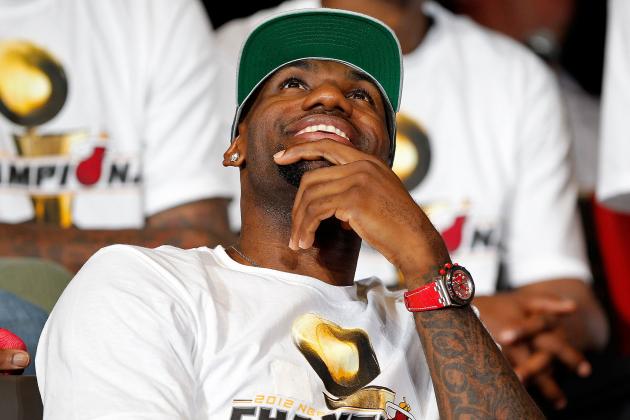 Mike Ehrmann/Getty Images

LeBron James facing off against Skip Bayless would be the definition of can't miss sports talk.
Bayless has been taking shots at LeBron for years. After every errant pass and missed shot, Bayless has been among the first to point the finger of blame in LeBron's direction.
Bayless is famous for claiming that LeBron would never win a ring. That matter is now resolved, as James is now an NBA champion and it would be a beautiful sight to see LeBron destroy Skip in a debate.
James is without a doubt the best basketball player in the world, as evidenced by his performance over the course of the postseason. Honestly, LeBron is too good of a player to have to deal with Bayless, but if he did take some time out of his day to debate with him, it would be spectacular.
Since his title, Bayless's criticisms of LeBron's flaws seem even more ridiculous than they used to.
It would be a sight for sore eyes to see LeBron shut Skip up once and for all.