Boston Celtics: How Important Is Jeff Green to Rajon Rondo's Future?
June 25, 2012
Elsa/Getty Images
If the Boston Celtics know what's best for point guard Rajon Rondo, they will be sure to re-sign free agent Jeff Green this offseason.
The Celtics were left without Green for the entirety of last season after he was diagnosed with an aortic aneurysm and had to undergo season-ending surgery.
According to ESPNBoston.com's Chris Forsberg, the Celtics' president of basketball operations Danny Ainge admitted that renouncing any of the team's top free agents including Green is unlikely.
He also went on to hint that re-signing Boston's free agents may be the worthwhile move, considering the slim free agent market this offseason.
This strategy will be worthwhile not only because of the meager talent in free agency, but also because Green is outright essential to the future of one of the league's more talented point guards. 
These are the three reasons why Green will be integral to the success of Rondo in the league.
Help Rondo in the Scoring Department
The Celtics play quality defense and have a plethora of experience, yet Boston has been unable to produce offensively at times. In turn, Rondo has been that one player to step up the scoring when passing is what makes him such a dominant point guard.
Jeff Green, a player who was accustomed to starter's minutes prior to being traded to Boston, is a proven scoring threat who can do so in a variety of ways. He has worked significantly on his jumper and is constantly a player to watch for when driving to the rack.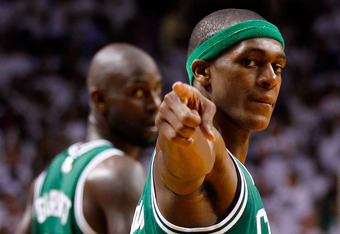 Mike Ehrmann/Getty Images
In the 2.5 years as a member of the Oklahoma City Thunder, Green averaged no less than 15.1 points per game in any season. With the Celtics, his average dropped to 9.8 points, yet it was done in roughly 14 minutes fewer per game.
Not to mention, with Boston Green shot a career-best 48.5 percent.
The Big Three are only getting older. Even if Ainge decides to retain all three players, there will certainly be opportunities for Green to be further integrated into the offense. If Allen or Garnett are to depart, then the scoring role would then be that much more significant for this talent.
Make no mistake about it, this is a player with enough experience to produce offensively on a relatively consistent basis. His scoring will allow Rondo to continue running this team with ease and, in turn, improve Rondo's game.
Rondo is a much more prominent scoring threat when he is not the team's first option scoring-wise. Bringing back Green could well avoid making Rondo a No. 1 option on offense.
Plays Tough Perimeter Defense for the Team, Relieves Rondo's Duties
At times last season, it seemed as if Rajon Rondo was alone on an island playing defense on the three-point line.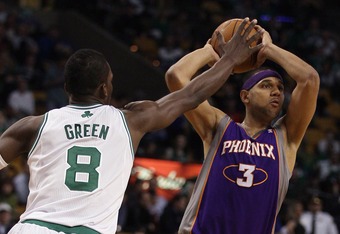 Elsa/Getty Images
Aside from Rondo, there is little to no defensive presence from the rest of the team on the perimeter. The Celtics will need a boost in this regard in order to become that much more of a dominant team defensively—and could well use Green's ability to do so.
In the 2012 Eastern Conference Finals against the Miami Heat, it was Brandon Bass challenging LeBron James on the perimeter in Game 6 and Game 7. As a result, James was able to get clean looks to the basket and make a mockery of the Celtics' perimeter presence.
Green would have well been called upon to take on James in that situation, not Bass, had he been healthy. The Celtics undoubtedly would have benefited from his quicker, more aggressive defense.
Going forward, bringing Green back will make this team significantly stronger on defense and will give Rondo more freedom to roam both in and out of the paint. In turn, Rondo will be significantly less fatigued on the offensive end as well.
Soon Enough, Big Three Era Will Be Over
Whether it's next season or the season afterwards, soon enough Kevin Garnett, Paul Pierce and Ray Allen will all be out of Beantown or retired from the game.
Considering Green is one of the younger, more promising talents the team has, there is no reason for this team to give him up. Outside of Rajon Rondo, Boston will undoubtedly need to fill the major hole the departure of these three leaves.
Talent-wise, the Celtics are set to take a hit when the three leave. They will need Green to help lead the team with Rondo. His talent is undeniable, as is his experience as a starter in this league.
His scoring skills, ability to play solid perimeter defense and potential to fill the void the Big Three will create upon leaving make this talent a must-sign for Boston in 2012.