Wimbledon 2012: Latest News and Notes from All England Club
June 26, 2012

Paul Gilham/Getty Images
The 2012 rendition of Wimbledon at the All England Club started off just as the tennis world expected it to. There were a few unexpected twists and turns, but that always comes with a tournament like Wimbledon.
In case you missed some of the action, here are the latest news and notes from Day 1 at the All England Club.
The Plight of Venus Williams
The swift demise of Venus Williams has been quite sad for tennis fans to endure. She was once a living legend on the tennis court—and still can be considered one—but her current play hardly reflects that sentiment.
The elder of the two Williams sisters, Venus was bested by Elena Vesnina, 6-1, 6-3. She lost the first five games and missed her first five serves against the No. 79 player in the world. 
This wasn't the comeback that many thought we would see from Williams.
Roger Federer Rolls
Fed-Ex got off to a stellar start yesterday in London, throttling Albert Ramos, 6-1, 6-1, 6-1, to advance to Round 2 in straight sets. That was the perfect way for Federer to begin his quest for his seventh Wimbledon singles title. 
He couldn't afford a marathon match in the opener, nor can he afford the like later on. A possible semifinal matchup with Novak Djokovic is looming and Federer will need to do his best to avoid the fatigue factor that sets in toward the back end of the fortnight.
Upset Alert
No. 6 seed Tomas Berdych sufferer a heartbreaking upset to Ernests Gulbis in straight sets, 7-6 (5), 7-6 (4), 7-6 (4). He had the best chance of any to meet Djokovic in the quarterfinals, but those dreams were upended by the No. 92 player in the world.
The difference in this match was Gulbis' ability to finish the tiebreakers. There really isn't any way around that. Unfortunately for Berdych, we will not see him in the final like we did in his 2012 loss to Rafael Nadal.
American John Isner was ousted by Alejandro Falla, 6-4, 6-7 (7), 3-6, 7-6 (7), 7-5. That's a tough loss for Isner, especially because it came against a player who had lost 14-of-21 matches this year.
Isner hasn't made it passed the quarterfinals in his last five tournaments.
Djoker Gets the Job Done
Novak Djokovic had no problem with his first-round opponent Juan Carlos Ferrero. Djoker finished the Spaniard off in straight sets, 6-3, 6-3, 6-1. He has a second-round date with American Ryan Harrison.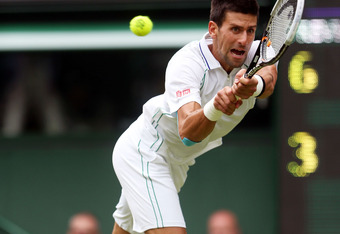 Julian Finney/Getty Images
The defending champion got off to a good start in the match and the tournament. He shouldn't have a problem with any of his future opponents until his prospective date with Roger Federer in the semifinals later in the tournament.
Sharapova Shines
Top-seeded Maria Sharapova made quick work of her first-round opponent, Anastasia Rodionova, in straight sets, 6-2, 6-3, to easily reach the second round.
Russia's biggest tennis star is looking to win her second straight Grand Slam singles title after running roughshod on the French Open field. Up next for Sharapova is Tsvetana Pironkova.
Tipsarevic Topples Nalbandian
Janko Tipsarevic knocked out David Nalbandian, who had made headlines after kicking an advertisement board into a line judge during the final at the AEGON Championships.
There were no such antics in yesterday's match that saw Tipsarevic win in straight sets, 6-4, 7-6 (4), 6-2.
Stay tuned for all the action still to come at the All England Club.