Ryan Suter: Pittsburgh Penguins Need Defenseman for Postseason Return in 2013
June 25, 2012

Christian Petersen/Getty Images
The Pittsburgh Penguins desperately need Ryan Suter to make a postseason return in 2013.
And according to Rob Rossi of the Pittsburgh Tribune-Review:
Their plan is to pursue the two top players on the market, Nashville defenseman Ryan Suter and New Jersey winger Zach Parise, sources told the Tribune-Review this weekend at the NHL Entry Draft.
With that, Suter would certainly be a great addition to the Penguins after a disappointing finish to a solid regular season. Let's take a look at why Suter fits the bill so well in the Steel City.
Postseason Exposure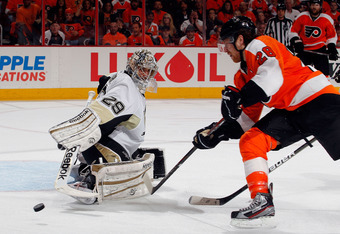 Paul Bereswill/Getty Images
In Round 1 of the 2012 NHL playoffs, the Pittsburgh Penguins lost to the Philadelphia Flyers 4-2. For the entire series, Pittsburgh was outscored 30-26 and allowed three-plus goals in five of the six games.
Considering how well the offense produced, you would think that 26 goals in six games are enough. Unfortunately, this was not the case, and the Penguins clearly need to upgrade. Ryan Suter can provide this aspect as he helped Nashville get past Detroit in the postseason.
There, the Predators limited the Red Wings to just nine goals in five games, and Detroit presented a top 10 offense heading into the postseason.
Average Goals Against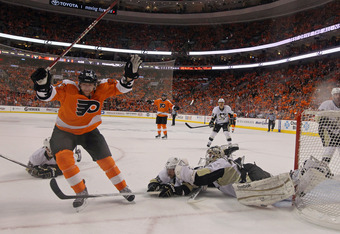 Bruce Bennett/Getty Images
During the regular season, the Penguins allowed an average of 2.66 goals per game (tied for No. 15 rank) and, as mentioned above, were dominated in the playoffs.
Also, Pittsburgh allowed the most goals of any team in Round 1 by a large margin, and it just goes to show that the more complete team will win. Despite the unwanted finish, this comes as good news for Penguins' fans, because Pittsburgh now is quite aware of what must get fixed.
The Penguins presented the NHL's best offense in 2011-12, averaging 3.3 goals per game, and were fifth in power play percentage (19.7). Therefore, as long as Pittsburgh gets even the most minimal of improvements on defense, the offense will take care of the rest.
Short-Handed/Power Play Goals
It may not be the most important of areas, but allowing short-handed goals can be incredibly frustrating for any team.
And when it's a team like Pittsburgh that allowed 10 short-handed goals (ranked No. 26), that only puts more pressure on the offense. Interestingly enough, the Penguins only allowed 33 power play goals (ranked No. 2), which is a credit to their discipline.
Pittsburgh ranked No. 12 in averaging only 10.73 penalty minutes per game, so upgrading the defense with Suter only enhances the Penguins' when they are vulnerable. As long as the offense remains elite, the Steel City will return to the playoffs and make a deep run come 2013.