Why Detroit Lions' Fans 2012 Expectations Should Be Super Bowl or Bust
Dave Reginek/Getty Images

Even with the off-the-field incidents that have plagued the Detroit Lions this offseason, there is no reason to not expect a Super Bowl run in 2012.
The Super Bowl and Detroit Lions. The two have been mentioned in the same sentence less than Tim Gunn and masculinity.
Not just over the last few years, but since the first Super Bowl was played January 15, 1967 in what was then called the AFL-NFL Championship Game.
Since then, metropolitan Detroit has enjoyed one NFL playoff victory and had to look to the USFL Michigan Panthers for its only source of professional football glory as it won the inaugural championship for the now-defunct league back in 1983.
But the times, they are a changin' and the Detroit Lions have become relevant when the discussions of Super Bowl and playoffs inevitably arise.
Is it just a fleeting dream, something that can never possibly come to fruition?
The answer for many of your parents is yes; to those who are less cynical, the answer is the very near future.
Like Robin Williams reminded his privileged scholars, Carpe Diem, seize the day!
Here are five reasons to worry less about 2013 and push all your chips in for the upcoming season…
Begin Slideshow

»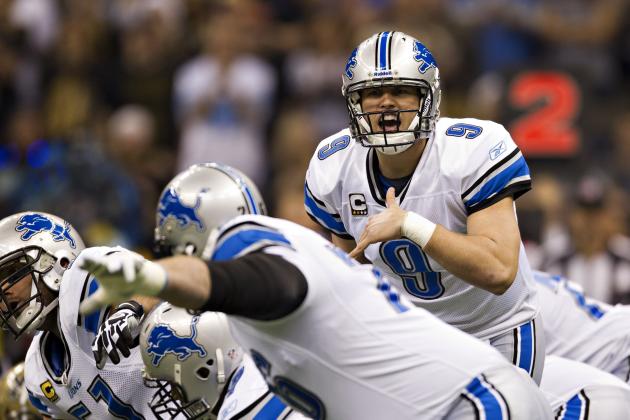 Wesley Hitt/Getty Images

This year, Matthew Stafford will begin his second full season under center, and if history has taught us anything, it's that elite quarterbacks do not need much seasoning.
Dan Marino, Ben Roethlisberger and Tom Brady all went to the Super Bowl in their second season in the league.
Eli Manning and Aaron Rodgers both hoisted the Lombardi Trophy after their third full year leading the offense.
Matthew Stafford has all the physical tools to win now, and expectations should reflect his superior talent.
The NFL has changed; there is no longer a steep learning curve for the best at the position. Patience for a five to six-year plan has gone the way of the floppy disk—it doesn't exist.
If Matthew Stafford is already elite, like many claim, then he should be ready to take his team to New Orleans this winter. Or at least get it out of the first round.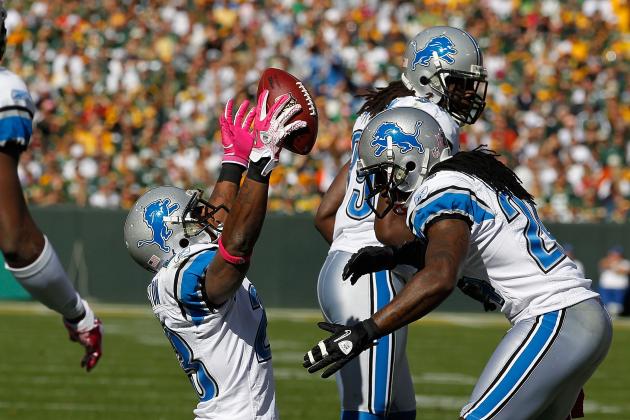 Jonathan Daniel/Getty Images

I've wrote it several times, but it bears repeating: There's nothing that motivates a professional player more than the last year of his contract.
Projected starters Cliff Avril, Aaron Berry, Louis Delmas, Justin Durant, Chris Houston and DeAndre Levy will all be free agents in 2013 and will be looking to cash in, either with the Lions or one of the other 31 teams in the league.
Additionally, key reserves Gosder Cherilus, Sammie Lee Hill, Lawrence Jackson and Jacob Lacey will also hit the free-agent market.
As former Detroit Lions coach Jerry Glanville famously stated, the NFL stands for "Not For Long."
The NFL is a business, and all players are personal corporations looking to maximize revenues, regardless of locale. If the checks don't bounce, players have Mayflower on speed dial ready to pack their belongings and start anew.
Chemistry is a key ingredient for a winning football team, and although Detroit has been in the news for the wrong reasons, it appears to be a team that plays for each other and its coaching staff. When talent and camaraderie come together, it makes for a rarified potion that should be slammed rather than sipped.
This roster could look radically different in 2013. The players should realize this and take advantage of their current roster.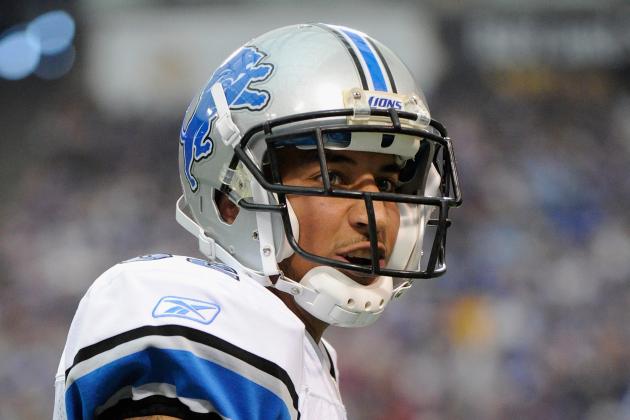 Hannah Foslien/Getty Images

Success and money are two things some young people have difficulties with, and the Lions roster is living proof.
Six arrests in five months? For a 10-6 football team?
What would've happened if they won a playoff game or two? An ice luge in the backseat with a hydroponics setup in the trunk?
Granted, it's not all the players, or even most of the players, but it's starters or potential starters that are running their digits through the ink blotters.
Aaron Berry is the most recent offender, and he along with Mikel Leshoure and Nick Fairley are scheduled to play major roles in the 2012 season.
Does this mean they will fail miserably between the lines? Of course not, but it does make you question their decision-making skills.
This team is starting to look like the old Cincinnati Bengals. A team full of talent with a Pro-Bowl pitch-and-catch combo of Carson Palmer and Chad Johnson and a defense full of attitude.
Toss in a league-record 35 arrests since 2000, and it's easy to see the ever-increasing similarities between the two jungle cats.
Cincinnati was a perennial loser, who looked to be finally kicking the basement door open. But the Sloth's rise to fame ended as Palmer's knee buckled in the 2005 playoffs, Chad Johnson became a diva and the Bungals tumbled back down the stairs and the unattained potential was gone.
It will be up to the Lions as a franchise to make sure this team does not suffer the same fate and take advantage of their window of opportunity.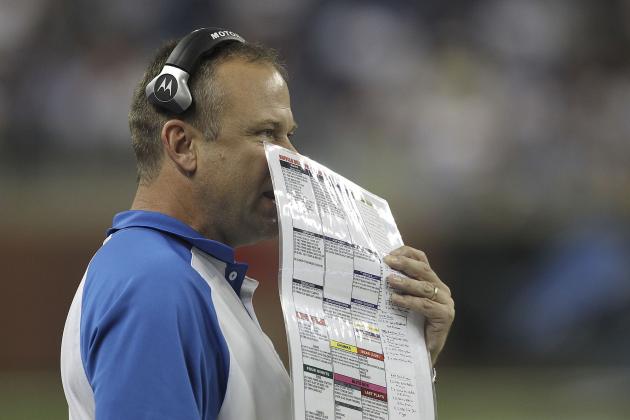 Leon Halip/Getty Images

This may be a difficult concept for Lions fans to appreciate, but with success comes suitors.
The Lions offense turned heads in 2011, and the man calling the plays, Scott Linehan, is back on the head coaching radar.
His just over two-year stint with the St. Louis Rams was an underwhelming 11-25, but coupling another offensive fireworks show in 2012 with the results of 2011 will have general managers all over the league talking about giving Linehan another shot as a head coach.
Linehan is only 48; he's not looking for a place to end his coaching career or condos down in Boca Raton. Coaches in the NFL have egos, and Linehan is no different.
The Lions will have to pony-up to keep Linehan in the fold if his offense continues to put up numbers at a Tecmo Bowl-like pace, but I think ownership will keep him in Detroit for the next few years because…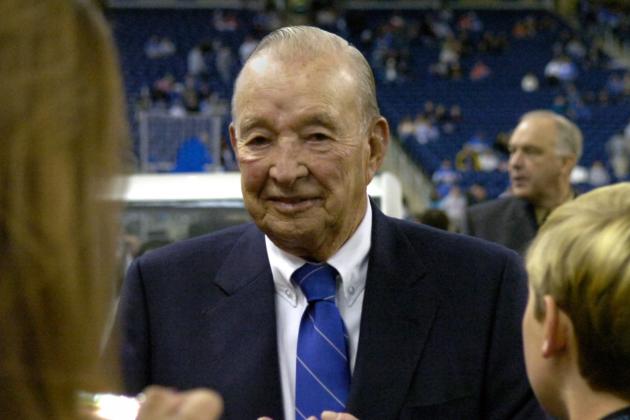 A. Messerschmidt/Getty Images

Ever since the "Motown Sound" dominated the billboards, William Clay Ford, Sr. has been signing the checks for the Detroit Lions.
This year will mark his 50th season as owner of the Honolulu Blue and Silver franchise, and nobody is more familiar with the disappointments of the past five decades than Bill Sr.
Has he always made the right decision? Obviously not.
Has he always done what he thought would give his team the best chance at winning? I believe in his heart he does.
Mike Ilitch has shown us how getting older causes patience to grow thin. This year, the 82-year old-owner of the Detroit Tigers shelled out a whopping $214 million for the services of Prince Fielder.
Mr. Ford is 87 years young and should feel the same way. His chances at getting his hands on the George Halas Trophy are numbered, and everybody in the organization should be aware the clock is ticking for Mr. Ford. Getting to the Super Bowl in the 50th year of ownership would be an ironic twist.