MLB Power Rankings 2012: Division Leaders Sure to Maintain Pace
June 25, 2012

Thearon W. Henderson/Getty Images
In this edition of the MLB Power Rankings, we take a look at those division leaders that should remain atop the standings for the duration of the year.
From teams with incredible starting staffs to lineups that absolutely bash, these teams look poised to cruise to berths in the postseason.
And yes, the AL Central and NL West are wide open at this point. No one is safe, and we all know it.
Let's get to the power rankings.
(Division leaders italicized)
1. Texas Rangers (45-28)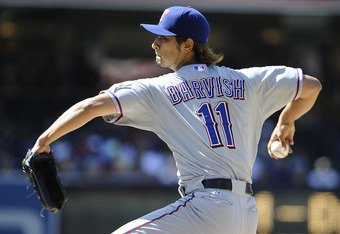 Denis Poroy/Getty Images
They're the most complete team in baseball, and they're smack in the middle of this current squad's prime. After two World Series appearances in a row, this is the year the Rangers must break through and win.
They lead baseball in runs scored, runs batted in and batting average. They've won 11 of their last 13.
Matt Harrison and Yu Darvish have put together very solid seasons in the rotation.
The Rangers are right where they belong at this point in the season. But it won't matter much if it isn't where they end up.
2. New York Yankees (43-28)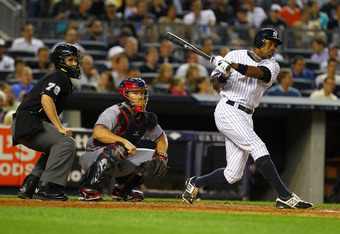 Al Bello/Getty Images
The Yankees can certainly bash, leading all of baseball with 112 home runs. And it certainly looks like Curtis Granderson's power surge last season wasn't a fluke, huh?
The question for the Yankees isn't about the lineup, of course, but whether the pitching can hold up over the course of the year behind CC Sabathia. And please don't talk to me about Ivan Nova and his nine wins—with an ERA of 4.25 and a WHIP of 1.38, it's time he was nicknamed "Lucky."
Still, this lineup is potent enough to win the AL East once again. Expect them to stay on top.
3. Los Angeles Angels (40-33)
Since mid-May, the Angels are 22-8. For all the money they spent on other players  in the offseason, Mike Trout and Mark Trumbo might be co-MVPs at this point.

4. Washington Nationals (41-29)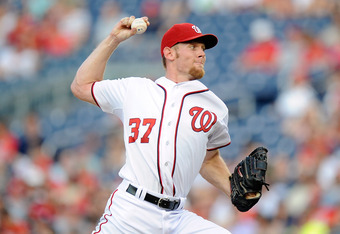 Greg Fiume/Getty Images
The Nationals continue to stay atop the NL East with pitching, leading baseball in team ERA and WHIP while ranking fifth in strikeouts.
At this point in the year, Stephen Strasburg and Gio Gonzalez are the top pitching pair in baseball, and Edwin Jackson and Jordan Zimmerman have been solid as well.
If the rotation continues to stifle opposing lineups and the offense picks it up a bit, the Nationals will end the Phillies' run of NL East titles.
5. Baltimore Orioles (41-31)
They continue to be one of the best stories of the season. Adam Jones is a legitimate MVP candidate at this point.
6. Tampa Bay Rays (40-32)
They'll be in the mix, just like always. The Rays always seem to find a way.
7. Los Angeles Dodgers (43-30)
Even when Matt Kemp returns, this isn't the Dodgers' year. They are a few pieces and a few young, developing players away.
But what a fun run it has been thus far.
8. Cincinnati Reds (39-32)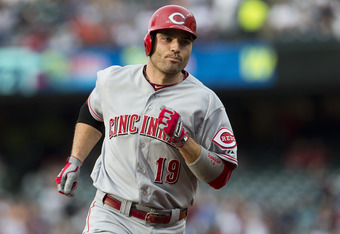 Jason Miller/Getty Images
The NL Central is wide open for the Reds, and thus far, they've played like they know it.
Johnny Cueto has solidified himself as the team's ace, Aroldis Chapman has been one of baseball's best relievers (though he's scuffled a bit in June), and Joey Votto is having another fantastic year.
With the Brewers and Cardinals weakened in free agency, the Reds have an opening in the NL Central.
Well, if they can hold off the Pirates, that is.
9. San Francisco Giants (40-33)
Matt Cain has been earning his contract extension thus far. That's not terribly surprising. But who saw Melky Cabrera hitting .351 at this point in the season?
10. Boston Red Sox (38-34)
Despite all the issues this team has had, they've rattled off nine wins in their last 11 games and are right back in the thick of things in the AL East.

11. Atlanta Braves (38-34)
Minus Brandon Beachy, the rotation has let the Braves down. There is still enough talent across the board in Atlanta to make a playoff run, however.

12. New York Mets (39-34)
I guess R.A. Dickey is human again. What a fun run it was for the veteran knuckleballer, though. 
13. Pittsburgh Pirates (38-33)
James McDonald (6-3, 2.19 ERA, 0.95 WHIP, 83 strikeouts) has arrived.
14. Toronto Blue Jays (37-35)
The end of Jose Bautista's early-season struggles (he's up to 23 home runs and 55 RBI) have seriously helped my fantasy team.
15. St. Louis Cardinals (38-35)
Last year, it was Lance Berkman who saw his career revitalized with the Cardinals. This year, Carlos Beltran (.308, 20 home runs, 56 RBI) has been reborn. 
16. Chicago White Sox (38-34)
Even with the Kevin Youkilis trade, I simply don't see this team winning the AL Central. The Tigers are coming, mark my words.
17. Arizona Diamondbacks (37-35)
The Diamondbacks have put themselves back in the thick of things in the NL West by winning 12 of the past 17 games
.

18. Cleveland Indians (37-34)
Unless they get more quality from the rotation, the Indians won't win this division.
19. Detroit Tigers (35-37)
I swear, the Tigers are about to get hot. At some point. Soon. Maybe. Who knows?
20. Oakland A's (35-38)
Speaking of hot, the Athletics have won nine of 12.
21. Miami Marlins (34-38)
Given the personalities on this team, including colorful manager Ozzie Guillen, it shouldn't surprise anyone that the Marlins are streaky. Still, who saw them only managing a 5-16 mark in June?

22. Milwaukee Brewers (33-39)
It's arguable that there isn't a more complete offensive weapon in the game today than Ryan Braun.
23. Philadelphia Phillies (34-40)
I don't care that Ryan Howard and Chase Utley are injured. The Phillies are the most disappointing team in baseball this year, hands down.
24. Kansas City Royals (31-39)
I expected far more from Eric Hosmer this season.
25. Seattle Mariners (31-43)
Felix Hernandez deserves better than toiling away on mediocre Seattle teams, year after year.

26. Houston Astros (30-42)
You are allowed to start Jose Altuve or Jed Lowrie on your fantasy team. If you are starting any other position players from the Astros and you aren't in a really deep league, get out. Just get out.

27. Minnesota Twins (29-42)
Want to see something scary? Click on the stats page for the Twins pitching staff. Makes me shiver in fear every time.
28. Colorado Rockies (27-44)
Carlos Gonzalez is a legitimate MVP candidate. Were it not for his output, this Rockies team would be wretched. Well, more wretched.
29. San Diego Padres (26-47)
What exactly does this San Diego team do well?

30. Chicago Cubs (24-48)
The future is bright in Chicago. The present is really bleak.

Hit me up on Twitter—my tweets hit the mark more often than Spain's passing.