Hanley Ramirez Among 5 National League Players Who Need a Good Week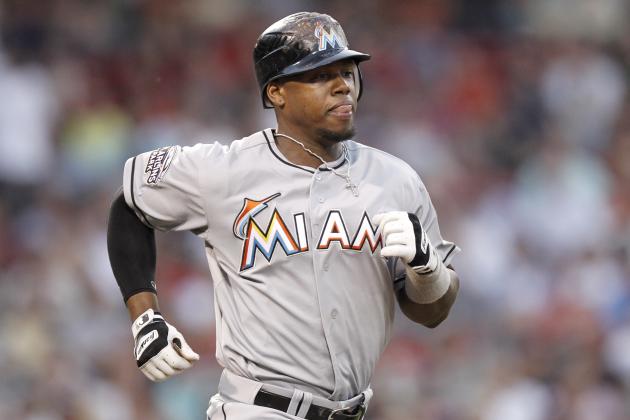 Winslow Townson/Getty Images
Hanley Ramirez called a team meeting on Saturday.
As the baseball season moves into the final week of June, players and teams who continue to struggle are feeling as much pressure as ever to break out of their slumps and live up to expectations.
A couple of the players we highlighted last week answered with good performances that might ease the scrutiny a bit. On Friday, the Braves' Jair Jurrjens pitched into the eighth inning against the Red Sox, allowing one run and three hits. Later that evening, Tim Lincecum gave up three runs to the Oakland A's, his best outing in nearly a month.
Will any of this week's quintet of struggling players rebound like the Pirates' Brad Lincoln did against the Tigers on Saturday? Perhaps his job wasn't on the line, but giving up one run and two hits surely helped him remain in Pittsburgh's starting rotation.
Roster spots may not be at stake among this week's grouping, but their respective teams could certainly use a quick turnaround. Here are five National Leaguers who really need a good week.
Begin Slideshow

»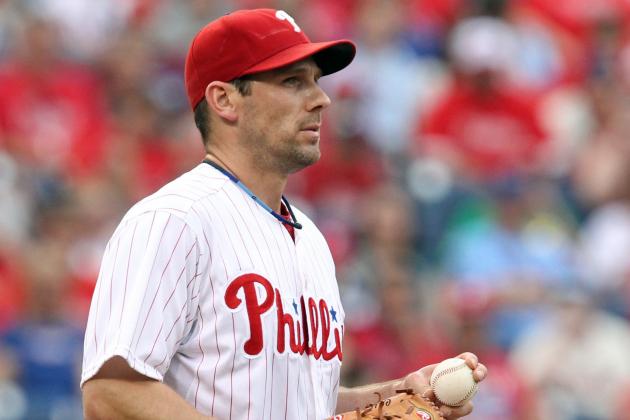 Hunter Martin/Getty Images

Putting Cliff Lee on this list seems crazy at first glance. He's one of the best pitchers in baseball and just happens to be playing for a Phillies team that's having a bad year.
But look more closely at Lee's recent performance.
In each of his past three starts, Lee has allowed four or more runs. To be exact, Lee has given up 14 runs and 25 hits in his last 20 innings of work. That has a contingent of Phillies fans becoming restless and wanting better results from a guy who's supposed to pitch much better than that.
All three of those games were against AL East teams. Given that Lee has pitched the majority of his career in the AL, that wouldn't seem to be a problem for him. But maybe facing the Marlins in his next scheduled start will provide a respite.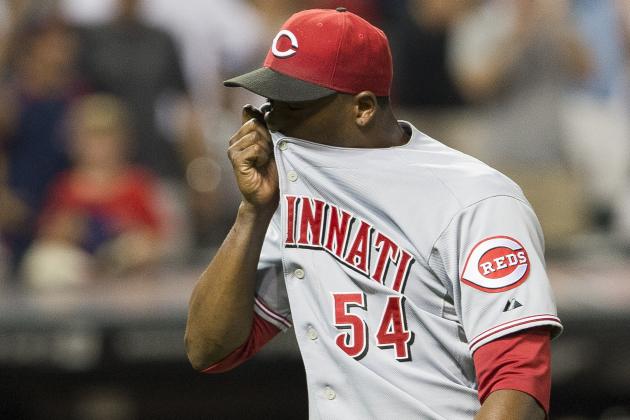 Jason Miller/Getty Images

In his first 24 appearances of the season, Aroldis Chapman looked untouchable. He didn't allow a single earned run during that span. That included seven appearances as the Cincinnati Reds closer, once manager Dusty Baker moved him into that role.
But since the seal was finally broken on June 7 against the Pirates, Chapman has looked more vulnerable. In his past two outings, he's been extremely hittable.
Facing the Minnesota Twins on Sunday, Chapman came on to close out a 3-2 lead for the Reds. But he allowed a double to Joe Mauer and followed that up by serving up a two-run homer to Josh Willingham to give the Twins the lead. The Reds went on to lose 4-3.
It was Chapman's second blown save in a row and the second consecutive outing in which he gave up two runs. As the Cincinnati Enquirer's Tom Groeschen reports, the Reds believe he's falling behind in the count too much and hitters are taking advantage.
Chapman probably isn't in danger of losing his job, but Baker has to be nervous. Especially with his closer's recent back pain.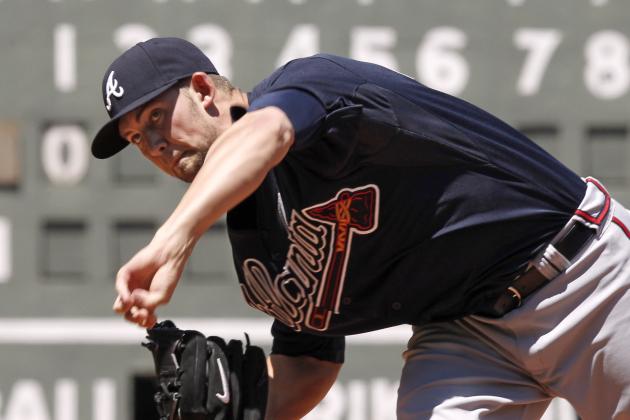 Winslow Townson/Getty Images

If Jair Jurrjens has turned himself around and can hold down a spot in the Braves' starting rotation, the team will certainly be happy about that development. But there's another question mark among the Atlanta starting five, with left-hander Mike Minor getting beaten up in his past two starts.
Minor has allowed 11 runs (eight earned) and 10 hits over his last 10.1 innings. He's struck out 11 batters during that span, but walked six.
On Sunday, Minor gave up three home runs against the Red Sox, two of them in a fourth inning that essentially put the game out of reach for the Braves.
According to the Atlanta Journal-Constitution's David O'Brien, Braves manager Fredi Gonzalez is particularly concerned that Minor can't get through an opposing lineup more than once or twice. That's preventing him from throwing deeper into ballgames.
But as with Lee, perhaps Minor will benefit from a return to pitching against NL lineups. He's scheduled to face the Nationals this weekend.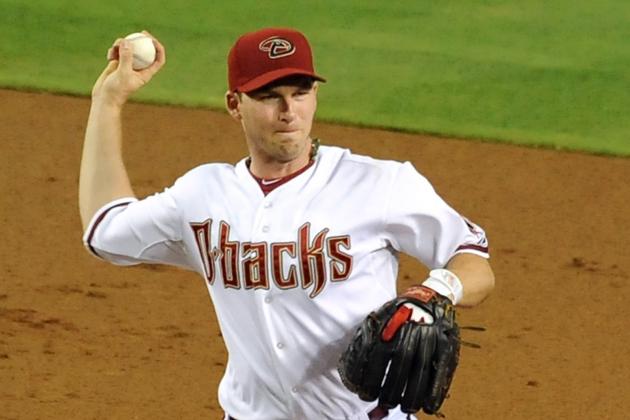 Norm Hall/Getty Images

Stephen Drew is scheduled to make his 2012 debut on Wednesday for the Arizona Diamondbacks. He's missed the first three months of the season while recovering from surgery on a broken ankle.
Drew is already under pressure to get back into the D-Backs' lineup and make a contribution to a team that is now 5.5 games behind the Dodgers in the NL West.
But the pressure on Drew intensified when D-Backs owner Ken Kendrick called his shortstop out for taking a long time with his rehab and expressed his disappointment that Drew didn't come back to play sooner.
If Drew is more concerned about his impending free agency than pushing himself to get on the field, as Kendrick accused him of, then it would certainly help his case with potential suitors to show that he's healthy and capable of playing some good shortstop in the majors again.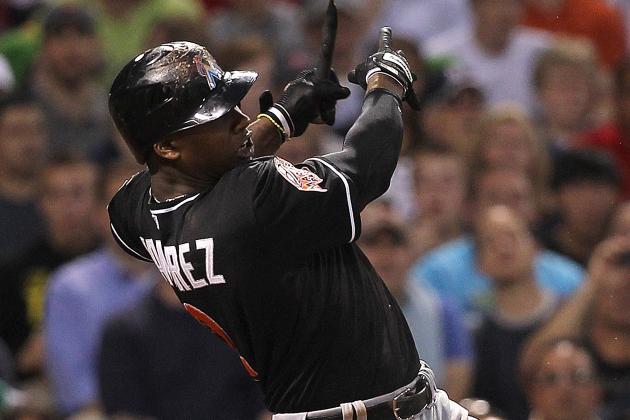 Jim Rogash/Getty Images

The Marlins have been terrible in June, compiling a record of 5-16 going into Monday night's game against the St. Louis Cardinals. Miami has just about played itself out of contention in the NL East, where it's now in fourth place, eight games behind the first-place Washington Nationals.
After the Marlins' sixth straight loss on Saturday, Hanley Ramirez called a team meeting to give everyone an opportunity to say what they think is going wrong with the team. According to the Palm Beach Post's Joe Capozzi, several veteran players were impressed with what Ramirez said during the meeting and welcomed him taking more of a leadership role in the clubhouse.
But Ramirez himself is one of the reasons the Marlins have been struggling. In June, he's hitting .215/.295/.380 with three home runs and seven RBI in 88 plate appearances. The Marlins' third baseman has four hits during his past three games, though, so maybe he's in the midst of a hot streak.
Perhaps returning to some familiar territory and facing NL pitchers will keep Ramirez swinging well at the plate.
Follow @iancass on Twitter