Arsenal Transfer News: Why Wenger Won't Break the Bank This Summer
June 25, 2012
Bryn Lennon/Getty Images
Arsene Wenger knows young talent when he sees it.
The Arsenal manager is well-known for buying raw, unknown players at low rates and developing them into high-class players in a short amount of time.
That said, the longtime manager won't deviate too far from his normal purchasing practices this summer amidst growing speculation surrounding current and prospective Arsenal players.
Recent Signings
Wenger has been busy this summer, already inking the likes of German international Lukas Podolski and French forward Olivier Giroud to bolster Arsenal's attack.
The Gunners are reported to have paid nearly £11 million and £13 million for the pair, respectively, according to The Independent. 
While this is more than the North London side have paid in recent transfer markets—and it must be noted that they're on schedule to add more players—it's hard to imagine Wenger making any other major signings this summer. 
Rennes midfielder Yann M'Vila has been heavily linked with Arsenal in recent months, but his £17 million price tag might thwart Wenger's attention until January.
Current Contracts
It's also important to recognize that two of Arsenal's current stars, Robin van Persie and Theo Walcott, are both in the final year of their respective contracts.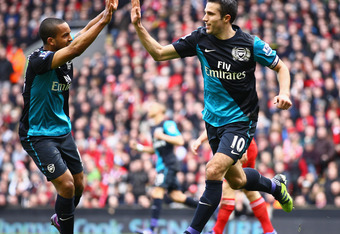 Clive Mason/Getty Images
What's more, Mikel Arteta, a crucial part of Wenger's midfield, is also exploring the option on an improved contract.
According to recent reports, Walcott is stalling talks about his future to see if close friend and teammate van Persie will stay in North London. If the Dutch international goes, it's likely Walcott will follow.
Arsenal must focus on the domestic issues first before reaching out to other countries. If the North London side is to keep the attacking duo, it must offer both players improved extensions.
Unknown Talent Sure to Come
This should not discourage Arsenal supporters from welcoming new signings, however. As they all know, The Professor is always good for signing an unrecognized but talented footballer in the transfer market. 
In recent weeks, the International Business Times has linked a handful of lesser-known players with the Gunners, such as Turkish side Trabzonspor's Burak Yilmaz.
Recent reports have also linked Real Madrid B's goal-scoring machine Joselu with Arsenal, but a £10 million valuation is likely to deter Wenger and company due to lack of first-team experience.
Nevertheless, expect Wenger to follow tradition this summer and spend carefully on lesser-known talent rather than breaking the bank for high-profile players.