Wanderlei Silva vs. Rich Franklin Exceeded Our Expectations
June 25, 2012

If Wanderlei Silva was the tornado at Saturday's UFC 147, then Rich Franklin was mixed martial art's version of Bill Paxton's character from Twister.
In a rematch of their Fight of the Night battle at UFC 99, Franklin once again was able to survive Silva's onslaught to take the decision win in a bout he took on short notice for the injured Vitor Belfort.  
While not the most noteworthy battle coming into the event, Franklin and Silva completely exceeded expectations and showed MMA fans why they should never discount these aging yet legendary fighters.
Both men nearly took home a spectacular finish as they duked it out for five rounds and reaffirmed their positions as two of the sport's most exciting fighters.  Franklin may have came out victorious, but Silva's vicious attack in the second round and his flurry of strikes to end the fight proved that "the Axe Murderer" still has some gas left in the tank.
Throughout the bout, I could not help but recall another past battle between former Pride and UFC champs.
Last November, Shogun Rua and Dan Henderson put on one of the best fights in MMA history with their five round brawl at UFC 139.  While Rua and Henderson are still top tier light-heayweights very much in their prime, their historic matchup is another example of just how exciting these legendary fighters still are.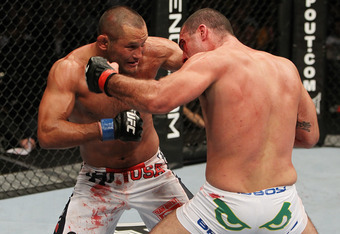 Silva-Franklin II wasn't as evenly contested as Rua-Henderson, but it did provide fans with a gem of a performance at the tail end of both fighters' careers.  
And that's a testament to the love that Silva and Franklin have for the sport, to put it all on the line even though their chances at UFC gold are all but a fading memory.  This passion for MMA and the courage to keep fighting to the last bell is what made this fight so spectacular.
Whether Silva or Franklin can turn this hunger into one last run remains to be seen, but regardless, I thank these legends for the warrior spirit they displayed Saturday night and wish them the best as they finish their Hall of Fame careers.
Be sure to like me on Facebook or follow @MattJuulMMA.