Novak Djokovic: Recap of 6 Keys to Win Wimbledon Title vs Rafael Nadal and ATP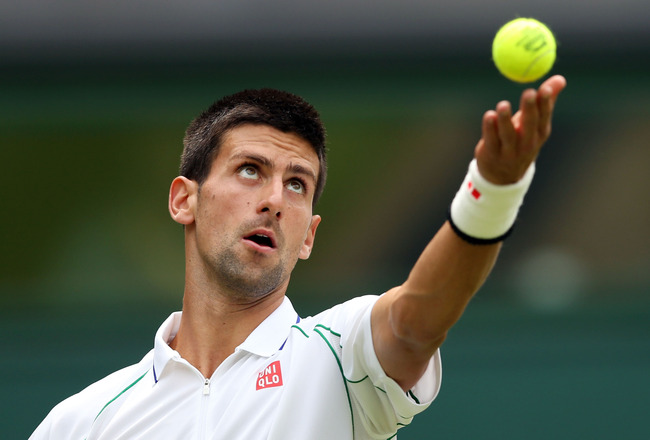 Julian Finney/Getty Images
Novak Djokovic's 6-3, 6-3, 6-1 win over Juan Carlos Ferrero in the first round at Wimbledon is the first completed step in his hope to reproduce his 2011 form that defeated rival Rafael Nadal.
This was Djokovic's most important championship success. He showed the tennis world a futuristic form of machine-like efficiency and laser-like groundstrokes.
He was relentless and lethal. He was like Arnold Schwarzenegger's character in The Terminator.
The following six slides will go back in time to examine parts of his 2011 dominance in order to view the reconstruction of his invincible mode. These are the keys to defending his title.
Note: All italicized quotes are lines from James Cameron's 1984 movie, The Terminator.
6. Accept the Challenge to be Better Than 2011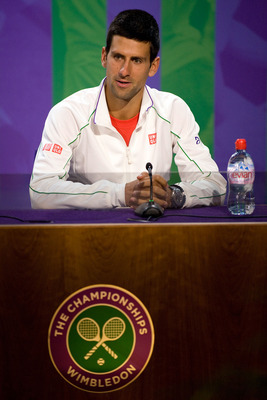 Pool/Getty Images
…the final battle would not be fought in the future. It would be fought here, in our present.
Perhaps Djokovic has tired of hearing the comparisons and criticisms of his current play measured against his 2011 season. They won't go away, and why should they?
The sooner Djokovic embraces his challenge to play better than last year, the more likely this belief will resonate in his play. Great champions are never satisfied to rest on the past. They yearn to get better, to dominate and seize more championships.
He has played through adversity and knows how to battle through many kinds of wars. He wants to be unstoppable.
5. Relocate His Awesome Serve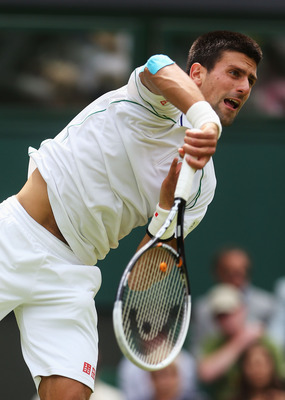 Julian Finney/Getty Images
You know your weapons, buddy. Any one of these is ideal for home defense. So uh, which will it be?
Wimbledon is much easier to win with a great serve. This doesn't mean Djokovic needs to serve like Pistol Pete Sampras. But in the 2011 final against Nadal his first serve hovered at 72% for the duration of the match. He didn't even face a break point until the third set.
Often overlooked, the second serve may be more crucial in its depth and placement. Bjorn Borg's Wimbledon success was in large part because his second serve was reliable and strong.
Djokovic's more inconsistent play in 2012 can be examined through his serve. He has the mentality to go big, but must consistently create pressure to wreak havoc with his barrage of ammunition.
4. Return of Serve Is the Ultimate Weapon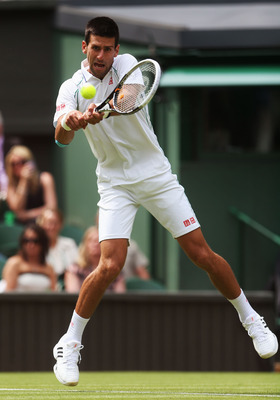 Julian Finney/Getty Images
That's what he does! That's ALL he does! You can't stop him!
A few special players have been able to win Wimbledon through this next important weapon. All with different styles, Jimmy Connors, Bjorn Borg, Andre Agassi and Rafael Nadal preceded Djokovic in putting pressure on their opponents' serves.
It's a special skill and a way to seize momentum. Each break is worth its weight in strawberries and cream.
Djokovic's clinching fourth set against Nadal was predicated on the depth he produced with his service returns. He was able to get Nadal to back-pedal on a few key points and set up his lethal strokes.
Furthermore, his returns forced Nadal into more errors and shorter balls—all crucial in Djokovic's control in closing out his Wimbledon title. Unless another player can gun him down with heavy artillery, he will be indestructible.
3. Physical Flexibility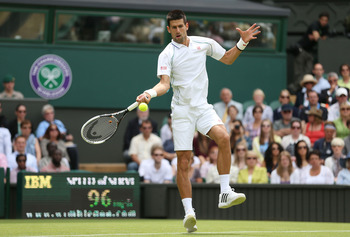 Julian Finney/Getty Images
Pain can be controlled—you just disconnect it.
During the 2011 Wimbledon final, NBC color commentator John McEnroe said that Djokovic's footwork and movement were suspect early in the tournament but improved greatly by the quarterfinals.
One of the big reasons why clay-courters often struggle on grass is because they have long backswings and want to plant their feet and hit.
By contrast, Bjorn Borg and Andre Agassi could shorten their backswings and prepare their feet and quick wrists to be ready quicker for ball strikes.
Djokovic, like all Wimbledon champions, possesses the physical athleticism to adapt to tough shots. He can strike with a more compact form, quicker feet and shorter backswings for his defensive to offensive strikes.
Grass may not be the physical, grueling marathon of clay, but it requires players to bend lower for balls. This will affect less physically fit players into lower back, quad and buttock pains. Djokovic is gifted, fit and able to use his flexibility to outlast his more human opponents.
2. Rhythm and Mental Fortitude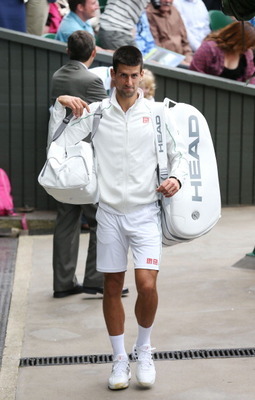 Julian Finney/Getty Images
Djokovic won the first two sets against Nadal last year by playing in his zone. He served great and ripped short returns up the line. He smashed cross-court winners by stepping on and over the baseline.
By the second set, Djokovic was comfortable, amped up and playing with great energy.
Nadal played with a look of disbelief—aware of this newly constructed rival machine. He was pressing his shots but not confident in choosing when to hit flatter or where to send his next shot. He rarely had an opportunity to run around his backhand and tee off on his own forehand.
Djokovic also murdered Nadal's slice shots. At 5-1 in the second set, and with both players in the middle or neutral portions of their baselines, Djokovic crushed a flat-footed forehand five feet away on Nadal's backhand side. Nadal didn't even move as the ball shot by.
1. Hunger for More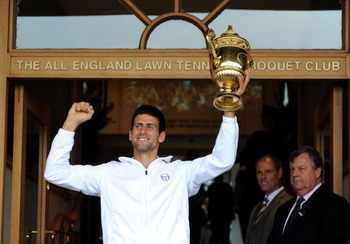 Michael Regan/Getty Images
I'll be back.
Following his Wimbledon title victory, Djokovic reached down to pluck some grass and taste it. He continued to bask in the glory of the moment with a kind of reverence and respect that was more than just a championship win, but rather the realization of a dream fulfilled.
Djokovic reiterated the importance of fulfilling this dream on CBS's 60 Minutes last March. Clearly, he will fight hard to protect what he earned to renew this feeling and establish his own brand of grass dominance.
His adversaries will be at their best—all determined to take his title. He only needs to be better than one opponent for one match and do so seven times. He has the talent, the experience and the desire to win again.
Maybe the Terminator can be defeated, but it will take someone's total brilliance and execution to knock him off. It might be an easier task destroying a futuristic cyborg.
CLICK HERE to read about why Novak vs. Rafa is best served on grass
CLICK HERE to read about the Wimbledon comparisons of Borg and Nadal

Keep Reading