2012 NBA Mock Draft: Perfect Fits for Entire First Round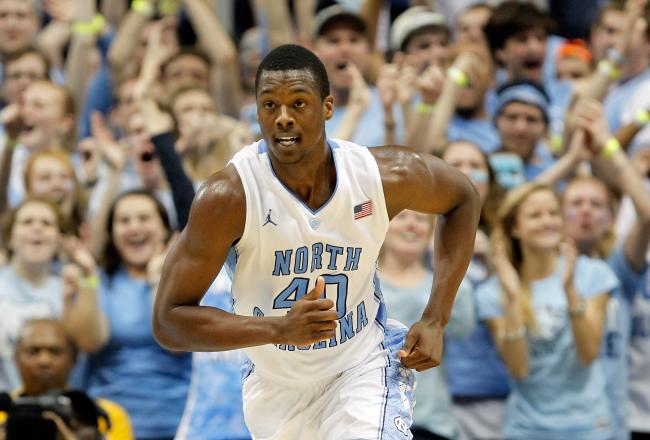 Streeter Lecka/Getty Images
Finding the right prospects in the draft isn't an easy task for NBA teams, but it's often the difference between franchises that are contending for the playoffs every year and those that get stuck in the lottery on an annual basis.
This year's class lacks elite talent outside of consensus top overall pick Anthony Davis. That doesn't mean the class is a total bust, however. There are plenty of players who should excel if drafted into the right situation.
Here's a complete mock draft of Round 1, featuring a trio of players who will find themselves in an ideal situation to begin their professional careers.
1. New Orleans Hornets: Anthony Davis, PF, Kentucky
It was clear from the moment Davis posted 23 points, 10 rebounds and five blocks in his collegiate debut for Kentucky that he was a special prospect. His dominance on the defensive end is amazing when you consider he's just 19.
He's exactly the type of player the Hornets need as they continue to rebuild. He can step right into the starting lineup and hold his own against just about every post player in the league while continuing to work on his offensive approach.
Since the Hornets will lack talent around him, the pressure should be minimal. By the time they do finish putting pieces around Davis, he should be a complete player and the post presence every team needs to turn things around.
2. Charlotte Bobcats: Thomas Robinson, PF, Kansas
A team doesn't finish with 13 less wins than any other team without having a lot of needs to fill. The Bobcats should opt for Robinson to pair with Bismack Biyombo.
3. Washington Wizards: Bradley Beal, SG, Florida
John Wall needs help in Washington. The best thing the Wizards can do is get him a top-notch scorer like Beal to take away some of the offensive burden.
4. Cleveland Cavaliers: Michael Kidd-Gilchrist, SF, Kentucky
The Cavaliers have a good group of young players but still lack the depth to compete with the league's top teams. Kidd-Gilchrist will bring more versatility to the team.
5. Sacramento Kings: Harrison Barnes, SF, North Carolina
Even though Barnes' numbers didn't change much from his freshman to sophomore years at North Carolina, going back to college was the right decision. Another year of experience will have him more prepared to step in right away than he would have been last year.
Barnes is a scorer, plain and simple. He has a terrific jump shot and should have no problem taking that ability to the next level. It makes him an ideal target for the Kings, which have lacked scoring depth in recent seasons.
Aside from being able to put up points, Barnes also has good size for the small forward position and plays solid defense. He probably won't ever become on the league's top players, but he also has really low bust potential and that's what teams look for.
6. Portland Trail Blazers: Andre Drummond, C, Connecticut
There are plenty of questions about Drummond's ability to transition to the next level. His rare combination of size and athleticism will be too much for Portland to pass up, though.
7. Golden State Warriors: Meyers Leonard, C, Illinois
Another inexperienced big man, the Warriors will need to exercise patience with Leonard while he develops his post game. His upside is obvious and makes him worth the risk.
8. Toronto Raptors: Damian Lillard, PG, Weber State
Mainstream basketball fans probably don't know much about Lillard yet, but it won't take long. He's a good distributor who can keep defenses honest with his jumper.
9. Detroit Pistons: Terrence Ross, SG, Washington
It hasn't been the meteoric rise made by some prospects, but Ross has slowly been working his way up draft boards as they big day gets closer. He'd be a good fit for Detroit.
10. New Orleans Hornets: Jeremy Lamb, SG, Connecticut
Having already grabbed Davis with the first overall pick, the Hornets strike gold once again with Lamb. He averaged 18 points and five rebounds in his final season with the Huskies and will provide New Orleans with some much-needed scoring punch.
The athletic shooting guard doesn't get enough credit for his effort on the defensive end. A lot of young guards with his type of offensive ability are a liability on that end of the court, but that's certainly not the case with Lamb.
If the Hornets can walk away from the first round with Davis and Lamb, they will easily be the biggest winner's on draft night. That would give them a tremendous inside-outside combination and put the franchise back on track.
11. Portland Trail Blazers: Perry Jones III, PF, Baylor
Ask 10 scouts their opinion on Jones and they will likely give 10 different answers. He's a great athlete, but will he ever become an elite basketball player? Only time will tell.
12. Milwaukee Bucks: John Henson, PF, North Carolina
The future of Ersan Ilyasova remains up in the air, which means Milwaukee has to protect itself at power forward. Henson will step right in and make an impact on the defensive end.
13. Phoenix Suns: Kendall Marshall, PG, North Carolina
Steve Nash will be a free agent this offseason, and the Suns don't have a great case to make as to why the veteran should return. Marshall would help fill the potential void.
Which big man will be a better pick?
14. Houston Rockets: Jared Sullinger, PF, Ohio State
Although Sullinger doesn't present nearly as much upside as some of his fellow forwards, he's one of the most NBA-ready prospects in the draft and that will help his value.
15. Philadelphia 76ers: Tyler Zeller, PF, North Carolina
The 76ers have some promising players on the perimeter, which means they should focus on adding some depth to the frontcourt in the first round. Zeller is the best player available at this point.
16. Houston Rockets: Terrence Jones, SF, Kentucky
While Jones showed plenty of talent during his time at Kentucky, he'll need to show more consistency with his jump shot to excel at the small forward spot. He's a good option for the Rockets.
17. Dallas Mavericks: Austin Rivers, SG, Duke
Dallas has an aging roster that's in dire need of a youth infusion in the near future. Rivers would be a good way to start thanks to his dynamic scoring ability.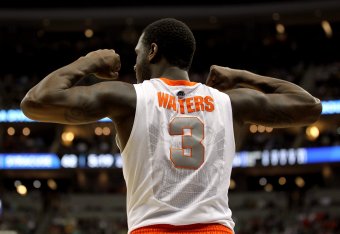 Gregory Shamus/Getty Images
18. Minnesota Timberwolves: Dion Waiters, SG, Syracuse
What Waiters lacks in size, he makes up for in strength. If it weren't for concerns about his ability to defend taller guards, he would go a lot higher, but the Timberwolves will benefit.
19. Orlando Magic: Arnett Moultrie, PF, Mississippi State
The Dwight Howard saga rages on and has no end in sight. The Magic have to start thinking about life after Howard in case he finally moves on by selecting Moultrie.
20. Denver Nuggets: Royce White, SF, Iowa State
White has an impressive level of confidence and has never shied away from contact when in the paint. His jump shot remains a work in progress and will cause him to slide to Denver.
21. Boston Celtics: Fab Melo, C, Syracuse
Kevin Garnett isn't the explosive player he once was, and the Celtics lack depth up front beyond him. They should use their back-to-back picks to change that.
What should the Celtics do with two straight picks?
22. Boston Celtics: Andrew Nicholson, PF, St. Bonaventure
After grabbing a defensive center in Melo, Boston should take a chance on Nicholson. He can stretch the defense with jump shots and is a tireless worker in the post.
23. Atlanta Hawks: Marquis Teague, PG, Kentucky
Over the past few years, the Hawks have already played like a bunch of individuals instead of one unit. A true point guard like Teague should help them gel together.
24. Cleveland Cavaliers: Moe Harkless, SF, St. John's
Harkless will fit best on a team like the Cavaliers where there's playing time available, but expectations will be low. He needs time to improve but has a lot of potential.
25. Memphis Grizzlies: John Jenkins, SG, Vanderbilt
The Grizzlies have built a solid roster over the past few seasons but still lack a go-to scorer. Jenkins is one of the best pure shooters in the draft and should fit right in.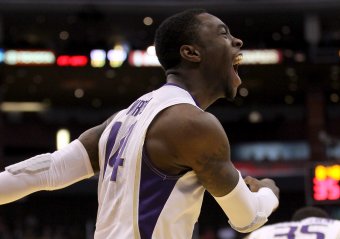 Stephen Dunn/Getty Images
26. Indiana Pacers: Tony Wroten, PG, Washington
The Pacers don't have one glaring need thanks to an extremely deep roster, giving them the opportunity to make a high-risk, high-reward selection on a player like Wroten.
27. Miami Heat: Jeffery Taylor, SF, Vanderbilt
After winning the title, Miami has to find a way to take some pressure off LeBron James, who will be coming off a stint with the Olympic team to go with a playoff run. That makes Taylor the right pick.
28. Oklahoma City Thunder: Will Barton, SG, Memphis
Barton has sleeper potential thanks to his all-around ability. He doesn't do anything at an elite level but should contribute in a lot of areas, making him worth a pick deep in the opening round.
29. Chicago Bulls: Doron Lamb, SG, Kentucky
Derrick Rose can't seem to stay healthy and a big reason for that is the amount of pressure on him to lead the offense. Lamb would be a nice piece to help even the load a little bit.
30. Golden State Warriors: Quincy Miller, SF, Baylor
Miller must start filling out his frame and adding some muscle to survive at the NBA level, but he's definitely worth a flier this late in the round. He could turn into a major steal for the Warriors.
This article is
What is the duplicate article?
Why is this article offensive?
Where is this article plagiarized from?
Why is this article poorly edited?