2012 NBA Mock Draft: Highlighting the Sleepers and Busts of First Round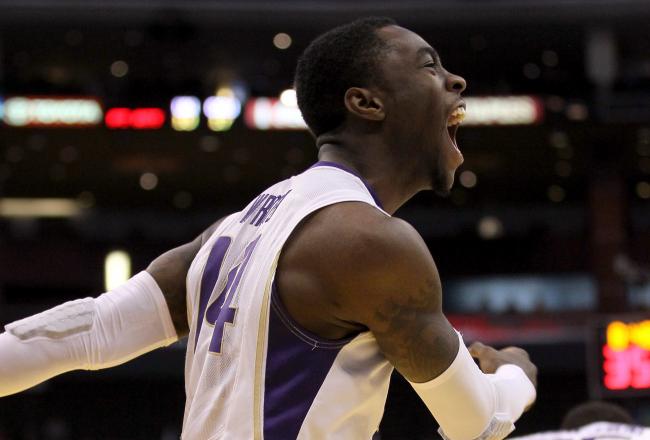 Stephen Dunn/Getty Images
Quick. What do Jimmer Fredette and Klay Thompson have in common?
Well, except for the fact they were drafted right next to each other in the 2011 NBA draft, just about nothing. One looks to be a major bust. One, who saw his stock soar in the days leading up to the draft, looks to be a steal.
I think you can probably guess who's who.
These things happen in every draft. For every Robert Swift bust, there's an Al Jefferson sleeper who goes three picks later. The same will again be true in 2012, even with a loaded draft class.
In my newest first-round mock draft, I'll take a look at prospects who will make general mangers cry and prospects who will make general mangers smile.
Note: These players are in italics
Also note: All following stats come from DraftExpress.com.
1. New Orleans Hornets (21-45): Anthony Davis, PF, Kentucky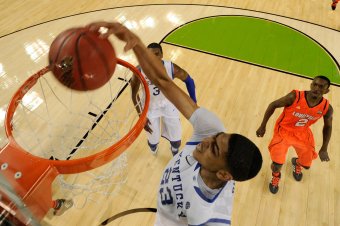 Pool/Getty Images
Davis is going to step in for New Orleans and immediately turn the franchise into a winning one. He's that good.
The former Kentucky star has ridiculous length, uncanny athleticism and a high basketball IQ. He will protect the rim while providing solid rebounding and an improving offensive game.
2. Charlotte Bobcats (7-59): Thomas Robinson, PF, Kansas
Thomas Robinson quietly dominated college basketball more than anyone not named Anthony this season. He established himself as the best rebounder in the nation. He developed a solid jumper that can extend out to the NBA three-point line. He did everything he could to carry Kansas to the National Championship.
The Bobcats are getting a winner in Robinson, someone who can contribute right away. No bust here.
3. Washington Wizards (20-46): Bradley Beal, SG, Florida
When the Wizards traded for Trevor Ariza and Emeka Okafor, they made it pretty clear they aren't going to draft Michael Kidd-Gilchrist or Robinson if he's available.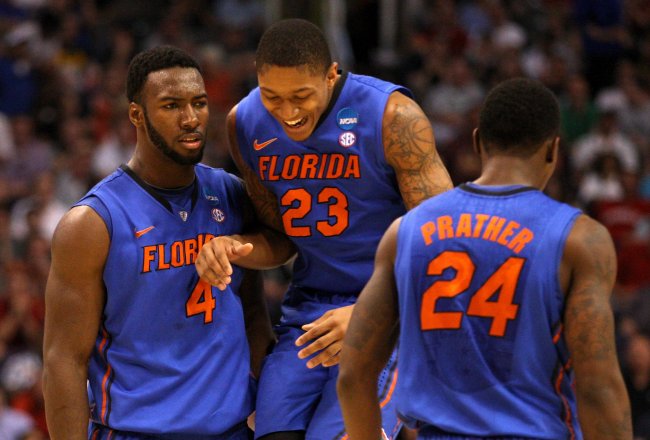 Christian Petersen/Getty Images
With a John Wall-Ariza-Nene-Okafor core, all Washington needs is a scoring shooting guard.
Beal is all that and so much more. Not only is he a deadly shooter with a picture-perfect stroke, he has good strength and plays the passing lanes well.
4. Cleveland Cavaliers (21-45): Michael Kidd-Gilchrist, SF, Kentucky
Don't be surprised if the Cavs pull a shocker and go for Harrison Barnes here. They could use another scorer to help Kyrie Irving.
Nonetheless, Kidd-Gilchrist will, in the end, be too hard to pass up. He's not a good shooter, but he does everything else well. He can guard almost any position, he's almost unstoppable when he gets a head of steam, he's tough, he's a winner.
It's hard to call a pick at No. 4 a steal, but it will also be hard for Cavs fans not to gush over Kidd-Gilchrist, who is Irving's former high school teammate.
5. Sacramento Kings (22-44): Harrison Barnes, SF, North Carolina
The Kings have said they aren't interested in Andre Drummond, and while this pick may be in play to Houston, Barnes is the choice if Sacramento stays put.
He's a terrific shooter and can be effective with other offensive weapons around him. What's more, he gives the Kings some flexibility if they want to move Tyreke Evans or Marcus Thornton.
6. Portland Trail Blazers (via 22-44 Brooklyn Nets): Damian Lillard, PG, Weber State (Potential Bust)
I think Lillard is going to have a solid career in the NBA, but I question him going as high as No. 6, and from the sounds of it, the Blazers won't pass him up here.
Who will be the biggest bust?
Lillard's strengths are undeniable. He has unlimited range on his jump shot, he can get to hole with ease and he's effective off the pick-and-roll, which suggests he'll have success in the NBA.
But I worry about Lillard as a point guard. He's never been a great distributor, and while that's to be expected of a Big Sky player who is better than everyone else, it's unknown as to whether or not he can make players around him better. If he doesn't continue his elite scoring at the next level, he won't be all that valuable.
There's the potential he becomes a Russell Westbrook-esque scoring point guard, but there is also the chance he turns into Ronnie Price.
At No. 6, I'm not sure he's worth the risk for Portland.
7. Golden State Warriors (23-43): Andre Drummond, C, Connecticut (Potential Bust)
It's becoming overrated to say Andre Drummond is overrated, especially at No. 7, where he could just as easily be a steal.
Still, it's hard for me to get on board the Drummond train. He's 7'0" with 280 pounds of pure athleticism, yes. He's a prospect who can make scouts drool. But he just can't seem to put it all together.
Drummond scored just 10.0 points per game for the Huskies, and at times, looked lost on the offensive end. There's no question he'll be able to provide rebounding and defense, but as long as he continues to be an offensive liability (29.5 percent from the line), he's not worth it at No. 7.
With that being said, I wouldn't be surprised if the Warriors, who want a small forward, trade this pick and make someone else take the risk on Drummond.
8. Toronto Raptors (23-43): Dion Waiters, SG, Syracuse (Sleeper)
Is it possible for someone at No. 8 to be a steal? Absolutely, especially because he looks like a potential All-Star.
Waiters came off the bench at Syracuse and scored 12.6 points per game, but if he was at any other school, he would have averaged 20 per game.
The prototypical combo guard is that good of a scorer.
At 6'4", he looks more like a shooting guard, but he's incredibly quick off the dribble, and once he gets into the lane, he has the ability to finish with contact or find his open teammates.
His not a great shooter, but much like Dwyane Wade, who he draws comparisons to, he doesn't need to be. He's a slasher, and while he'll likely play a role of immediate offense off the bench right away, he has the potential to crack the starting lineup and dominate.
9. Detroit Pistons (25-41): John Henson, PF, North Carolina
Pairing John Henson, a long, springy defensive presence, with Greg Monroe, a big man who plays under the rim and doesn't block many shots, is the perfect way for Detroit to go.
There aren't many picks that make as much sense as this one.
10. New Orleans Hornets (via 26-40 Minnesota Timberwolves): Meyers Leonard, C, Illinois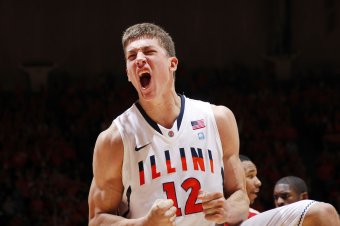 Joe Robbins/Getty Images
With Lillard gone, expect the Hornets to go with either Kendall Marshall or Meyers Leonard.
After trading Emeka Okafor, however, frontcourt depth is a much bigger need, even with Anthony Davis coming into town. Leonard is a talented seven-footer, and the Hornets will love to pair him with the Unibrow.
11. Portland Trail Blazers (28-38): Tyler Zeller, C, North Carolina Tar Heels
After grabbing Damian Lillard with their first pick, the Blazers will look to add a center to put next to LaMarcus Aldridge.
Zeller is easily the best available true center with Leonard off the board, and he might even be as good as the young big man from Illinois. Zeller is quick on his feet for a big guy, and while he's not a great rebounder, he has an efficient offensive game and protects the rim well.
12. Milwaukee Bucks (31-35): Perry Jones III, SF/PF, Baylor (Potential Bust)
Here's the problem with Jones. He has a crazy combination of size (6'11", 234 pounds, 7'2" wingspan) and athleticism that would make him a dominant power forward, but he's unwilling to bang down low with the big boys.
I was watching a replay of the combine a couple of days ago, and they were doing a post drill. Jones constantly had smaller or less athletic guys guarding him, and he just kept taking fadeaways. It was comical how appropriate it was.
That means Jones is going to have to market himself as a small forward, but as a 30.3 percent three-point shooter, he doesn't scream "wing player," either. He could turn into a Josh Smith or slashing-type wing player, but that's a big risk to take.
Nonetheless, the Bucks need some big bodies, and they won't be able to pass up this enticing project.
13. Phoenix Suns (33-33): Jeremy Lamb, SG, Connecticut
I'm a huge fan of Jeremy Lamb, and if Phoenix, who needs a solid option on the wing, is able to get him at No. 13, it should consider itself very lucky.
Lamb is a terrific scorer from mid-range, but with a crazy 6'11" wingspan, he also has the ability to provide good on-ball defense and plenty of "wow" highlights.
14. Houston Rockets (34-32): Terrence Jones, SF/PF, Kentucky
The Rockets need a center, and it sounds like they are trying to move both of their picks in order to acquire assets to go after Dwight Howard.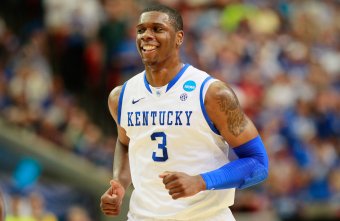 Kevin C. Cox/Getty Images
So basically, don't be surprised if this pick changes. For now, I'll put Jones, who was seen as a top-five pick a year ago and serves as the top value.
15. Philadelphia 76ers (35-31): Jared Sullinger, PF/C, Ohio State
Jared Sullinger is seeing his stock fall due to injury concerns, but I wouldn't be surprised if the Sixers jumped on him at No. 15.
With Spencer Hawes likely leaving to free agency, Philly needs to add some frontcourt depth, and more specifically, someone who can score in the post. Sullinger certainly has his faults, but scoring from the post isn't one of them.
This is a good fit.
16. Houston Rockets (via 36-20 New York Knicks): Austin Rivers, SG, Duke
I worry about where Rivers will fit in the NBA. He doesn't have the passing or decision making to be a true point guard, and he's just 6'3.5" without shoes. That's not bad size for a shooting guard, but it's not ideal.
Rivers, of course, is an electric scorer from everywhere on the court and will make for a good sixth man off the bench.
17. Dallas Mavericks (36-30): Kendall Marshall, PG, North Carolina
It's hard for the Mavericks to land a better pick than this. Depending on what Deron Williams does this summer, the Mavs will likely need a point guard.
It doesn't get more "point-guardy" than Kendall Marshall. He lacks a jump shot and defense, but Marshall will make everyone around him better with his basketball IQ and gaudy passing skills.
18. Minnesota Timberwolves (via 36-30 Utah Jazz): Terrence Ross, SG, Washington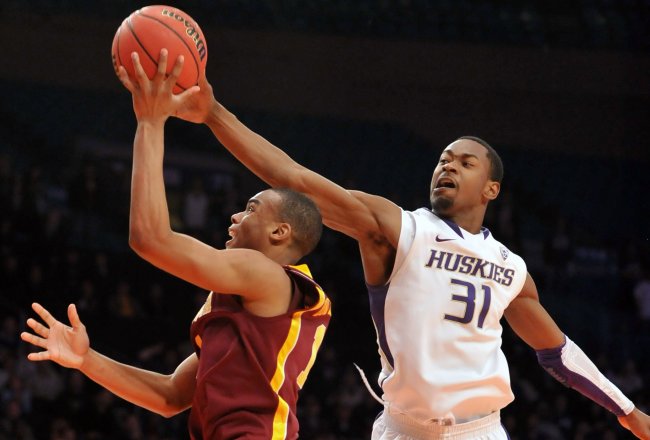 Jason Szenes/Getty Images
Another ideal fit, as the Timberwolves really want one of the elite shooting guards to fall to them.
I would call Ross, who is a smooth shooter, a terrific athlete and effective on both sides of the court, a steal here, but not necessarily a sleeper. People should know how good he is by now.
19. Orlando Magic (37-29): Moe Harkless, SF, St. John's
The Magic are under new management, so it's a little hard to get a read on what they are trying to do. Rob Hennigan learned in OKC to build through the draft, so it wouldn't be surprising to see him try to move up.
Nonetheless, Harkless is terrific athlete with great size for the wing. He provides great value here.
20. Denver Nuggets (38-28): Quincy Miller, SF, Baylor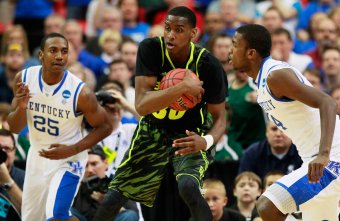 Kevin C. Cox/Getty Images
Miller needs to improve his shooting, but it's hard not to like the defensive ability he brings.
At 6'10" with a wingspan over 7'1", Miller is going to be an absolute menace guarding opposing shooting guards and small forwards.
21. Boston Celtics (39-27): Arnett Moultrie, PF, Mississippi State
The Celtics are eventually going to have to do quite a bit of rebuilding, and Moultrie is a good way to start that process.
Not only can the Mississippi State product score from all over the court, he's a solid rebounder and brings a ton of athleticism to the position.
22. Boston Celtics (via 40-26 Los Angeles Clippers): Royce White, SF, Iowa State (Potential Sleeper)
Royce White is my favorite prospect in this draft, and if the Celtics are able to get him here, it's going to be an absolute joke.
At 6'8" and 261 pounds, White has the size to bang down low with almost anyone, and considering his size, White is a very rare prospect.
His ball handling is second to no big man in this draft, as evidenced by the fact he often ran point at Iowa State. He's also a terrific passer, a ferocious rebounder and has solid penetration ability.
During his only year for the Cyclones, White averaged 13.4 points, 9.3 rebounds, 5.0 assists, 1.2 steals and 1.0 blocks per game. He led them in every category.
Expect White to be a better and more fit version of Boris Diaw.
23. Atlanta Hawks (40-26): Andrew Nicholson, PF, St. Bonaventure
Nicholson lacks ideal athleticism, especially with the amount of athletic power forwards increasing, but he does pretty much everything else well.
He has tremendous footwork on the block, he can knock down NBA three-pointers and he has a very high basketball IQ.
24. Cleveland Cavaliers (via 41-25 Los Angeles Lakers): Fab Melo, C, Syracuse
Fab Melo is incredibly raw on the offensive end, but it's hard to find true seven-footers in the NBA, especially ones with Melo's talent.
He's going to give the Cavs a solid defensive presence off the bench.
25. Memphis Grizzlies (41-25): Tony Wroten, PG, Washington (Potential Sleeper)
I know Wroten has his faults. He's currently a horrendous jump shooter and needs to drastically improve his decision making.
But I can't get over how much he's being overlooked. Every time I watched Washington, I couldn't help but think Wroten looked like a lottery pick.
Who will be the best point guard from this draft in two years?
He has a true point guard mentality, as evidenced by his elite vision and ability to make jaws drop with his passes, but he's also 6'6" and 203 pounds. Wroten also has ridiculous athleticism and quickness and gets to the hoop with ease.
Wroten was an enigma at Washington, and he'll take a year or two to make a real impact in the NBA, but if the Grizzlies or any other NBA team get the potential out of him, he's going to easily be the best point guard out of this draft in two years.
He's just a freak athlete and smart basketball player who will wrongly get passed on because of his terrible jump shot.
26. Indiana Pacers (42-24): Draymond Green, PF, Michigan State
Since they don't have many holes, the Pacers simply need a role player who can come off the bench, not make mistakes and give eight to 10 good minutes per game.
That's Green, who can do anything on the court and is a mature player.
27. Miami Heat (46-20): John Jenkins, SG, Vanderbilt
Jenkins is easily the best three-point shooter in this draft, and while the Heat could use a scoring threat down low, it's scary to think how effective he would be on this team.
LeBron James and Dwyane Wade would open up looks better than anyone else for Jenkins, who was usually blanketed at Vandy but still managed to knock down 44 percent of his threes.
28. Oklahoma City Thunder (47-19): Marquis Teague, PG, Kentucky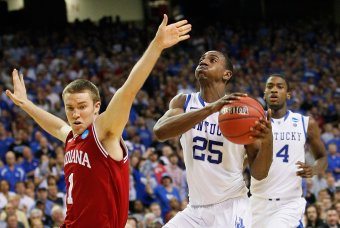 Kevin C. Cox/Getty Images
The Thunder don't have a ton of weaknesses, but their backcourt depth could dwindle in the coming year, meaning Teague is the smart choice.
John Calipari point guards are about as sure as they come, so there is little risk involved in this pick.
29. Chicago Bulls (50-16): Will Barton, SG, Memphis
At 6'6", 174 pounds, Barton badly needs to add some weight and strength, but it's hard to overlook his pure ability.
The Memphis star will play both shooting guard and small forward at the next level and makes sense for the Bulls. However, his stock has been rising, and he may be gone before pick No. 29 rolls around.
30. Golden State Warriors (via 50-16 San Antonio Spurs): Jeff Taylor, SF, Vanderbilt
The Warriors are taking a big risk with Andre Drummond, so following that up with a mature player like Jeff Taylor is smart.
Taylor is not only mature, but he brings toughness, great defense and a decent three-point shot. The Warriors get a good role player and the small forward they desire.
This article is
What is the duplicate article?
Why is this article offensive?
Where is this article plagiarized from?
Why is this article poorly edited?