Boston Bruins: 10 Reasons Tuukka Rask Will Make Fans Forget About Tim Thomas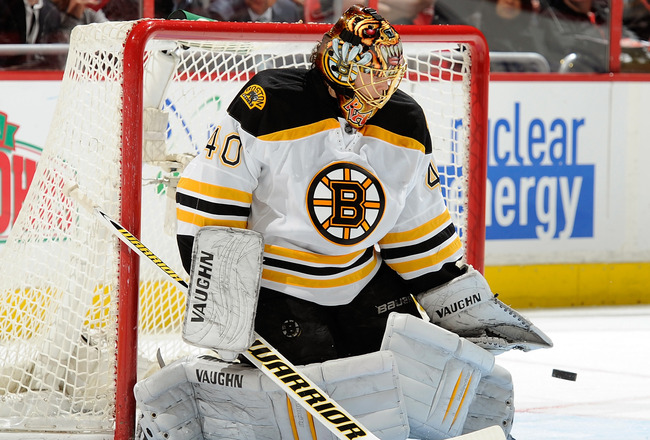 Tuukka Rask will get a chance to show what he can do in the Bruins' net,
Greg Fiume/Getty Images
Shortly after the Boston Bruins were eliminated by the Washington Capitals, strange rumblings started emanating from the team's headquarters.
The Bruins, among the hardest working and most passionate teams in sports, were getting a message from their quirky goalie. Tim Thomas was thinking about taking the 2012-13 season off so he could attend to family and personal matters. He soon confirmed the decision.
While he certainly has every right to do whatever he chooses — within the law — it seemed very strange. Thomas is a 38-year-old goaltender who has been at, or near the top of his game for the last four seasons. He is a two-time Vezina Trophy winner and he was the Conn Smythe Trophy winner during the Bruins' Stanley Cup run last year.
He was also largely ignored during the early years of his career. Few teams gave him a chance and he received no consideration until he played 38 games for the Bruins in the 2005-06 season when he was 31 years old. Prior to that, he was unwanted.
Why a player would want to take a year off while he is still in his prime is unfathomable. But that's the decision he made and that means Tuukka Rask will take over.
Rask has been patiently waiting for his chance and here are 10 reasons he'll make Bruins fans forget about Tim Thomas.
Big Man in the Net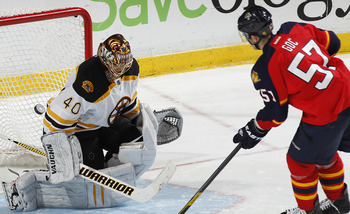 Rask can cover quite a bit of the net when he dons his gear.
Joel Auerbach/Getty Images
Most scouts are looking for goalie prospects who have size. It makes sense because big men can cover more of the net.
Rask certainly fills the bill. He's 6'3" and when he squares up to the shooter there's a lot less room to shoot at than when there's a smaller man like Thomas (5'11) in the net. He's not going to have to be as acrobatic as Thomas was to get the job done.
Glove-Hand Superiority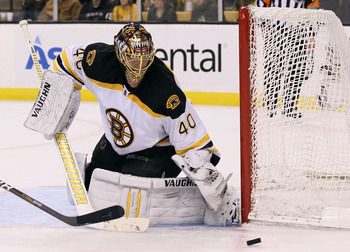 Rask knows how to use his quick glove hand superbly.
Elsa/Getty Images
Rask has excellent reactions for a big man and he is known for his outstanding glove hand. He can pick off slap shots and hard wristers as if he was Adrian Gonzalez playing first base for the Boston Red Sox.
Rask has great confidence in his glove hand. If he can reach any shot with that glove in his left hand, he's going to catch it and blunt a scoring opportunity.
Youth Will Be Served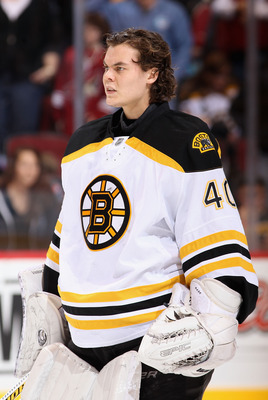 Rask has the youth to hold on to the No. 1 goalie position for 10 years or more.
Christian Petersen/Getty Images
Rask has youth on his side and he should remain a fixture in the Boston goal for years. He's a restricted free agent heading into 2012-13, but the Bruins should take care of him so that he remains in black and gold for years to come.
General manager Peter Chiarelli should not let his 25-year-old netminder sign an offer sheet with anyone else, but if he does, he must match it immediately.
Hot Streak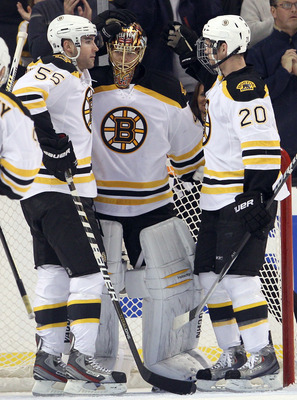 Rask has the capability to go on a long hot streak in the net.
Elsa/Getty Images
Once Rask gets used to playing regularly, he has shown he can stay on top of his game for a long time.
That was the case last season when Thomas saw the brunt of the action and Rask played only to give Thomas some relief early on. However, after he won back-to-back games in early November, Rask ran off an 11-1-2 streak through Jan. 21 that demonstrated he was just as good or better than Thomas.
Cap Hit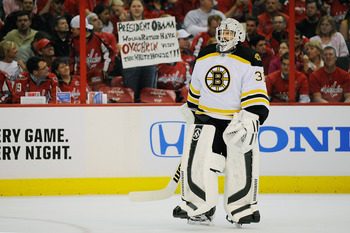 Thomas will force the Bruins to take a $5 million cap hit.
Patrick McDermott/Getty Images
Even with Thomas deciding to take his "sabbatical," the Bruins are still forced to take a $5 million cap hit. However, there may be some teams that struggle to reach the NHL's salary floor. To those cash-strapped teams, Thomas may be attractive.
The Bruins can trade Thomas, be rid of the $5 million cap hit and their trading partner won't have to pay the actual cash to a player who won't report. On the other hand, Rask won't cost that much. While he will get a raise from his current $1.25 million salary, it should not be close to Thomas's cap hit.
Better Numbers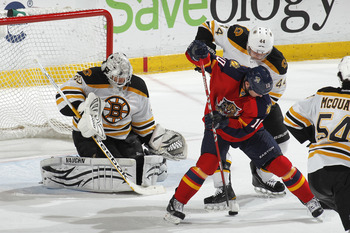 Rask had better stats than Thomas did last year.
Joel Auerbach/Getty Images
Claude Julien had little doubt last year when he made his goalie decisions. However, once he got to the playoffs it was an easy choice. He had to play Thomas in every game because Rask was recovering from a late-season hamstring injury.
During the season, Rask had slightly better numbers than Thomas. Rask had a 2.05 goals against average and a .929 save percentage. Thomas finished the season with a 2.36 GAA and a .920 save percentage. The numbers speak for themselves.
Injecting Politics into Sports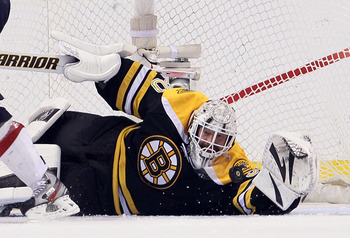 While the rest of the Bruins went to the White House, Thomas refused to go.
Elsa/Getty Images
The Bruins appeared to be the classic image of the cohesive team that did everything together. At least that's how it appeared to the public when they made their run to the Stanley Cup in 2011. The team seemed to have players who supported and generally cared for each other.
That image turned out to be an illusion.
That image was destroyed in January when President Barack Obama invited the Bruins to the White House to celebrate the title. All the good Canadian farm boys on the Bruins were happy and thrilled to go. But Thomas, a Michigan native, decided to stay home and make the event a political statement that served only himself and hurt his team.
Fight for His Team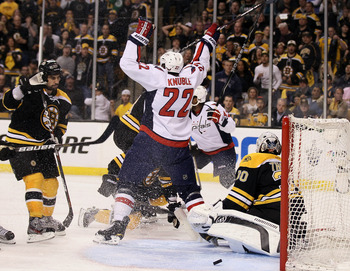 Tim Thomas merely skated to the Bruins bench after the Capitals won the 7th game in overtime.
Elsa/Getty Images
Go back to the painful end of the 2011-12 season. The Bruins were pushed to the limit by the upset-minded Washington Capitals. The seventh game was at home and the Bruins were confident they would win.
However, the Capitals and Bruins battled through 60 minutes and the game went into overtime. When Benoit Pouliot's attempt to send the puck deep in the Washington zone was blocked, former Bruin winger Mike Knuble led Washington's attack up the ice. As he got close to the net, he fired a shot that Thomas blocked. Knuble did not stop and he barreled into Thomas. Joel Ward got the rebound for the Capitals and shoved it into the net for the series winner.
Thomas did not raise one whimper of protest even though Knuble interfered with him. It's doubtful Rask would allow such an event without raising his voice.
Excited to Play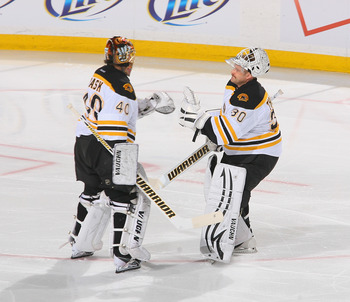 Rask wants to play for the Bruins; Thomas does not.
Rick Stewart/Getty Images
Attitude remains a big part of becoming a hockey player. It's probably overstated to a degree, but you want your players to be happy they are in the lineup and excited to have the opportunity to play.
At this point, Rask is excited to play in the National Hockey League and put on a Boston Bruins uniform, while Thomas wants to go home. Bruins winger Shawn Thornton said the Bruins are better off with a goalie who wants to be with the team and not one who doesn't want to be there.
Rask Is Hungry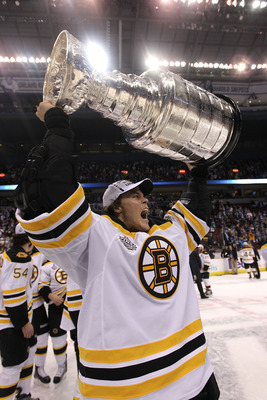 Rask will get his chance to give the Bruins another Stanley Cup.
Bruce Bennett/Getty Images
Rask had a chance to play the role of the No. 1 goalie in the 2009-10 season when Thomas was battling injuries and was not in top shape for the majority of the season.
Rask was an impressive 22-12-5 and had a league-best 1.97 goals against average. He also had a save percentage of .931, which also led the league. It was a memorable year in which Rask showed he could compete with the best goalies in the league, but it did not end well.
After the Bruins beat the Buffalo Sabres in the first round of the playoffs, they built a 3-0 lead on the Flyers in the second round. Unfortunately for Rask and the Bruins, they dropped the next four games and became just the third NHL team to blow a 3-0 lead in the playoffs. Rask was in goal for each of those games and he is hungry to get another playoff opportunity.
Keep Reading

Boston Bruins: Like this team?