Euro 2012: Biggest Scapegoats for Quarterfinal Defeats
June 25, 2012

Laurence Griffiths/Getty Images
Fans always want—scratch that: Fans always need someone to blame. 
It's unhealthy to let the anger of a loss build up inside you. But instead of therapy, let's give scapegoating a try.
The UEFA Euro 2012 semifinals are still a couple days away, so we have a little time to look back at the losses suffered by England, France, the Czech Republic and Greece.
Czech Republic
Despite only winning 1-0, Portugal dominated the Czech Republic in their quarterfinals match. Almost the entire game was played in the Czech half, a strategy that coach Michal Bilek thought would be most effective against the offensive firepower of Portugal.
Look no further than Bilek in the blame game. Defensive strategies are one thing, but you have to take your chances when the time is right. It's the quarterfinals; you can't tie.
Bilek was right to emphasize his team's defense but it was simply overdone. The Czech Republic was outshot 20-2 in the game, never recording a single shot on target. 
Plain and simple, you have to score to win.
France
Playing Spain is no easy task. Apparently, neither is assigning the blame for teams that they beat.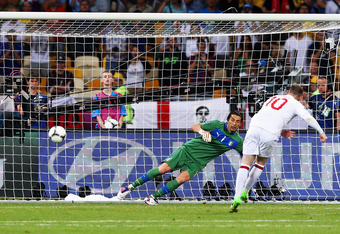 Alex Livesey/Getty Images
Spain is so good that you don't even notice when an opponent is playing poorly. Your eyes become fixated on the display of Spanish art. Nothing else on the field is worth your attention.
The one player to blame might have to be Florent Malouda. Malouda was a victim of the Spanish lullaby. The rhythm of Spain's attack put him to sleep, allowing Xabi Alonso to sneak behind and score in his 100th international appearance.
The goal came in the 19th minute, and at that point, France had to become more aggressive. If Malouda kept his focus, France wouldn't have had to change its game plan so early in the match.
Greece
I feel a little funny picking a scapegoat for Greece. Germany has been the main contributor to Greece's economic bailout, so shouldn't Greece have just thrown the game anyway? What does a quarterfinals win run for these days? It can't be any more than a couple hundred million dollars.
Greece held its own for about 60 minutes, but the No. 2-ranked team in the world was too much to handle for longer than that.
Greece's captain, Giorgos Karagounis, was suspended for the game and therefore has to be biggest scapegoat for the Greeks. It's always a tough blow when your team is without a player of that caliber.
Karagounis picked up a yellow card after the referee felt he took a dive against Russia in the final game of the group stage. Upon review of the play, however, Karagounis did no such thing. He was tackled in the box, and should've even received a penalty kick. Maybe the blame should go to the ref instead.
England
Don't hate the player; hate the game. Instead of blaming a player for England, I'd rather rant about how stupid the idea of a penalty shootout is.
How can you decide a team's fate on five kicks from 12 yards out? It's like ending a basketball game with a free-throw competition.
There has to be a better solution in determining the outcome of a game. What if you start removing players from the field? The NHL's regular-season overtime is four-on-four so maybe UEFA could try something along the lines of nine-on-nine. It could even turn out to be the best display of players' talents. 
Fewer players means more space. More space means more of this.
I might not have the perfect answers here, but let's give something a shot.
Penalty kicks? Come on. You might as well play three-on-three micro soccer.