Robert Griffin III: How RGIII's Game Compares to Brett Favre
June 25, 2012

Patrick McDermott/Getty Images
Brett Favre is on the Robert Griffin III bandwagon.
In a recent interview with NFL Network's Deion Sanders via an article by Gregg Rosenthal, Favre stated:
"Griffin, he's smaller, but if I was starting a team, I'd probably of went with RG3 just because, if they can't protect you, you got to protect yourself," Favre said.
By that token, let's breakdown RG3 and Favre and see how their games compare to one another.
Arm Strength
Brett Favre put on a gun slinging display for 20 years in the NFL. He had the size and power to make every professional throw and then some. Whether it was from the pocket or on a roll out, Favre could dart the rock across his body to anywhere on the field.
Robert Griffin III has this exact capability. The only difference is Griffin's mobility and not yet polished mechanics. Coming from a non pro-style offense at Baylor, RG3 rarely set up shop from under center and needs to develop his feet to get more on each throw.
The good news is that Griffin can already sling the pigskin to any spot on the field with just a quick wrist flick. The maturity of developing will simply make him more consistent at dropping back and his release more natural.
We saw this from Favre quite often, because he would fire each ball out like a canon. Provided that RG3 quickly adapts to transitioning his weight from under center, there's no telling how explosive the Washington offense can be.
Improvisation
There is a slight difference in the way Brett Favre and Robert Griffin III improvise, but nonetheless it's making those spontaneous decisions that create excitement.
From Favre's perspective, improvising was tossing the most awkward of passes when outside of the pocket because there was no time to adjust for a proper release. Not a scrambler by any means, Favre was a master at holding onto the rock until the last possible second before finding the open target.
If anything, his improvisation resulted from being too patient on occasion. Favre wanted to make every throw count, it just backfired an NFL-record 336 times, career record for most interceptions.
Griffin on the contrary, is a quarterback who happens to be a ridiculous athlete. In turn, scrambling is his best way to improvise because with his acceleration and top speed, an open field becomes the worst enemy for a defense.
The most impressive thing about Griffin though is his pass-first mentality. Always looking to utilize his playmakers, Griffin rarely scrambled when immediately buying time out of the pocket. Instead, his patience paid off because a defense would just remain in coverage and then he could take off when needed.
Efficiency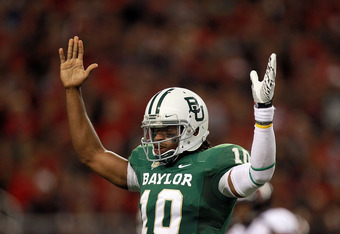 Ronald Martinez/Getty Images
All of Brett Favre's interceptions aside, the man also threw for at least 3,200 passing yards in 18 consecutive seasons. Six times he hit over 4,000 yards and only six times did he fail to throw more touchdowns than interceptions, and two of those six seasons were equal.
As much as Favre dropped back to pass, he was consistently dominant. Whenever the chips were down, he always responded. After all, Favre finished his career with a 62.0 completion percentage and an 86.0 QB rating.
As for Griffin, he was the Baylor Bears' entire offensive weapon, and still no defense could slow him down. As a freshman he tossed for over 2,000 yards with 15 touchdowns and only three picks. Not bad for his first college season with no help. Griffin also ran for 846 yards including 13 touchdowns that season.
So he had quite a bit of room to develop, and boy did he. Fast forward to 2010, when we saw Griffin begin to put his skill set together. Hitting 3,501 passing yards, Griffin threw 22 touchdowns to only eight picks and ran for 635 yards and eight rushing scores.
That was just a prequel to his Heisman season in 2011 with 47 total touchdowns and almost 5,000 total yards. And once again Griffin threw less than 10 interceptions. He only had 17 in his college career.
It's no wonder Favre is a fan of RG3. Their quarterback play is more similar than different.
Follow John Rozum on Twitter.