NBA Rumors: 5 Teams That Must Take a Risk on Brandon Roy
June 25, 2012

Nick Laham/Getty Images
Brandon Roy has confirmed that he's attempting to make a return to the NBA now that he's healthy and training for another chance in professional basketball. 
We aren't too far removed from the time that Roy dominated, and in this shooting guard-starved league, Roy is sure to command a lot of attention during the offseason. He's probably going to get a call from every single contender in the league. 
While almost every team surely wants the services of the retired three-time All-Star, only a few teams absolutely must take a risk on acquiring him. These are the five.
Note: The Portland Trail Blazers do not appear because they cannot re-acquire Roy's services until the 2014-15 season.
Chicago Bulls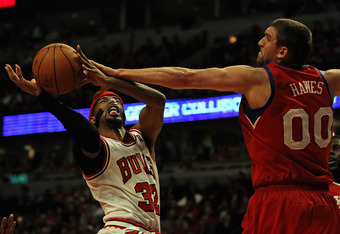 Jonathan Daniel/Getty Images
The Chicago Bulls have two major flaws right now. One isn't exactly fixable because Derrick Rose isn't healthy and will not return until the 2012-2013 season is well underway.
However, the hole at shooting guard can be solved in a variety of ways. The Bulls can hope Rip Hamilton stays healthy, or they can attempt to upgrade through free agency or the draft. Signing Brandon Roy would be a low-risk proposition because at the very worst, they'd get a formerly effective big name who could back up the masked shooting guard already on the roster. 
If the price for Roy isn't exorbitant, the Bulls must do everything they can to sign him. Cutting down the roles of both Roy and Hamilton would allow both players to remain injury free and effective. 
Shooting guard would become a strength and not a weakness, even if Roy isn't quite as dominant as he used to be. 
Los Angeles Clippers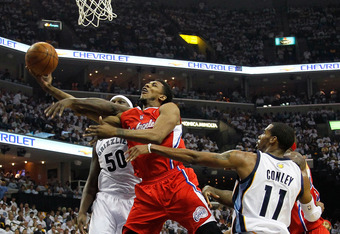 Kevin C. Cox/Getty Images
The trade for Chris Paul and the subsequent pairing with Blake Griffin turned the Los Angeles Clippers from an NBA laughingstock into a bona fide playoff team. Now, the Clippers need to make one more positive move to jump into the realm of the elite teams. 
Signing Brandon Roy could very well be that move, especially as the young players on the roster continue to develop. 
The Clippers were playing some mix of Nick Young, Randy Foye and Bobby Simmons at the 2 guard, and that isn't going to cut it on a team that hopes to contend for a title. This is especially true since all three of the players mentioned are now unrestricted free agents. 
Assuming that the team pursues a safer option in free agency as well, Roy would be a great fit for the Clippers. 
Los Angeles Lakers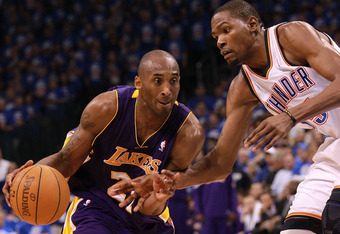 Ronald Martinez/Getty Images
Even since the rumor broke that Brandon Roy was planning a return to the NBA, the Los Angeles Lakers were mentioned in the same breath as the 27-year-old shooting guard. 
According to the New York Post's Peter Vescey, Roy is indeed considering a move to wear purple and gold: 
Brandon Roy is considering Lakers should he come back. I say he's coming back 4 sure...but to Warriors, where ex-agent Bob Myers is GM

— Peter Vecsey (@PeterVecsey1) June 1, 2012
Roy could use his defensive skills while coming off the bench as a Sixth Man of the Year contender for the Lakers. He has the size to play small forward in undersized lineups, especially if the two seven-footers remain on the team. 
Memphis Grizzlies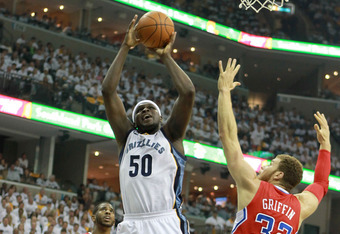 Andy Lyons/Getty Images
Back during Brandon Roy's rookie season, Zach Randolph and Roy were teammates for a short while. Roy didn't like it, if I may understate the dislike by quite a bit: 
Two years ago, late in Brandon Roy's rookie year, the Portland Trail Blazers lost yet another game. Zach Randolph went on a rant in the locker room afterward, calling out teammates, pointing fingers, telling other players they weren't pulling their weight.

Roy told Randolph to sit down and shut up. The next day, he went to see Portland general manager Kevin Pritchard and told him to get rid of Randolph.

"We can't win with this guy," said Roy, in so many words.

Pritchard dealt Randolph to Isiah Thomas's New York Knicks that offseason. Now the Knicks are trying to find a sucker to help them rectify Thomas's mistake.
Well, Z-Bo is a different player now. He's much more mature, much better and much more dedicated to his craft. In fact, he's now one of the elite players at his position. 
Roy, who has almost certainly been at least monitoring the NBA while he's been retired, should recognize that and welcome the opportunity to join forces once more. 
The Memphis Grizzlies are a solid playoff squad, but replacing O.J. Mayo with a healthy Roy could make the difference. A lineup of Mike Conley, Tony Allen, Rudy Gay, Zach Randolph and Marc Gasol with Roy coming off the bench as a sixth man would inspire a lot of fear around the league. 


Minnesota Timberwolves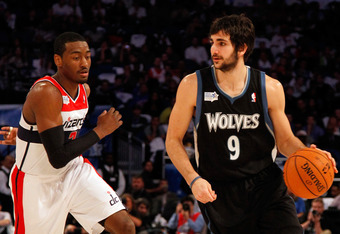 Mike Ehrmann/Getty Images
The Minnesota Timberwolves are one of the up-and-comers in the Western Conference thanks to the continued growth of Kevin Love and the addition of Ricky Rubio, one of the most talented young floor generals in the NBA. 
All they need now is a shooting guard to complete their starting lineup and they'll be good to go to compete for a playoff spot. 
With Rubio holding down the fort and running the offense, Love rebounding and scoring in a variety of ways, Derrick Williams improving as a second-year player and Nikola Pekovic continuing his ascent up the ranks of big men, the addition of Roy would pay quite a few dividends.
Roy hasn't been rumored to return to the team that originally drafted him at No. 6 overall in 2006 before he was traded to the Portland Trail Blazers for Randy Foye, but this would be a great and underrated fit.