Are the Lakers Restricted by New CBA, or Are They Just Cheap?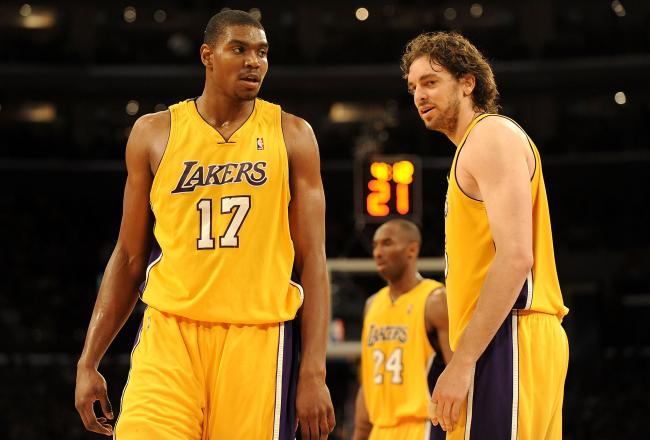 Harry How/Getty Images
The sky is falling—every last purple-and-gold drop of it. At least that would seem to be the consensus forming and fomenting amongst legions of Los Angeles Lakers fans.
The Lakers are ousted in the second round of the playoffs by the Western Conference champions for the second year running, and the best response team executive Jim Buss and general manager Mitch Kupchak can muster is, "More of the same"?
Call it what you want—shocking, disheartening, disappointing, galling, appalling, patient (heaven forbid)—but this "new" approach would, at first glance, appear to signal a New World Order around the Staples Center that Lakers fans might have some difficulty getting used to.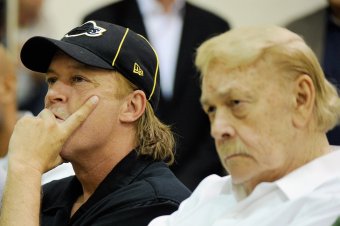 Kevork Djansezian/Getty Images
For years, they have seen the likes of franchise legend Jerry West and Mitch Kupchak wheel and deal with impunity under the auspices of longtime owner Dr. Jerry Buss. It was a "win at all costs" world, and the Lakers were the kings of it.
Times have changed, though. The Lakers essentially purged their front office during the lockout, leaving Mitch stranded on a proverbial island, as a chief consultant of sorts to Jim and Jerry Buss. Since then, the Lakers have seemingly shed salary without shame—losing longtime championship cogs like Lamar Odom and Derek Fisher—while swapping first-round picks for little more than a disappointing point guard (Ramon Sessions) and a distraction of a big man (Jordan Hill).
And now, rather than pursue another blockbuster trade on the level of the nixed Chris Paul deal, the 16-time NBA champions sound content to assume that a full, unadulterated offseason with Kobe Bryant, Pau Gasol and Andrew Bynum shuffling around under the guidance of second-year head coach Mike Brown will—with a cheap addition here and some Bird rights exercised there—be enough to boost the team back into title contention.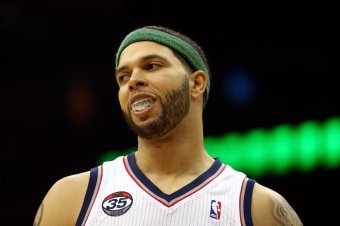 Chris Chambers/Getty Images
Because, among other things, according to ESPN's Marc Stein, Deron Williams may not be as keen to move to L.A. as once imagined, and the Brooklyn Nets are none too ready to facilitate such a deal unless the Lakers let go of Bynum.
Which is to say, unless Jim Buss renounces his family ties and cedes control over personnel to Kupchak.
Cue the moral outrage. Cue the torches and pitchforks and angry mobs and demands for heads on sticks. Cue Magic Johnson wringing his hands and threatening the Buss family with scowls and finger wags.
The Lakers are cheapskates! They don't care about winning anymore! They're content to waste Kobe's last good years and slink into a long, slow and entirely depressing downward spiral of mediocrity!
Riiiiiiight.
In reality (as opposed to some all-consuming basketball fantasy land), the Lakers are simply bracing for and adjusting to a new, more tightly-wound fiscal reality that's due to take root in The Association in short order.
According to HoopsHype, their current salary bill checks in at $75,755,042 without Sessions. That puts L.A. well over the expected salary cap of $58 million and a cut above the $70.3 million luxury-tax threshold. Per Ken Berger of CBS Sports, both numbers are expected to hold steady after the league saw only a marginal increase in overall revenue this season.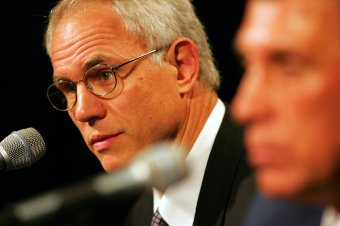 Ronald Martinez/Getty Images
As a result, the Lakers' options for roster improvement are limited. They can use a mini mid-level exception, with a base salary of $3 million and a maximum length of three years, to lure a free agent, though they would be hard-pressed to find a real difference-maker at that price.
If the Lakers choose to use their amnesty clause on Metta World Peace, they could move below the luxury-tax line, where they would have access to the regular mid-level (maximum of four years at $5 million per year), though doing so would leave them even more woefully thin at small forward.
L.A. still has the $8.9 million trade exception from the Odom deal at its disposal, but as Kupchak told ESPNLosAngeles.com's Andy Kamenetzky:
Wouldn't that be nice if a team gave us a player making $9 million or less to improve our team? Obviously, the chances of that are not good. We'd probably have to move something back in the other direction just as good to make the other team happy. However, there are occurrences where teams look to get rid of a player that maybe doesn't fit in or sometimes the trade exception can be used to make a more complicated trade. So it's valuable to have, but it's not like you can go out and sign a player making $9 million.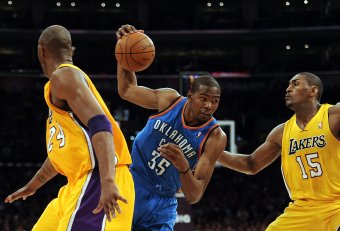 Harry How/Getty Images
Not exactly an encouraging sign when the rest of the Western Conference appears to be passing them by. The Oklahoma City Thunder, who ousted the Lakers in five games during the playoffs, just cracked the NBA Finals and only figure to get better as their young roster matures.
The Denver Nuggets, who pushed the Lakers to seven games in the first round, will have just under $16 million in cap room with which to improve their roster this summer. The San Antonio Spurs might have some space as well, depending on how much of their current cap they spend to keep Tim Duncan around, while the Memphis Grizzlies and the cross-hall Clippers figure to be tough covers, even without earth-shattering additions.
And even Mitch couldn't hide behind the idea that a normal training camp and regular practice time will boost the Lakers' cause to a noteworthy degree:
"I think we would be better, but other teams are gonna get better, too."
What's more, taking on more salary would mean adding a significant burden to the Lakers' luxury tax bill under the new CBA, which goes to additional lengths to punish perennial offenders. As CBA guru Larry Coon recently calculated:
For example, the Lakers' tax bill in 2011 (when the tax was dollar-for-dollar) was about $19.9 million. Under the new system, being that far over the tax line would cost them $44.68 million. If they were a repeat offender (paying tax at least four of the previous five years) they would owe $64.58 million!
You read that right—$64.58 million, which is $6.58 million more than the salary cap itself.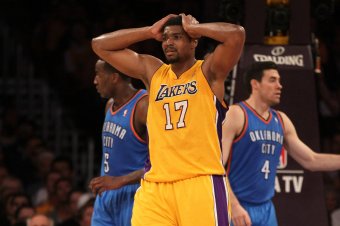 Stephen Dunn/Getty Images
Fortunately for the Lakers, their invoice for the upcoming season figures to be much more modest, assuming they don't splurge on Sessions and/or take on more salary with the Odom exception. If they do (i.e. when Bynum comes up for a massive extension in the coming year), the fiscal consequences will be even more dire when the tax's punitive effect ramps up during the 2013-14 season.
So what, then, among all this doom and gloom, is supposed to keep the mob at bay?
For one, the Lakers don't operate on the same financial terms as many (if not most) NBA franchises, and not in the way one might think. True, the Lakers have supplanted the New York Knicks as the league's most valuable outpost on the annual Forbes list and are set to rake in more revenue from a new 20-year, $3 billion TV deal with Time Warner Cable that tips off with the 2012-13 season.
Unfortunately for the Lakers, they will likely have to fork much of that money over to the league as part of an expanded revenue-sharing program under the new CBA. So, rather than using TV money to keep a perennial title contender afloat, they will have to designate those funds as the cost of appeasing small-market teams in Charlotte, New Orleans, Cleveland and Milwaukee and go about retooling their roster through more clever means.
And, lest anyone think Lakers brass is "cheap" for abiding by these rules, consider the unique position in which the Buss family currently finds itself amongst its peers.
Unlike, say, Miami Heat owner and Carnival Cruise heir Micky Arison or Oklahoma City Thunder owners and Midwest energy magnates Clay Bennett and Aubrey McClendon, the Busses don't have another business, another source of revenue, with which to prop up the Lakers.
Rather, the Lakers are the centerpiece (if not the sole enterprise) of the Buss "empire." They can't rely on the deep pockets of billionaires to cover up or absorb losses.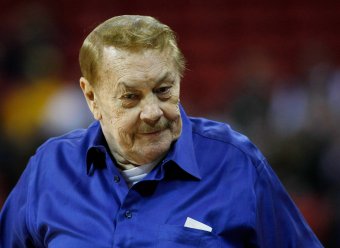 Ethan Miller/Getty Images
As such, it's critical that the Lakers remain fiscally sound, with a profit margin that allows for reinvestment. Otherwise, the Busses, like the O'Malley's with the Los Angeles Dodgers before them, won't be able to keep up, leaving them with no choice but to sell the team.
That wouldn't exactly be ideal for the fans. After all, the Lakers have won 10 titles and missed the playoffs just twice since the Buss family bought the team from Jack Kent Cooke in 1979. Does anyone really think the team would be better off under the umbrella of a wealthy entity with a bigger purse—another Frank McCourt, if you will?
But beyond all the panic, bluster and hyperbole regarding the Lakers' impending future (and management's comments about it), keep in mind that the calendar still reads "June." There's plenty of time between now and the start of the season—with the NBA Draft and free agency likely to shake up the landscape—for the Lakers to pull enough strings to shoo away the doom and gloom.
Who's to say Mitch and Jim aren't working the phones as you read this, perusing the league for ways to upgrade the roster? Perhaps they are just treading lightly, doing their best not to tip their collective hand in public and, in turn, cede leverage to a horde of hungry GMs eager for cut-throat deals on All-Star big men. Kupchak knew better than to do that during the season, when Kobe called for the front office to come clean with its designs for Pau and the GM flatly refused.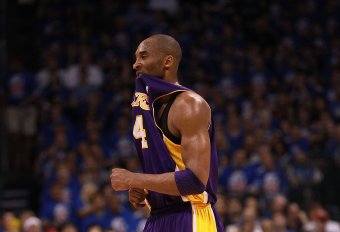 Ronald Martinez/Getty Images
The rumor mill may be bigger and more active than ever, in this day and age of Twitter and 24-hour sports coverage across all platforms, but it's hardly a crystal ball in all cases. Did anyone really see the Nets digging deep for Deron Williams at the 2011 trade deadline before the deal went down at the 11th hour?
Perhaps Mitch and Jim are just being honest, trying to temper expectations should L.A. fail to find a transaction that improves the team. Perhaps they are privy to the notion that blockbuster trades are few and far between, particularly in relation to the grand stacks of gossip that's ever more emboldened by the advent of the Trade Machine.
Perhaps they know better than most (as well they should) that such extreme makeovers take time, patience and careful planning to pull off. Chris Broussard can propose all the juicy trade scenarios his heart desires, but it takes much more than the cold comfort of "This Trade is Successful!" to bring them to fruition, much less with just the click of a button.
Do the Lakers need to shake up their roster to contend for a title?
Surely, Kupchak and Buss deserve the benefit of the doubt (to some extent, at least). They struck gold with Gasol in 2008, built back-to-back title teams on the fly and nearly reloaded with the best point guard on the planet last December.
Call the Lakers what you want. Deride them as cowardly misers or praise them as fiscally-responsible planners. Heck, call them both if it pleases you to do so.
Just don't call them stupid or accuse them of caring more about money than winning.
Not yet, anyway.
This article is
What is the duplicate article?
Why is this article offensive?
Where is this article plagiarized from?
Why is this article poorly edited?

Los Angeles Lakers: Like this team?