Lessons in Speaking to the Media: Outrageous Comments from Sports Figures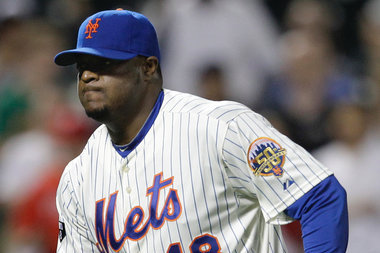 If you're going to take a shot at another team, especially a cross-town rival, at least make some sense of what you are trying to insult them over.
Last Wednesday, the day before the eve of the Subway Series with the New York Yankees, New York Mets closer Frank Francisco had some choice words about the upcoming series with the Bronx Bombers.
"I can't wait to face those chickens," Francisco told the New York Post. "I want to strike out the side against them. I've done it before."
Chickens? The Yankees? What?
In context, Francisco made it sound like the Yankees are a team that is constantly afraid of opponents. On the contrary, if that were true, the Yankees probably wouldn't boast one of the best records in baseball.
While yes, Francisco has struck out the side against the Yankees once in his career, eight years ago, he failed to do so Friday night in his only appearance of the series.
As a matter of fact, he was just one bad pitch away from blowing his fourth save of the season after allowing two base runners to get on.
After battling to get the last two outs and his 18th save of the season, Francisco strained his oblique muscle in the process. On Saturday he attempted to throw, but was too afraid of aggravating the injury, and decided it was best to go on the 15-day disabled list.
Strange how karma works sometimes, but it's not the first and won't be last time a player or coach says something dumb to the media.
Here's a short list of past ridiculous comments to the media.
Begin Slideshow

»
Unfortunately, I couldn't find the link to the actual interview, but I can settle for this.
Back in 2004 after a loss to the New York Yankees, then Boston Red Sox pitcher Pedro Martinez referred to the Yankees as "his daddy" during a postgame interview, prompting the Yankee fan base to chant it at the former Cy Young award winner every time he took the mound thereafter.
Here's Pedro hearing the chant during the 2009 World Series as a member of the Philadelphia Phillies.
After coming up short to the Dallas Mavericks last season in the NBA Finals, LeBron James had a few choice words for those who root for him to fail.
Thanks for setting the record straight, LeBron. While I'm sure the rest of the world may never live a lifestyle as glorious as your own, it's comforting to have it shoved down our throats from the world's top athlete.
At the time of this interview, the man with the newly changed name took no time in reasserting the public's notion that he has no idea what is going on.
After receiving a question about his new identity as Metta World Peace, the player formerly known as Ron Artest evades the subject completely and goes on about how great it is to lose your baby teeth when you're a child instead of when you're in your 30s.
You can reinvent your name all you want, Metta, but unfortunately that doesn't reinvent the character of the individual.
Like father, like son.
Lamar head coach Pat Knight, son of all-time great head coach Bob Knight, blew up at his team after a loss to Steven F. Austin.
Knight ripped his seniors apart, citing drug issues with several players and that they were practically stealing scholarship money from the school.
Probably not the best approach, especially when it comes to recruiting players for the next season.
There couldn't have been a worse relationship between a player and coach in the NBA this season.
Amid swirling rumors regarding Dwight Howard's desire to stay in Orlando, head coach Stan Van Gundy became a bit too frank with the media on this day.
After Van Gundy told the media that he was informed by management that Dwight Howard wants him fired, Van Gundy took several shots at his superstar player.
Eventually, Howard comes into the interview unknowing of what Stan had just said, which made for one of the most awkward situations imaginable.
Another instance of an athlete failing to answer a question with a relevant answer, it's none other than Mike Tyson.
Tyson takes control of the interview, disregarding interviewer Jim Gray's questions with statements that are flooding Tyson's head at the moment.
Eventually, Tyson exclaims that he is coming for Lennox Lewis, and that he will "eat his children" before concluding with "praise be to Allah."
In a nut shell, Mike Tyson.
Oklahoma State football coach Mike Gundy produced one of the greatest rants of the year when an inaccurate story about one of his football players was written in the newspaper.
While his statements are far from dumb, his approach in attacking the writer of the article is so unprecedented that it deserves nomination.
This one never gets old. When responding to criticisms about his practice habits, 76ers guard Allen Iverson goes on a legendary rant about the importance of practice in the grand scheme of things.
"We talkin' about practice, not a game, not a game, not a game, we talkin' about practice".
And he repeats it about a thousand times over until we finally understand the importance of practice.