College World Series Predictions: South Carolina Pitchers Will Shut Down Arizona
June 25, 2012

Ronald Martinez/Getty Images
In order for South Carolina to take home a third consecutive College World Series title, the team's pitching must do what no one has done this postseason: shut down the Arizona offense.
The Wildcats boast one of the best lineups in the country, and it is undoubtedly the reason the team is one win away from a national championship.
The lineup features eight qualified players hitting over .300 for the season, and almost of all of them can hit for extra-base power. Arizona has produced double-digit runs in 17 different games during the season and has not scored less than four runs during its undefeated run in the postseason.
It would take an extraordinary pitching staff to shut down this great lineup. Fortunately for South Carolina, they have that staff in place.
Knowing it would take two wins to win the CWS, coach Ray Tanner wisely saved his best pitchers for the final two games. Sunday's starter, Forrest Koumas, has made only four starts this season. The team did not throw the game, but they are much more prepared for Game 2.
Facing elimination, there is no one in the country South Carolina would rather have on the mound than probable starter Michael Roth. In his career, Roth has amassed an 8-0 postseason record with a 1.32 ERA. He has proven time and again that he is the most clutch pitcher around, apparent by last week's complete game win against Kent State with the season on the line.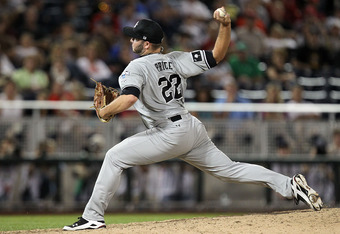 Ronald Martinez/Getty Images
While he will be pitching on short rest, the Gamecocks will be able to back him with an outstanding bullpen featuring Matt Price and Tyler Webb, among others. Price proved his worth in the clinching game against Arkansas, striking out half of the 10 batters he faced while allowing only one baserunner.
If South Carolina evens the series, the squad will still have talented starters Colby Holmes and Jordan Montgomery to throw out against Arizona.
This game will not be the first time the Gamecocks are close to elimination. They had to win three straight times in a two-day period to reach the finals; a single loss would have sent the two-time defending champs home.
It is obvious South Carolina is not going away too easily. Arizona better not get overconfident, because the flamethrowers on the other side will keep them quiet.