NBA Free Agency 2012: Would Ray Allen Ensure NBA Title Repeat for Miami Heat?
June 25, 2012

Mike Ehrmann/Getty Images
Adding future Hall of Famer Ray Allen to the Miami Heat would undoubtedly guarantee a second straight NBA championship.
According to ESPN.com's Brian Windhorst, there is "mutual interest between Allen and the Heat." Windhorst says the Heat would be able to offer Allen approximately $3 million and a team that has proved it can win championships.
Although it would certainly mean significantly less money than the approximate $10 million he made last season with the Boston Celtics, there is no question Allen and the Heat would be a tremendous partnership.
These are the three reasons why the Miami Heat would win an NBA championship in 2013 with the addition of Allen. 
Top-Notch Relief for Injury-Prone Dwyane Wade
He missed 17 games during the regular season and had a lingering knee injury that now has him out of the Olympics for team USA, as Dwyane Wade clearly needs his rest.
Last season, Wade averaged a career-low 33.2 minutes per game as a result of the injury. Yet the truth is he may in fact need even less playing time going forward. Signing Allen to the team would allow for the Heat to play Wade 29-32 minutes per game and give the second unit a proven scoring threat.
Giving Wade a few minutes of extra rest per game will go a long way for this Heat team towards the end of next season. Not to mention, it allows a player who has started games his entire career to continue to put pressure on opposing defenses while Wade sits.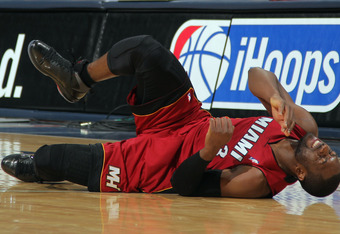 Doug Pensinger/Getty Images
Allen averaged 14.3 points per game on 45.8 percent shooting last season with the Celtics.
Allen Brings Playoff and Championship Experience to South Beach
The Heat may be NBA champions. However, a team can never have enough championship experience on the roster. Allen was a member of the 2008 Boston Celtics who went through two seven-game series before winning a title.
Miami is a team that boasts a significant amount of young talent. Nine players on the team are 29 years old or younger, and four players are 26 or younger.
Players like Mario Chalmers (26) and Norris Cole (23) could also use the mentoring of Allen for the next season or two, and would undoubtedly benefit from the move almost immediately.
Best at What the Heat Need Most
One of the more legendary shooters to ever grace the game fits exactly into the offensive system that Pat Riley and head coach Erik Spoelstra have set in place.
LeBron James, Dwyane Wade and Chris Bosh are clearly the main threats in the half-court set. Yet it is because these three are so talented that when they take the ball into the paint, there are shooters constantly open on the perimeter.
Teams will be more likely to get out on Allen than Shane Battier or Mario Chalmers, so there is no question that Allen makes for a significant distraction. If teams play him more closely and respect his jumper, James and Wade will have all the more room to roam in the paint. If they elect to leave him open, he is capable of dismantling opponents with the jumper.
It's a win-win situation for the Heat and Allen, as even when Allen is not catching the basketball, he is constantly distracting defenses with his off-the-ball movement. And of course, when Allen gets the rock for an open jumper, he is deadly there as well.