Portugal vs. Spain: Preview, Live Stream, Start Time and More
June 25, 2012

Michael Steele/Getty Images
The Euro 2012 semifinals will feature one of the most exciting matchups to be played all tournament—Spain vs. Portugal.
The two teams have some of the most dangerous players in the world, and we will finally get to see them in action on Wednesday.
When: Wednesday, June 27 at 2:45 PM (EST)
Where: ESPN2
Live Stream: ESPN3
The wounds of Portugal's 1-0 loss to Spain in the 2010 World Cup are still fresh, so expect to see a vengeful Cristiano Ronaldo take the pitch Wednesday afternoon. Ronaldo was at his best in the quarterfinals against the Czech Republic last week, and he needs to be every bit as threatening against Spain.
Ronaldo has taken more shots than any other player in the Euros, but he'll find it difficult to get shots off without possession of the ball.
Spain's dominance over opponents comes from their ability to control the ball for nearly 60 percent of the game. They build from the back, make the extra pass and set the pace, truly making others play their game. Ranked as the No. 1 team in the world, Spain has yet to lose a game in the tournament, and it doesn't look as though that will ever change.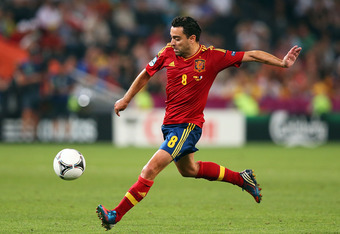 Alex Livesey/Getty Images
Portugal's opportunity to win this game will be attacking the sidelines. Nani, Fabio Coentrao. Joao Moutinho and Joao Pereira will have to be at their absolute best. If they can serve the right balls into Ronaldo and Hugo Almeida, Portugal could sneak into the finals.
The key to this game will be who scores first. Spain's possessive nature makes it feel as though you are losing the game when the score is still 0-0. They are an incredibly frustrating team to play against and Ronaldo tends to try and do too much in that kind of atmosphere. An early lead is the only way to relieve that tension.
If Portugal can sneak a ball past Iker Casillas, the pressure is placed back on the Spaniards. Will they speed up their game and make costly mistakes? Will Xavi actually turn the ball over? Scoring that first goal could be the way to push Spain over the edge.
As far as defense is concerned, one bright spot for Portugal is that Fernando Torres is completely off his game. Despite scoring twice against Ireland, Torres' confidence is lacking, and it's directly affecting the way he strikes the ball. If Torres remains silent, Portugal might push their attack further up than normal in an attempt to counter Spain's conservative efforts.
Let the battle of the Iberian Peninsula begin.