Euro 2012 Semifinals: Players to Watch in Germany vs. Italy Showdown
June 25, 2012

Scott Heavey/Getty Images
All it takes is one.
One play from one player will put one team one match from a UEFA Euro 2012 title. When Germany and Italy face off in the tournament's semifinals on Thursday afternoon, here are the four players that possess the ability to single-handedly win the match for their respective teams.
4. Mario Balotelli
If Italy has any hope of outscoring the Germans, Mario Balotelli must blow up. While Balotelli has only recorded one goal thus far, he also scored on a penalty kick in the Italians victory over England.
He's the country's most talented striker and his performance will make or break their championship dreams.
3. Mario Gomez
Mario Gomez set the tone for Germany from the get-go. He scored the game-winning goal in a 1-0 victory over Portugal and outscored the Netherlands by himself sending home both goals in the Germans' 2-1 triumph.
While Gomez hasn't scored since, he's still one of only four players to record three goals since the group stage began.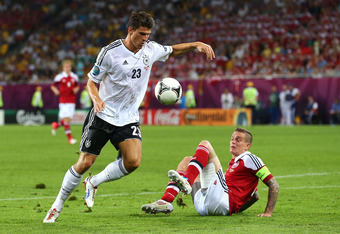 Martin Rose/Getty Images
2. Mesut Özil
When Gomez stopped scoring, Mesut Özil started creating.
Özil has been Germany's best playmaker as he assisted three goals in their last two matches—one of just four players to produce that many assists. If Özil continues to set up his teammates or Gomez reignites the magic, it'll be a long game for the Italians.
1. Gianluigi Buffon
Gianluigi Buffon is kind of a big deal.
Italy has only scored four goals in regulation during the European Championship, but despite their lack of scoring, they're still in position to claim the crown because of Buffon's brilliance.
The goaltender shut out England and Ireland after holding Croatia and Spain to just one goal. His effort resulted in Italy being the only team that the Spanish failed to defeat. If the Italians manage to slow down the Germans' offensive juggernaut, they'll need another legendary performance from Buffon.
David Daniels is a featured columnist at Bleacher Report and a syndicated writer.