Portland Trail Blazers Must Pick Damian Lillard No. 6 in 2012 NBA Draft
June 25, 2012

Ethan Miller/Getty Images
With their first selection in this year's draft, the Portland TrailBlazers would be wise to select the draft's best point guard, Weber State's Damian Lillard.
For weeks, Lillard and Connecticut center Andre Drummond have been discussed as the two prime candidates to be selected at No. 6, but only one of those players really makes sense.
A shoot-first point guard, Lillard's game translates well to a league that is becoming more point guard-centric. At 6'3'', Lillard has good size, the same height that point guards Derrick Rose, Deron Williams and Russell Westbrook are all listed at.
With point guard Raymond Felton and erratic scorer Jamal Crawford headed for free agency, Lillard fits an immediate need, and along with Kyrie Irving could comprise the next group of premier NBA point guards.
Playing at Weber State, Lillard flew under the national radar, and while Drummond may be a sexier name, Lillard's game is far more NBA-ready.
Averaging 24.5 points per game in his junior season, Lillard was one of the nation's most prolific scorers. Shooting nearly 47 percent from the field and 41 percent from three-point range, Lillard has the range and versatility that are associated with today's NBA point guards.
As a floor general, Lillard has room to improve, but his average of four assists per game is a good starting point. With an assist-to-turnover ratio of roughly 2:1 last season, Lillard sees the floor well enough to start immediately at the professional level.
After Lillard, the draft becomes devoid of any elite talent at the point guard position, with more combo-guards becoming available in the latter stages of the first round.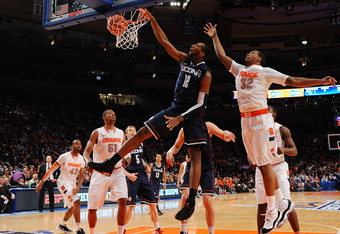 Michael Heiman/Getty Images
True point guards may be a rarity in this year's draft, but quality centers and power forwards can be found throughout the first round.
While Drummond is a very intriguing prospect at 6'10'' and 270 pounds, the Blazers should be able to find some starting-caliber talent at center with pick No. 11 in the first round.
Drummond's upside may be second only to consensus No. 1 overall selection Anthony Davis, but for a team looking to improve immediately, there are prospects that fit better with the Blazers' plans.
For now,  Drummond may look like the second coming of Andrew Bynum or DeAndre Jordan, but his game will take years to reach its fullest potential, time the Blazers simply can't afford to waste.
Prospects like John Henson, Tyler Zeller and Arnett Moultrie are all intriguing prospects, each of whom is capable of making an instant impact in the NBA.
All three players have at least three years of college experience, and have proven they are capable of producing double-doubles at a relatively consistent clip.
Of those three prospects listed, Moultrie looks like he could be the best fit alongside LaMarcus Aldridge in the Blazers frontcourt. Unlike Henson and Zeller, Moultrie is extremely versatile on both the offensive and defensive end.
At 6'11'', Moultrie has the length to match up with opponents, and the athleticism to be a matchup nightmare for less agile big men. Averaging 16.4 points and 10.5 rebounds per game in his junior season, Moultrie showed he was the real deal.
A first-round pairing of Lillard and Moultrie may not be what experts are predicting, but it could end up being a very effective duo down the line. Teamed up alongside LaMarcus Aldridge and Wesley Matthews, Lillard and Moultrie could help solidify one of the league's more promising young rosters.
In order to create a complete, well-rounded roster, the Blazers must find their point guard of the future. Lillard will likely be available at No. 6 overall, and although Drummond is unlikely to fall to No. 11, there will still be plenty of frontcourt options available.