Miami Heat Championship Parade: Live Blog, Coverage and Twitter Reaction
Ronald Martinez/Getty Images
The 2012 NBA Finals are in the books, and the Miami Heat have been crowned champions. As one would expect, the result will be a celebration that could be likened to the party of a lifetime.
After all, this is Miami we're speaking of.
For those interested in the Heat's championship celebration, follow along! Bleacher Report will be providing all the live coverage and analysis that you could need as the Heat parade South Beach, starting at 11 a.m. ET.
Excitement will be at an all-time high, and in all likelihood, there will be some memorable sound bites. Here's to celebrating greatness!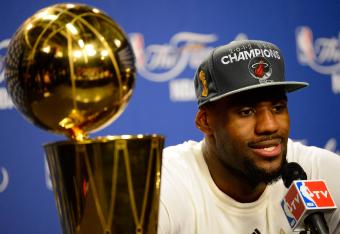 That'll be all for the 2012 NBA season, folks.
The final shot we all got to see? LeBron James holding the NBA title in the air.
The King has been crowned.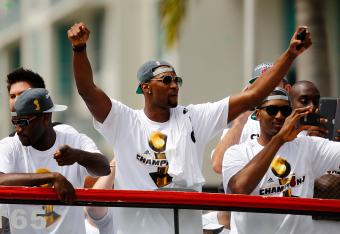 No guarantees for another title, but a beautiful video montage summing up what was an outstanding season. Love them or hate them, the Miami Heat played the game of basketball at a level which very few have ever been able to achieve.
Until someone dethrones them around this time in 2013, the Miami Heat are the champions of the world. If you thought the heat was on them in 2012, next year will bring something new.
Song Title: The Crown by Dangerflow
2012 NBA Champions: Miami Heat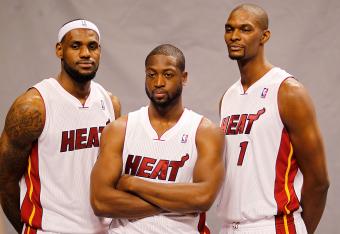 The Big Three have hit the stage.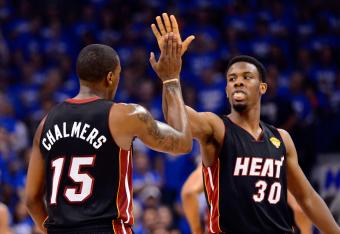 Norris Cole comes up to talk and the first thing they speak of? Miami's first home game over 80 games ago.
James Jones and Joel Anthony are next up to speak.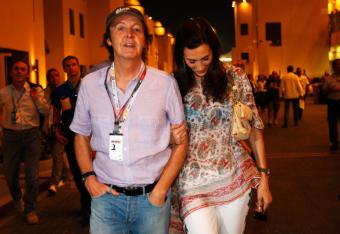 Funny montage mixing footage of the Beatles and "The Heatles." Definitely going to be a YouTube sensation, for better or worse.
"No matter if I heard, 'Give LeBron a dollar, he only got three quarters.' They came to see us play." - LeBron James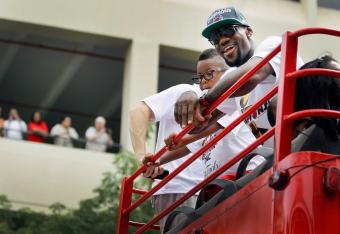 LeBron James is given King's treatment as he doesn't even half to walk on stage, they walk to him for an interview.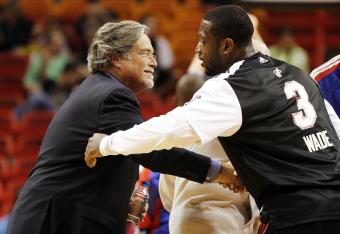 "Mr. Arison... 2010 was a tough summer... We had to decide where we wanted to spend the rest of our careers at... I'm from Chicago, but you know where my family is? My family is in Miami. I thank you for making me family, treating me like family." - Dwyane Wade to owner Micky Arison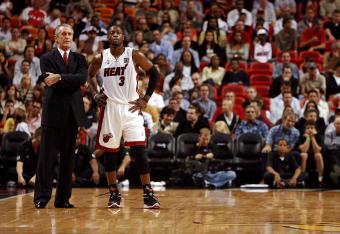 "2003 when I was coming out of Marquette University... Being picked fifth by the Miami Heat when I thought I was going to go 20th or something, was one of the greatest moments of my life... Thank you [Pat Riley]" - Dwyane Wade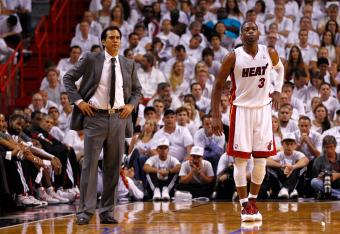 "Coach, it's crazy that I call [Spoelstra] coach 'cause when I first got here, all he did was do the Christmas videos." - Dwyane Wade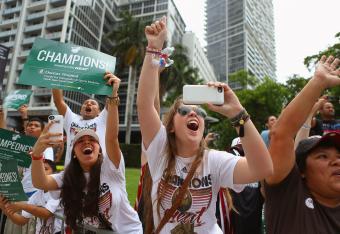 Here he comes. Marquette's pride and joy! None other than Dwyaaaaane Waaaade!
On winning an NBA Championship:
"I would like to do it all the time." - Chris Bosh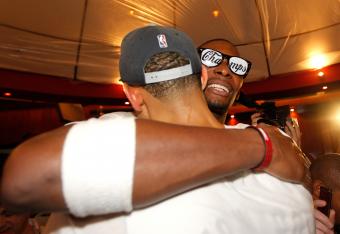 Chris Bosh has been called up on stage for a celebration! I guess we're back to the Big 2 and Bosh talk...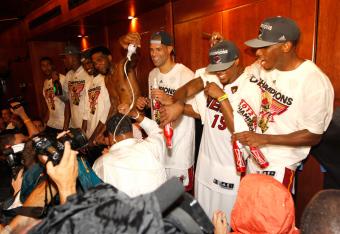 Mario Chalmers being yelled at by LeBron James and Dwyane Wade from the couch. Video montage of their yelling as everyone gets a good laugh.
Followed by...
"Hey Norris, you're about to go through the same thing I went through!" - Mario Chalmers to his backup Norris Cole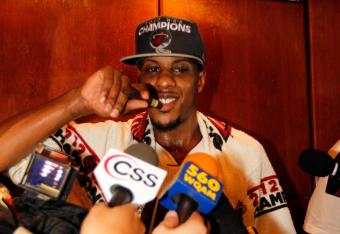 Mario Chalmers up to talk and the fans love it. He carries himself like a champion and has the High School, College and NBA titles to show for it.
Mike Miller and Shane Battier come up together to a huge ovation. The Heat's perimeter kings have arrived.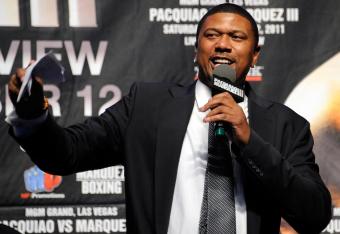 Juwan Howard with one of the funniest dances you'll ever see. I swear he could have been in the movie House Party with those moves...
"We won this ring for the Michigan Fab Five!" - Juwan Howard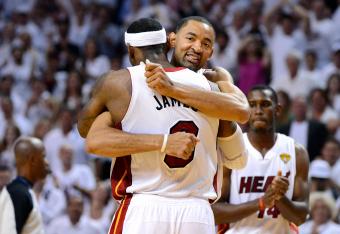 Here is Juwan Howard. Finally with a ring and he can't stop smiling!
"Miami... Oh, it feels great! It was worth the wait..." - Juwan Howard
The Miami Heat once again celebrate a flagrant foul, offering credit to Dexter Pittman for his violent act. Definitely the strangest celebration in NBA history.
"Summer League is the next step for me." - Terrel Harris
The Miami Heat are responding well to this young man. Appears to have a bright future within the organization.
Only in Miami would they crown something "the greatest flagrant foul in team history." Well, at least violence isn't frowned upon somewhere...
Udonis Haslem comes up to speak, heralded as the Heat's two-time NBA champion!
Pat Riley gave his speech and... Didn't guarantee anything. I guess he felt more comfortable with Magic Johnson than he does with LeBron James.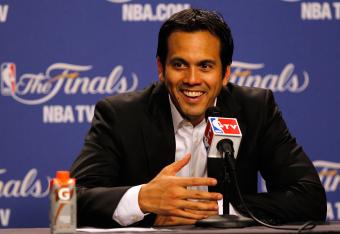 "One of the best coaches in the NBA, Erik Spoelstra!" Do you agree with such a statement? Hit the comments section and let us know!
This article is
What is the duplicate article?
Why is this article offensive?
Where is this article plagiarized from?
Why is this article poorly edited?

Miami Heat: Like this team?