Minnesota Twins: Why Are They Reluctant to Use the Disabled List?
June 25, 2012

Hannah Foslien/Getty Images
The Minnesota Twins have had several injuries that have appeared worse than they initially appeared. Well, that is if you believed their training staff which has seen its share of screw-ups in the past couple of years.
Injuries to Twins such as Pat Neshek, Francisco Liriano, Joe Mauer and even Twins pitching prospect Kyle Gibson were initially deemed as "day-to-day" injuries, but went on to become month-long trips to the disabled list or even season-ending injuries.
The latest example of ineptitude by the Twins training staff has been the injury to closer Matt Capps.
Capps experienced soreness in his throwing shoulder after taking a loss against the Milwaukee Brewers on June 15. Twins manager Ron Gardenhire did not like the idea of losing his closer for an extended period of time, so Capps was listed as "day-to-day" and didn't pitch for a week.
As the period of inactivity for Capps increased, so did doubts that Capps was actually day-to-day. Capps would not pitch again until the Twins' 6-0 loss to the Cincinnati Reds on Saturday, and he woke up Sunday morning with more pain in his shoulder.
After a week of being short a roster spot, the Twins look like they're finally ready to put Capps on the DL before Monday's opener against the Chicago White Sox.
That has to make people ask what is taking so long to actually put a player on the disabled list. On the other 29 teams in Major League Baseball, if a pitcher is having soreness in his shoulder, he would be on the DL immediately.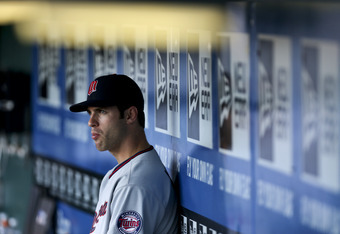 Ed Zurga/Getty Images
That's because the Twins are afraid to use the disabled list.
They're terrified of the public backlash a player going on the disabled list would cause...well...at least in their minds. That's because when Mauer went on the disabled list in 2011, all hell broke loose.
It's been well documented how Mauer missed a majority of last season with "bi-lateral leg weakness," and the near riot situation with Twins fans over Mauer's condition has to have given the franchise some reluctance to use the 15-day DL.
To prove this, look at the last three weeks of Mauer's availability. The catcher suffered a sprained thumb against the Cleveland Indians on June 3 and then sat on the roster for an entire week before returning June 9 against the Chicago Cubs.
A week later, Mauer was involved in a home plate collision with Brewers second baseman Rickie Weeks. The collision left Mauer with a bruised quad, and the Twins kept him on the roster for another week despite needing the extra bat due to National League rules.
Although Mauer was able to pinch-hit, he couldn't do much else. That should mean that a 15-day vacation would help him recover, but then again fans might tear down the Harmon Killebrew statue at Target Field if that happened.
(Actually, little kids try their best to do that anyway by disrespectfully hanging off the bat part of the statue, but that's a different story.)
It's fashionable for Twins fans to blame Mauer for everything, but this issue seems like a more legitimate concern. Keeping an injured player on the roster can only hurt the team, and that's why the Twins find themselves with the worst record in the American League with things like this.