Arizona vs. South Carolina: Predictions for College World Series Game 2
June 25, 2012
Harry How/Getty Images
The South Carolina Gamecocks have a bit of work to do if they want to accomplish an incredible three-peat in the College World Series.
Arizona absolutely rocked the 'Cocks in Game 1 of the three-game series with a 5-1 victory thanks to the Wildcats' excellent pitching and steady offensive support.
With its back to the wall, South Carolina must figure out a way to win Game 2 and force a deciding Game 3 if it wants to be the first back-to-back-to-back champs since Southern California won every title from 1970 through 1974.
Here are some adjustments the Gamecocks can make to extend the series and what Arizona must do to crush South Carolina's dreams.
Key to South Carolina Victory: Pitching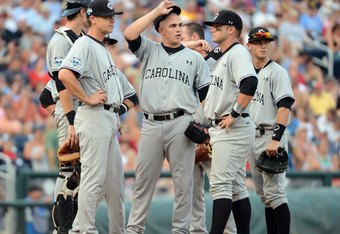 Harry How/Getty Images
If SC has to rely on the bats to get back into the game, it's all but over. The Gamecocks must win the battle on the mound and keep the U of A off the scoreboard.
South Carolina can definitely score some runs, but the Gamecocks will not be able to dig their way out of a big hole like the one they fell into in Game 1.
Key to Arizona Victory: Hitting
With a number of players on the Wildcats hitting above .300 on the season, they just need to keep making contact and putting the ball in play.
It has been working out for them all year long, and there is no reason to think that anything will change in Game 2.
Prediction
South Carolina 4, Arizona 2
The Gamecocks will be desperate to pull out a victory and have a great chance of doing so if they can get some solid pitching in this matchup.
Arizona might be the better team and may win the series, but it will take a third game to get the deciding win.