2012 NHL Draft Grades: Teams That Earn Top Marks from Selections
June 25, 2012

Bruce Bennett/Getty Images
Many moves in the 2012 NHL draft made quite a stir, but which selections helped teams the most?
There were a number of exciting trades on draft day featuring players young and old, but these teams did the most with their draft picks rather than trades.
While not all will have an immediate impact, these teams will be more than satisfied down the line with their choices.
New York Islanders
There was little doubt what direction the Islanders wanted to go in the draft. After allowing the fourth-most goals in hockey, New York knew it had to improve its defense.
After trading for defenseman Lubomir Visnovsky, the team proceeded to draft seven more players for the back line. Fourth-overall pick Griffin Reinhart is easily the best of the bunch, and the Canadian will likely not take much time to help the organization. 
For a team that has not reached the playoffs since 2007, it finally seems to be moving in the right direction.
The Capitals had two picks in the first round and hit on both of them. Swedish center Filip Forsberg and Canadian wing Thomas Wilson are two of the best forwards in the class and could be playing on a line together for a while in the nation's capital.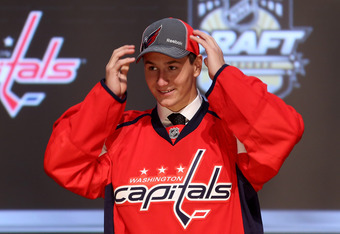 Bruce Bennett/Getty Images
Washington has had plenty of skillful scorers over the past few years, and they looked to continue that trend throughout the draft. With the talent compiled, they could find themselves in the Stanley Cup every year.
Columbus Blue Jackets
In a draft that was very deep on defensive prospects, the Blue Jackets were able to get the best of the bunch in Ryan Murray. He is solid in just about every phase of the game, and it will not be long before he is an impact player in Columbus.
The team was also able to get two of the better goalies in the draft between Oscar Dansk and Joonas Korpisalo. If one of these men pan out, the Blue Jackets will be in solid shape for the future.
For a team that desperately needs defensive help, the organization made some solid picks in the draft.