Following Italy's riveting shootout victory over England, the Euro 2012 semifinals are set and we have a pair of exciting matchups on our hands.
Defending Euro champion Spain will take their "boring" play into Donbass Arena on Wednesday to face a Portugal squad who has rebounded quite nicely since since their opening match loss to Germany.
Speaking of the Germans, Joachim Low's undefeated team has been arguably the most impressive group of the tournament so far, coming off a lopsided 4-2 victory over 2004 Euro champion Greece.
They will take on an fiery Italian team that won a thrilling shootout victory over Wayne Rooney and England on Sunday thanks to some phenomenal work in goal by Gianluigi Buffon.
That second semifinal will take place on Thursday at Stadion Narodowy in Warsaw.
While Germany and Spain seem to be the favorites to meet in the 2012 Euro Final, it will by no means be an easy road for either team.
Here is a look at a player for each semifinal team whose performance will decide the Euro 2012 Championship matchup.
Andres Iniesta, Spain
Part of Spain's star-studded midfield core, Andres Iniesta has been Spain's best player so far in this Euro tournament and he should continue his fine play in the semifinal against Portugal.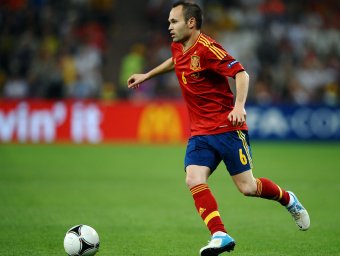 Laurence Griffiths/Getty Images
Perhaps the most reliable player in Vincente Del Bosque's lineup, Iniesta and fellow midfielder Xavi are masters at leading the Spanish attack and their vision and passing skills are second to none.
Iniesta has performed at the highest level so far in Euro 2012 and if Spain goes on to win the championship, he would have to be the front-runner to win player of the tournament.
Cristiano Ronaldo, Portugal
Arguably the best player in this tournament, Cristiano Ronaldo has responded in a big way after disappointing fans in Portugal's first two matches.
He is responsible for Portugal's last three goals, including an incredible diving header to beat the Czech Republic in a game he dominated.
For Portugal to get past Spain, Ronaldo and fellow winger Nani will have to create several opportunities against a tough defense led by Sergio Ramos.
If Cristiano Ronaldo can lead Portugal to the Euro 2012 title, he will cement himself as one of the best players the world has ever seen.
Mesut Ozil, Germany
Mesut Ozil has been arguably the best player on the best team so far at Euro 2012 and it is his superior passing skills that have led the Germans to nine goals in just four games so far.
Ozil is the catalyst for Germany's speedy attack and his vision creates scoring attempt on top of scoring attempt for forwards Miroslav Klose and Mario Gomez.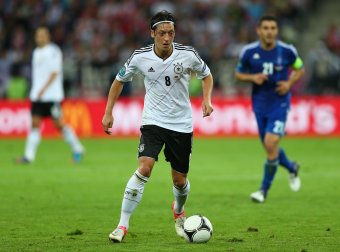 Michael Steele/Getty Images
Italy will have a to pack the box in tight to be able to stop the German attack and even that might not be enough to stop Mesut Ozil from leading his team to the final.
Andrea Pirlo, Italy
One of the main reasons why Italy has made a surprising run to the semifinal: The 33-year-old Andrea Pirlo has been the mastermind behind every attack for coach Cesare Prandelli.
If the Italians are going to continue their improbable run in this tournament, Pirlo is going to have to continue to use his brilliant vision and passing skills to find Antonio Di Natale and Mario Balotelli in space.
While Italy won in thrilling penalty-kick fashion against England, they had several missed opportunities over the course of the match and they will not get so lucky against Germany.
If Pirlo and company can put together a few runs and take advantage of the chances that they have, we could see Italy in the Euro final for the first time since 2000.