2012 NBA Draft: 10 Prospects Who've Helped Themselves the Most Since March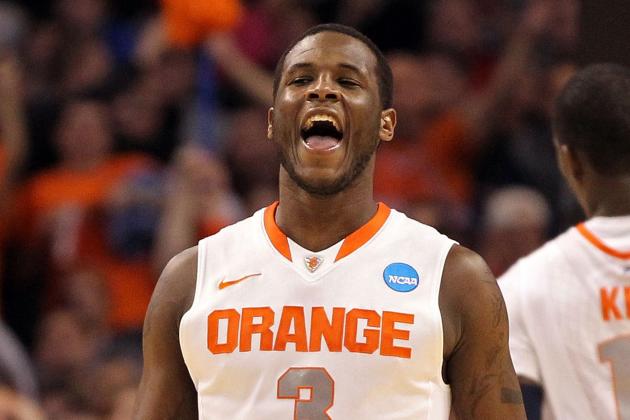 Jim Rogash/Getty Images

NBA prospects' draft stock can often resemble an amusement park ride with all of the highs and lows. This is a list of players whose stock has become as hot as a share of Apple Co. in the recent months.
With the conclusion of the NBA Draft Combine a couple weeks ago, along with several other factors, many players have made themselves more appealing to teams across the league.
Here are 10 players who've helped themselves the most since the month of March.
Begin Slideshow

»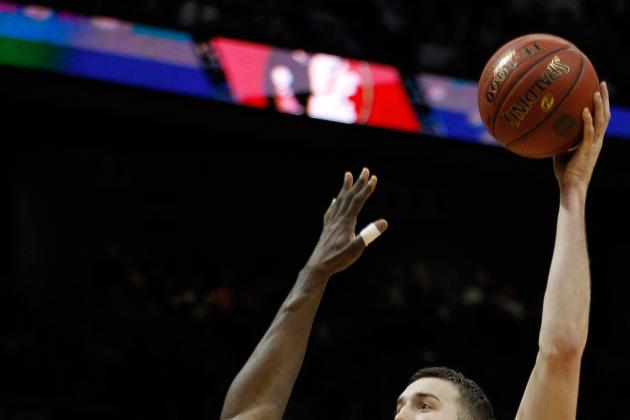 Streeter Lecka/Getty Images

Miles Plumlee's showing at the NBA Draft Combine sent his draft stock from a late second round pick to an early second round, or possibly even a late first round pick.
Plumlee showed off great athleticism for a seven-foot center with a 247 pound frame.
ESPN's Chad Ford was quick to acknowledge the former Duke center's performance:
His 6 points and 7 rebounds per game won't wow anyone. But Plumlee is a good athlete who already has an NBA body and should be able to do some dirty work on the boards. A number of scouts said he really stood out in Minnesota on Thursday. Some scouts are comparing him to a young Jeff Foster.
Plumlee also posted a 40.5 inch vertical at the combine, a Dwight Howard-esque leaping ability at the center position.
There's no question that the Duke product has solidified himself as a second-round pick in the worst case scenario.
Plumlee's array of athletic talent will be intriguing to a multitude of teams come draft day.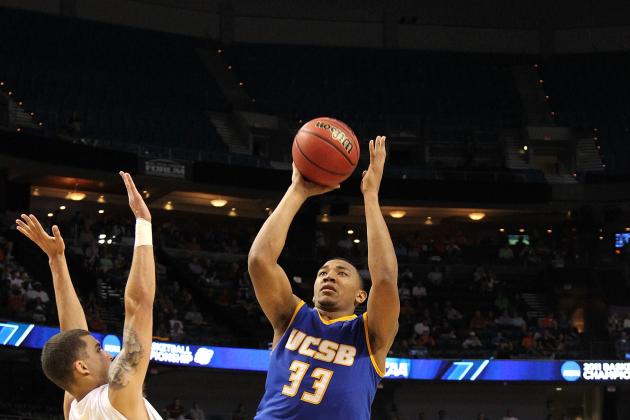 Mike Ehrmann/Getty Images

The all-time Gauchos of UC Santa Barbara's leading scorer has increased his draft stock significantly in the past few months.
Johnson was projected as a late second-round pick in April, but has since impressed through various group workouts, reports Sportingnews.com.
Johnson was able to increase his vertical jump from 33 inches to 39 inches in the past year, which helps ease teams' worries surrounding his ceiling.
The 6'5" shooting guard is 23 years old, and scouts have questioned his ability to grow. Yet Johnson's recent display of athletic improvement has regained interest from teams and scouts alike.
Expect Johnson to be taken somewhere between the late first round and early second round.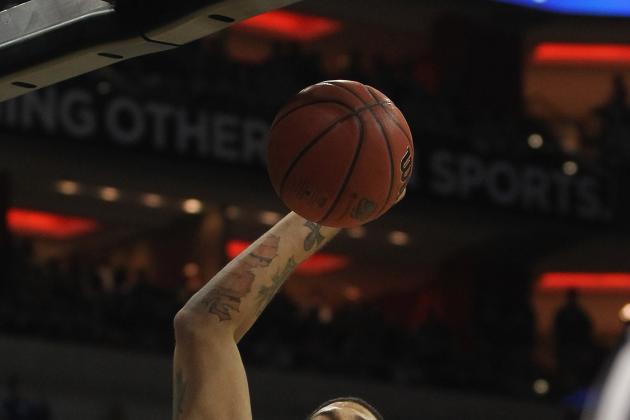 Jonathan Daniel/Getty Images

Royce White has exceptional NBA-ready size at 6'8" and 261 pounds.
When watching film of the Iowa State Cyclone, White resembles a grown man playing children at times.
Recently, ESPN's Doug Gottlieb rated Royce White the fifth best prospect in the entire draft.
Not bad for a player not even on the average basketball fan's radar.
There are some concerns about Royce White's anxiety disorder, which the 21-year-old forward has disclosed publicly.
White believes he has been able to maintain a moderate level of control of his issue, but he has showed some instability off the court.
Recent reports have emerged suggesting that the Boston Celtics are planning on taking White with their No. 21 selection.
White's undeniable talent has sent his stock on the rise, but his glaring off-court problems may cause lottery teams to shy away.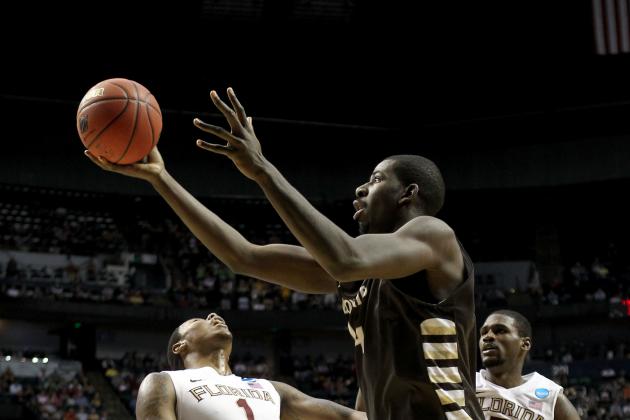 Jamie Squire/Getty Images

Here's another mid-major player who has impressed NBA scouts more than some major-program prospects.
Nicholson did a great job of bringing his A-game to the NBA Draft Combine in Chicago roughly two weeks ago. The 22-year-old Canadian native impressed an array of scouts, and showed off his offensive and defensive versatility while at the combine.
Nicholson does need to add some size to his frame if he intends to "bang" around the rim with some of the NBA's best, but he's already done a good job of adding size in the past year.
Draftexpress.com had Nicholson on the fringe of the first round in March, but now has him being taken in the low 20s.
Nicholson appears to have at least solidified himself as a first round pick with his performance in the last few months.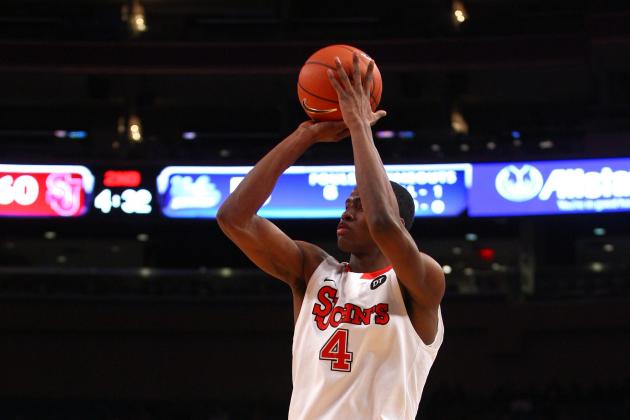 Chris Chambers/Getty Images

If the draft were based on names that sound like former ABA basketball legends, then Moe Harkless would be selected No.1 overall.
Luckily for Harkless, his actual basketball abilities will secure him in the middle of the first round this Thursday.
Harkless is just 19, so I think that's a good sign that the talented small forward is still developing, which is great for his stock.
He also proved to be an effective scorer, rebounder and defender in his single season with St. John's.
ESPN.com lists Harkless as an all around versatile player with great defensive and explosive offensive skills. He has a streaky shooting tendency, and will likely take a year or two to develop into the player he has the potential to be.
Once Harkless entered the combine and showcased his wide array of skills, his draft stock was solidified from anywhere between the late-lottery to the early 20s, according to NBA.com.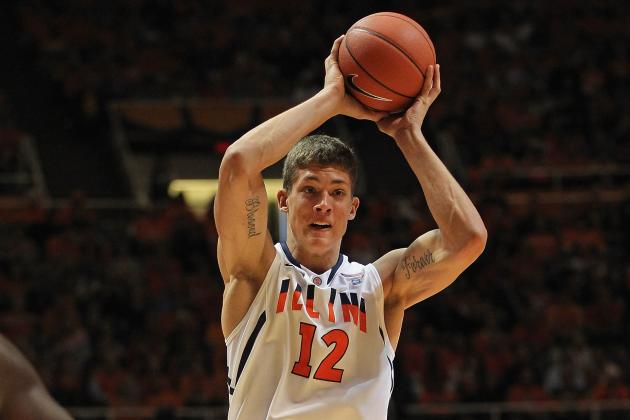 Jonathan Daniel/Getty Images

Meyers Leonard represents a potential diamond-in-the-rough of this year's draft.
In a league with a scarce number of offensive-minded centers, Leonard has the potential to create mismatches at the next level if he realizes his potential.
Meyers' performance at this year's combine showed off the Illinois center's highly-impressive agility and athleticism for a big.
At 7'1" and 250 pounds, Leonard has the right size to fit in at the next level, but he must improve upon his strength somewhat.
The incredible increase in production from Meyers' first season at Illinois to his sophomore season also shows he is still growing as a player.
Meyers went from 2.1 points per game to 13.6 points per game. His rebound totals increased from1.2 to 8.2.
As of now, Meyers' stock may be the hottest of all the draft prospects.
Don't be surprised if he sneaks into the lottery.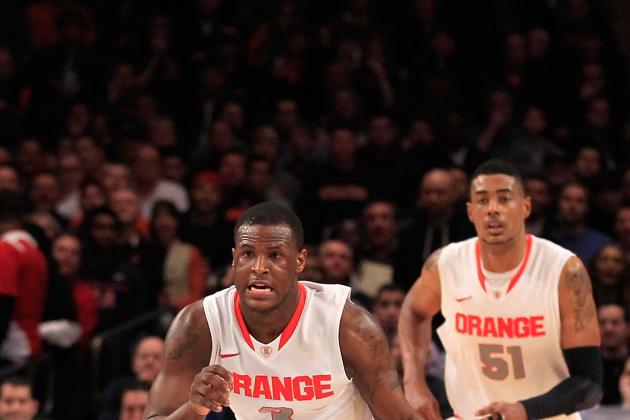 Chris Trotman/Getty Images

Dion Waiters will most likely be selected as the highest college sixth-man since North Carolina's Marvin Williams, who was taken second overall in the 2005 draft.
Waiters elected not to partake in the NBA Draft Combine, leading many to suggest that an unknown NBA team may have guaranteed him a lottery selection.
Just looking at mock draft trends on sites such as Draftexpress.com, it becomes apparent that Waiters' stock is white hot at the moment. The mock had Waiters as the No. 26 selection in mid-March, and now has him being selected at No. 8.
Waiters's muscular 215 pound frame at 6'4" makes the Syracuse guard a very enticing prospect.
He's an explosive scorer who can take hits around the rim and finish, not to mention he's got great shooting ability.
Needless to say, Waiters will hear his name called early come Thursday.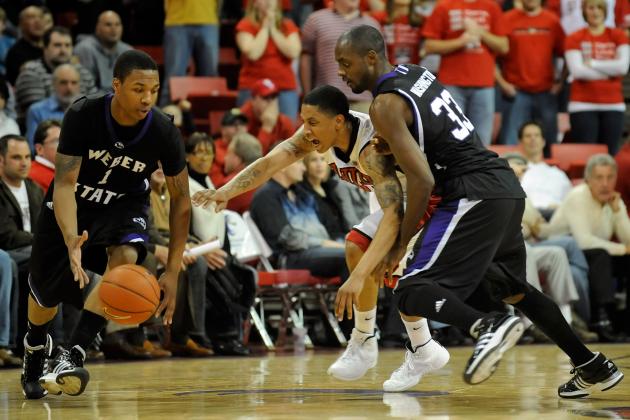 Ethan Miller/Getty Images

Lillard may have benefited the most out of any player at this past NBA Draft Combine.
The Weber State point guard was thought to be a late lottery pick, but reportedly established himself as a top-12 selection for June 28.
It is between North Carolina's Kendall Marshall and Lillard for the right to be taken as the top point guard in this year's draft, and it appears Lillard may have given himself the inside track.
ESPN.com has Lillard rated higher than Marshall, and notes Lillard's need to improve court vision as virtually his only weakness.
The only thing hindering Lillard at this point is the fact that he played at Weber State, but even that won't stop him from being a likely top-10 pick.
Look for Portland at No. 6 to take a good, hard look at Lillard.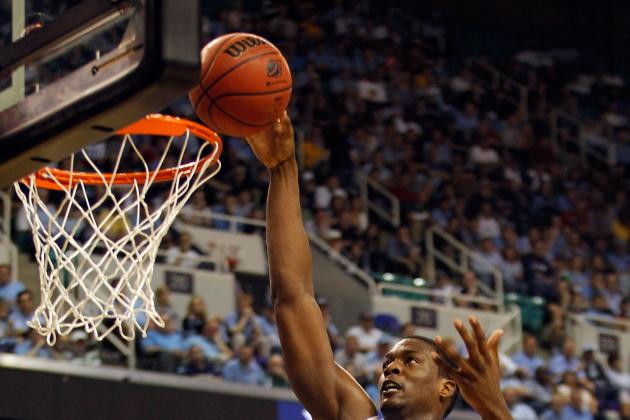 Streeter Lecka/Getty Images

Harrison Barnes might not come to mind when you think of a player who has improved their draft stock in the recent months, but make no mistake, Barnes has done exactly that.
Sure, he's been projected as a top-10 pick practically all year, but there were some question marks surrounding Barnes after Carolina was bounced from the tournament.
After teammate Kendall Marshall was injured, it appeared Barnes had an inability to create a shot for himself, and many wondered how he would cope at the NBA because of it.
Barnes responded by posting some of the best combine numbers out of any top prospect: the fastest sprint time, tied for the highest vertical and the second-fastest agility test score.
Barnes shined when he needed to, and effectively stopped his draft stock from sliding.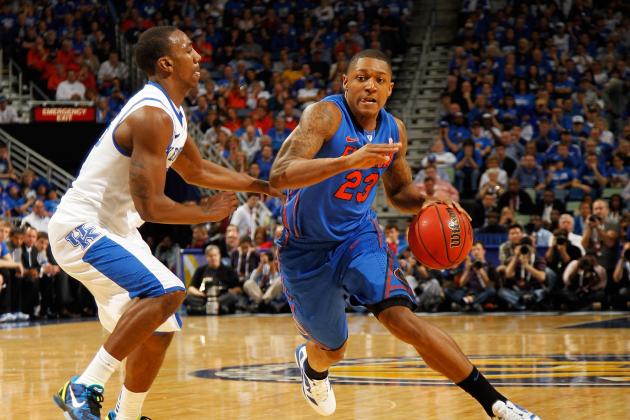 Chris Graythen/Getty Images

Beal is another player most assume has been one of the top-five prospects for months, but that really isn't the case.
Draftexpress.com had the Florida shooting guard near the bottom of the lottery in March, but an impressive tournament, coupled with solid combine numbers have made Beal a top-three talent.
There's not much about about Beal that doesn't make scouts drool.
An 18-year-old guard with elite shooting ability, an NBA-ready body, with above-average defensive and rebounding skills.
When a team drafts Beal they know they'll be getting a potential all star for years to come.
It's no wonder Beal has drawn comparisons to future NBA Hall-of-Famer, Ray Allen.