NBA Free Agents 2012: Why Deron Williams Would Be Crazy to Limit Suitors
June 25, 2012

Chris Chambers/Getty Images
It is outright unconscionable that top point guard and free agent Deron Williams has limited his options to just two teams.
According to ESPN's Marc Stein,  Williams has limited his teams he will sign with this offseason to solely the Brooklyn Nets and Dallas Mavericks. It is absurd to believe that such a young, explosive talent has limited his options when there are a handful of franchises that would have Williams' skill set shining bright.
Stein also make clear there is a significant amount of interest league-wide in this player, including teams like the Phoenix Suns, Portland Trail Blazers and Houston Rockets. Although the New York Knicks and Miami Heat are also teams that still need that boost at the position, there is no question Williams would be much too costly for either franchise.
Despite limiting his options to solely the Nets and Mavericks, it is clear Williams could have a promising tenure with a significant list of teams. However, it is the Indiana Pacers, Memphis Grizzlies and Phoenix Suns where Williams has the best chance to prosper. 
A Chance For Future Rings With Indiana
Unlike the Dallas Mavericks, the Indiana Pacers are neck-and-neck with the Oklahoma City Thunder for being one of the more dominant young teams in the league. In Indiana, Williams would be able to be a part of what could be a championship contender for years to come.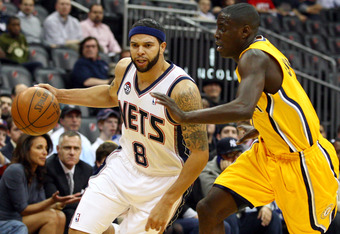 Chris Chambers/Getty Images
The team is stacked defensively, boasting tremendous size and youth in Roy Hibbert, Tyler Hansbrough, David West and even Paul George, who at the shooting guard spot plays especially big on both ends.
Offensively, the Pacers were a middle-of-the-pack team at 97.7 points per game (No. 13) (via ESPN). Yet if Indiana were to acquire Williams, this team automatically is top-10 in the league in the scoring department. Last season, Williams averaged 21 points per game with the now Brooklyn Nets. 
Potential To Do Damage In Post-Nash Era
While the Phoenix Suns have been out of the championship-contending loop as of late, this is undoubtedly a team Williams must consider in free agency now with Steve Nash possibly not coming back next season.
If Nash were to leave Phoenix, it would be a situation in which Williams could potentially be leading a team that finished just outside of the playoff picture in 2012. Despite being a team that received anything but a plethora of hype, the Suns have plenty of talent for the future.
Shannon Brown and Marcin Gortat come off of top-notch seasons with the team. Gortat averaged a double-double at 15.4 points and 10 rebounds per game. He was also a major presence in the paint defensively, boasting an average of 1.5 blocks per contest. Brown is an athletic scorer that would fit well alongside Williams, coming off a season in which he averaged 11 points in just under 24 minutes per game.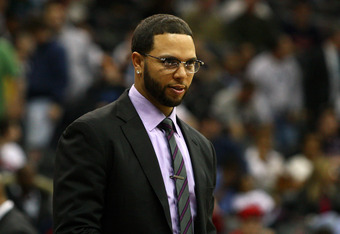 Chris Chambers/Getty Images
It may be a tough act to follow in Phoenix, yet a move to the Suns would be one in which Williams joins a sure-fire playoff contender. 
Trail Blazers Need A Long-Term PG
With just over $ 34 million dollars of cap money set to be used next season and just $ 28.7 million in the 2013-14 season (including options), there is no question the Trail Blazers would be a spot-on fit for one of the better point guards in the game.
No Brandon Roy in Portland leaves the team in desperate need of a top-notch threat offensively. A major contributor to such a poor 2011-12 campaign was an inability to score consistently. Outside of LaMarcus Aldridge, who averaged 21.7 points per game, Jamal Crawford was the only other scoring threat for the team at just 14 points a contest.
Williams would join a top talent in Aldridge and set up what would undoubtedly be a promising future for this team. The money is there, the talent is there and Williams has to consider this team a major option this offseason. 
The Rundown
The Trail Blazers are an enticing option, yet the Indiana Pacers are the one team Williams needs to consider with high regard this offseason. If there's a team to add to his wish list, it must be an up-and-coming Pacers squad.
In Indiana, Williams would be playing with one of the teams with the brightest future in this league. Not to mention, this is a team that is still clearly ready to win now. This is a team that comes off of a second-round loss to the Miami Heat that they had chances to come out on top in. 
Adding Williams to the team would only increase the team's chances at upsetting the best team in basketball, which would and must be an especially enticing factor for this special player.