Gianluigi Buffon's hands may or may not be divine, but they sure were heroic on Sunday.
Christopher Lee/Getty Images
June 25, 2012
The Euro 2012 semifinals features a field stacked with four major powers that advanced because of key performances from major players.
Star players rose to the occasion, and none shined brighter than Portugal's Christiano Ronaldo.
Ronaldo scored on a header in the 79th minute to give Portugal a 1-0 victory over the Czech Republic. His side dominated possession all game, but failed to finish on scoring chance after scoring chance. Two shots from Ronaldo hit the post.
With the game drawing closer to extra time and the threat of penalty kicks looming, Ronaldo finally broke through. He headed a cross by Joao Moutinho straight into the ground. It bounced up sharply past the flailing hands of Czech goalkeeper Petr Cech.
Ronaldo's late strike came just one game after he scored two goals for a 2-1 win against the Netherlands in group play. Portugal needed all three of those goals to survive the "Group of Death" and edge into the semifinals.
Here are three other heroes from the early rounds that lifted their teams into the Euro 2012 final four.
Gianluigi Buffon, G, Italy
Like Portugal, Italy also outplayed its opponent with nothing to show for it late in the game. Unlike Portugal, Italy did not avoid extra time or penalty kicks.
The Azzurri had England pinned into their own end for most of the match. Italy hit the post twice—sound familiar?—and out shot England 35 to nine.
But even though one side completely dominated the other, Sunday's last quarterfinal would be decided by the always unpredictable penalty kicks.
Italy faced a real possibility of exiting the tournament despite their superior play. This became even more apparent after Riccardo Montolivo missed Italy's second penalty to give England a 2-1 advantage.
But Ashley Young hit the crossbar with England's third attempt. Buffon then gave Italy a late lead with a diving catch of Ashley Cole's shot. It was the only save during the penalty rounds and it proved to be the difference.
Earlier in the match he made an even more spectacular save that, in hindsight, kept Italy from losing in regulation.
Xabi Alonso, M, Spain
Xabi Alonso celebrated his 100th international appearance by scoring both of Spain's goals for a 2-0 win over France.
The Real Madrid midfielder drove in an early header that allowed the "Pass Masters" to comfortably play their style all match.
Andres Iniesta hit the ball through for Jordi Alba, who sent a perfect cross into the penalty area from the left. Alonso timed his run so well that no France defender was anywhere near him when he powered his unguarded header back across the face of the goal, and into the side netting for an early 1-0 lead.
He also scored on a late penalty to seal the victory. Scoring one, much less two goals is rare for Alonso. He typically anchors the back of Spain's six-man midfield. He only netted five goals in 65 starts for Real Madrid and Spain during the 2011-12 season.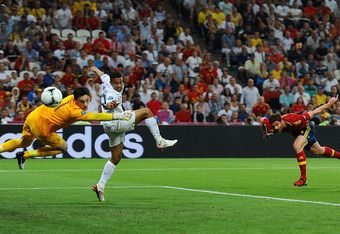 Xabi Alonso doesn't score often, but his header was the difference againt France.
Laurence Griffiths/Getty Images
Sami Khedira, M, Germany
For a brief, fleeting moment, it looked like Greece could give Germany trouble in the second half of their quarterfinal.
Sami Khedira quickly put those illusions to rest.
Philipp Lahm gave Germany a 1-0 lead in the 39th minute as his team controlled nearly every facet of the game.
The margin should have been much greater, and Greece made the Germans pay for not finishing early. Georgios Samaras tied the game in the 55th minute after a perfect cross from Dimitris Salpigidis. The score put the decision in doubt, at least for a moment.
Khedira volleyed in a cross from Jerome Boateng just six minutes later. The powerful strike seemed to open the floodgates for Germany. Miroslav Klose headed in a free kick from Mesut Oezil seven minutes later, and Marco Reus blasted a shot off the crossbar into an open net just six minutes after that.
Germany went on to win 4-2, marking the 15th consecutive competitive victory for the team. According to the Associated Press, the streak dates back to a win over Uruguay for third place at the 2010 World Cup.
Like the new article format? Send us feedback!