NBA Draft 2012: 7 High-Risk Players Who Could Kill Team Chemistry
June 25, 2012

Jason Szenes/Getty Images
Taking a risk on a prospect can usually make or break a rebuilding team.
However, weighing the risks against the rewards often becomes the tricky part for NBA general managers.
Locker-room chemistry can be as big as anything a top prospect does on the court.
With that being said, here's a look at a few high-risk prospects who could kill the chemistry of the locker rooms to which they ultimately will be headed.
Tony Wroten, Washington
Wroten developed a reputation for being a bad teammate during is freshman season at Washington, and watching him, he's sometimes a player that puts individual accolades ahead of team success.
But Wroten is young, and there's no doubting the raw talent that he has.
However, right now he's a poor decision-maker (3.8 turnovers per game) and possibly the worst shooter to come into the draft in a very long time—he shoots only 16 percent from behind the arc.
Those qualities won't endear Wroten to many locker rooms.
Perry Jones III, Baylor
Jones has all the talent in the world but is a guy that's in between positions and hasn't proven yet that he can contribute consistently.
He was no stranger to suspensions in college, although his suspension this season had nothing to do with attitude.
Yet a player of Jones' talents, if he doesn't produce as his skill set says he should, could become a locker-room problem.
Things like that have happened before.
Andre Drummond, Connecticut
Drummond has a ton of upside but is a very risky prospect, as well.
Yet in spite of his size and bulk, he's not very physical, and his 29.5 percent free-throw shooting is frightening. But the biggest question is whether his laid-back nature is immaturity or a chronic condition.
Either way, Drummond is very risky, and NBA general managers must be wary that they don't draft a problem child.
Fab Melo, Syracuse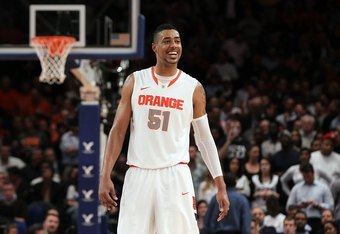 Jim McIsaac/Getty Images
Melo is a 7-footer with immaturity issues of his own, even practically costing Syracuse a chance at a championship by being handed his second suspension of the year right before the Orange were set to play their first NCAA tournament game.
Being academically ineligible once means you have to dedicate yourself in the classroom. Having that happen twice makes one believe that there are character flaws associated with Melo.
Quincy Miller, Baylor
Miller likely isn't NBA-ready, and although his talent is enormous and his attitude has gotten better during his freshman season at Baylor, there were whispers about text messages and inappropriate benefits a couple years ago.
But regardless, sometimes when players aren't ready, they work on their games until they are.
But sometimes they do the opposite and become problem players.
It remains to be seen which type of player Miller is.
Arnett Moultrie, Mississippi State
Moultrie is a guy that curiously didn't work out in at the combine and also has a questionable attitude to go along with a fantastic skill set.
He publicly called out his teammates at Mississippi State, which says he probably doesn't get along well with others.
Additionally, Moultrie doesn't give maximum effort on the defensive end of the floor, which will cause problems in NBA locker rooms.
Jeremy Lamb, Connecticut
I like Lamb's game a ton, but most of the time he just seems to be either bored or moping, and that type of attitude and effort can spread throughout a locker room.
When UConn was losing, it didn't seem to bother him too much, and that's a concern.
There's also the fact that UConn really struggled with Lamb as their top player, and that says something about his leadership.