Novak Djokovic: The Making of a Champion: Part 1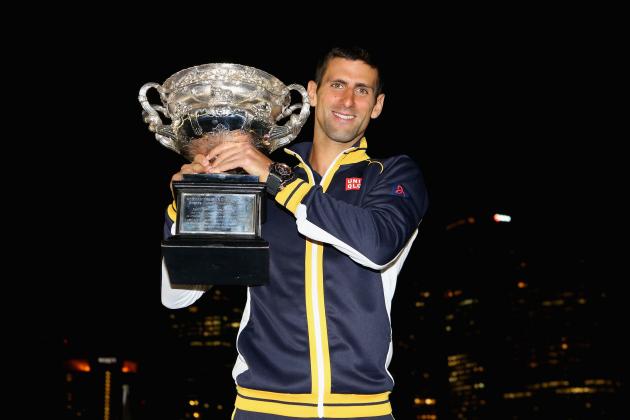 Lucas Dawson/Getty Images
2013 Australian Open champion - Novak Djokovic
4-time Australian Open champion Novak Djokovic, was born 22 May 1987 in Belgrade, Serbia. He has two younger brothers, Marko age 21 and 17-year-old Djordje who are also professional tennis players.
Nole's father Srdjan was a former professional skier, who met Novak's mother Dijana when both were skiing instructors at the Serbian mountain resort of Kopaonik.
Nole's uncle Goran and aunt Jelena had also been professional skiers, and the family ended up running a series of businesses, including a pizza restaurant, in Kopaonik.
EARLY YEARS
Nole first came across tennis age four, when three new courts were laid across the street from the family's apartment. Although he took easily to tennis, at a young age he was expected to follow the family tradition and become a skier or maybe even a soccer player.
Begin Slideshow

»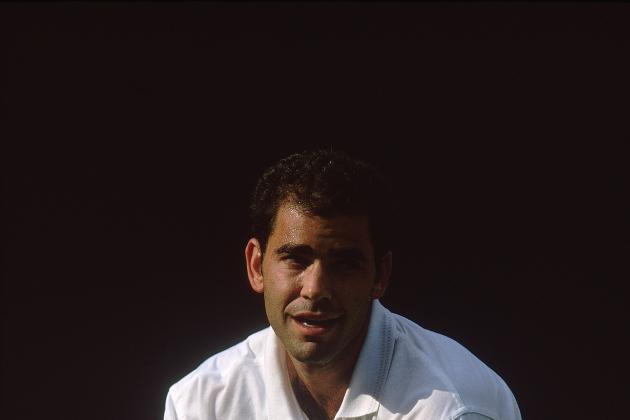 Gary M. Prior/Getty Images
Nole's hero 7-time Wimbledon champion Pete Sampras
A SECOND MOTHER
In the summer of 1993 legendary Yugoslav coach Jelena Gencic, who had previously worked with Monica Seles, Iva Majoli and Goran Ivanisevic, held a summer tennis camp in Kopaonik.
Gencic spotted six-year-old Novak peering through the fence outside the courts.
"It was the first day of my first year in Kopaonik, and I was doing a tennis camp," she said.
He was standing outside the tennis courts and watching all morning, and I said to him. Hey little boy, do you like it? Do you know what this is? Why don't you come and join us?"
Having asked his parents, Novak returned the next day to take part.
Gencic said, "I shall never forget when he came to the camp. He arrived half-an- hour early with a big tennis bag all neatly packed, as if for professional training.
Inside I saw a tennis racquet, towel, bottle of water, extra T-shirt, banana, wristbands, everything you need for a game.
I asked him who packed it for him? He replied he did it himself. I said to him, how did you know what to pack? And he replied, I've seen Pete Sampras on TV."
On the third day of the camp Gencic told Novak's parents, "You have a golden child" - the same thing she'd said to Seles' parents when Monica was eight.
Gencic taught Novak the basics of the game but also provided him inspiration through poetry and music. Novak said of her, "She is my second mother, pretty much everything that I know on court I owe to her, and a lot of things off it too.
She took care of my life in general. What I was doing in school, what I was having to eat and drink. We were listening to classical music together. She wanted to teach me how I should behave on and off the court, how professional I should be."
Gencic coached Novak from ages six to 12. Srdjan said of her, "She created Novak, he owes her a great deal. Jelena instilled in him a certain attitude, both to sport and to life."
Gencic gave Djokovic's family, who knew nothing about tennis, the assurance that Novak had what it took to become something exceptional in the game.
"Let's say that Jelena Gencic gave us strength; she's a serious woman," said Novak's uncle Goran; former tournament director of the Serbian Open.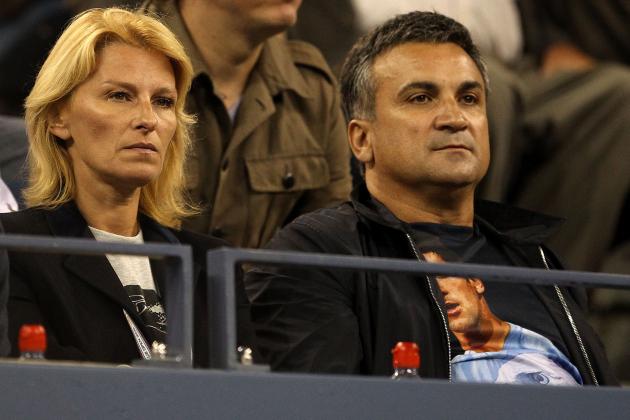 Matthew Stockman/Getty Images
Nole's mother Dijana and father Srdjan
INSIDE A CHAMPION'S MIND
In 1993 six-year-old Novak watched on TV as Pete Sampras won Wimbledon. Sampras became the idol upon which Novak modelled his game, including using a one-handed backhand.
Age seven, and with Gencic's approval, Novak decided to give up on his single-handed backhand; as he found himself too weak and unable to handle high balls, and began playing the shot two-handed instead.
Also age seven, Gencic arranged for him to appear on national TV.
A child interviewer asked Novak, "What's your daily schedule?"
"I go to school in the morning, then play tennis in the afternoon. Afterwards I do my homework, and then I play out in the evenings," he replied.
"Is tennis a job or just play for you?" he was asked.
"Tennis is my job," replied seven-year-old Nole.
"And what is your goal?" asked the interviewer.
"To become a champion," said Novak.
Having moved back to Belgrade Novak trained at the Partizan Tennis Club where Janko Tipsarevic and Ana Ivanovic also played. Money was tight and Srdjan struggled to pay the coaching fees, but insisted Novak get the best available.
Goran Djokovic said, "Novak's younger brothers suffered because Novak had to have the top food, the top equipment, he was the priority."
PLAYING IN A WAR ZONE
In March 1999 NATO forces began running five hundred combat air missions into Serbia each day. Novak's family continued living in their Belgrade apartment, but after the first week of bombing began venturing outside to practice.
Gencic's sister died in the bombing, but Novak and others continued playing tennis in the city, choosing areas that had been bombed the previous night on the assumption that they would not be bombed again so soon.
Novak said, "During the war in 1999 I was 12 years old. I remember, we were celebrating my birthday, it was in May, and then we saw planes flying over our heads and kind of bombing the city, and it was really an ugly image, and it was something that I don't like to remember, but on the other hand we were on the tennis courts for the whole day."
Dusan Grujic, General Manager of the Partizan club said, "Throughout the 78 days of bombing we kept the courts open every day, to help the young people think of something else."
Dijana said, "There was no way we were going to sit at home crying. So Novak and his brothers were on the tennis court from 10am in the morning till 8pm at night."
Novak said, "We heard the alarm noise about planes coming to bomb us every single day, a minimum of three times, for two-and-a-half months. There was a huge noise in the city all the time, all the time.
So in my case, when I hear a big noise even now, I get a little traumatized."
According to Goran, "Tennis was the thing that kept the family sane."
When the bombing finally stopped, Novak and his brothers went outside shouting, "We are safe now, we are safe."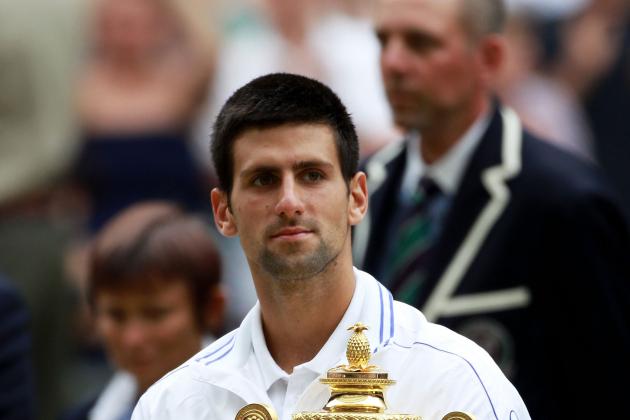 Julian Finney/Getty Images
Remembering where he came from Nole clings to the Wimbledon trophy he won in 2011
LEAVING HOME
Six months later Gencic asked her friend Croatian Niki Pilic, the 1973 French Open finalist, if Novak could train at his tennis academy in Munich.
Goran took his nephew on his first visit to the academy. They arrived in midwinter and with little money.
Pilic's wife nicknamed Novak "Jacket", because he didn't have one. Goran stayed with him for five days and when he left Novak cried.
Pilic initially wasn't keen on the idea of Novak, then aged just 12-and-a-half, training away from home in the gruelling regime of his academy. He soon changed his mind though, and Nole spent much of the next two years with Pilic, who treated him as if he were his own child.
The Djokovic restaurant depended on seasonal business, which was sometimes good and sometimes not. Even when Pilic threw in a discount from the $3000 a month academy fees, the costs of travelling and tournaments forced Srdjan into borrowing money at high interest rates from loan sharks.
"It was hard then," said Dijana. "Novak was developing, he needed to be accompanied everywhere, and we weren't rich. Society as a rule only remembers such kids later when the accolades and medals begin to arrive. Nole's goal to win Wimbledon gave our family something we had to fight for.
It was a very bad time because our country was in a bad situation, so we were trying to do everything for our son. You can imagine how we felt when Novak left home on his own for the first time when he was 12. Still, there were some positives in this experience. Novak began to develop a sense of independence early on, so that later he didn't seem to mind spending long periods away from home."
Pilic said, "I realised after a short spell playing against him that he had this incredible will. He was great to coach, particularly because he had what it takes in the places that no coach can reach: into the heart and the head."
Pilic recalled one day at the academy, Novak, then aged 13-and-a-half, passed him while he having lunch, 20 minutes before his lesson was due, on his way to warm up.
Pilic said to him, "Aren't you a little early?"
To which Novak replied, "I'm not going to waste my career."
Novak's former manager Dirk Hordorff said that once when he had just finished a tough training session in the Austrian Alps, and all the other players were preparing ready for a party, Novak asked him,
"If I go out tonight, would it be good for my tennis?"
"Just go," Hordorff replied, "you worked hard, drink a glass of wine."
But Djokovic cut him off saying, "I didn't ask you, would this be good for me? I asked would this be good for my tennis?"
Pilic said, "Serbs point to the bombing as the crucible of Djokovic's competitiveness, but he also had no choice. The family had put all its chips on him."
Much of Novak's drive came from his dad. With no tennis knowledge Srdjan became certain that his son would become world No.1 someday.
Pilic said, "His father believed Novak was an unbelievable player, even when he wasn't unbelievable, and he told everyone who would or wouldn't listen. At each level he would look around at the opposition and tell Novak, you're better than all of them."
Fellow Pilic Academy student Ernests Gulbis said, "He was always very confident, and he was very sure that he was going to be on top. Nothing arrogant, but with all his thinking, all his work, he was really professional already at a young age."
By age 14, Novak, along with Andy Murray, who is seven days his elder, were amongst the best juniors in Europe. But due to shortages of finances, Novak was unable to play many international tournaments.
The family kept looking for investors, but without success, and the Serbian Tennis Federation had no funds to give him.
"Nobody cared," said Goran. "Srdjan was going around, trying to convince people, please invest. Like you are selling fruit or dairy: Here's an investment for you. It was a very tough time."
From my book, "So you want to win Wimbledon? – How to turn the dream into reality" – available from Amazon
And here's Part 2
http://bleacherreport.com/articles/1270074-london-2012-novak-djokovic-the-making-of-a-champion-part-2