Germany vs. Italy: Predicting the Starting Lineups for Euro 2012 Semifinal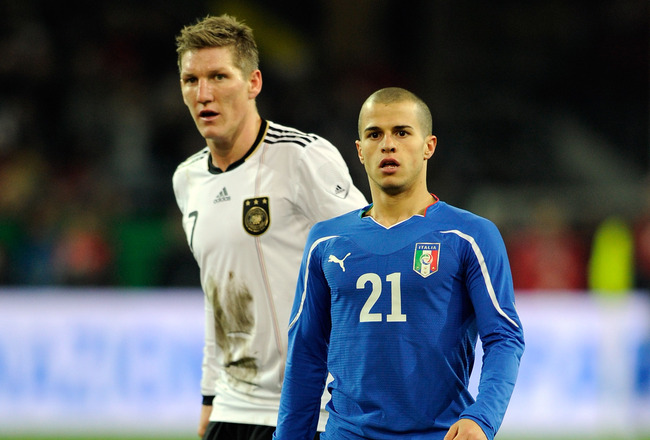 Claudio Villa/Getty Images
Let's hope this is a better match than Italy vs. England and Spain vs. France. It deserves to be, and, based on the German team's progress so far, probably will be.
While Italy aren't Spain, they are a passing team, led by Andrea Pirlo, who has shown he is no slouch compared to Xavi and Iniesta at Euro 2012.
Germany, meanwhile, have power, pace, organisation and determination and, above all, that indefatigable spirit. Indeed, it always seems as if they believe they have a right to be there, a right to win and a hunger to be the best in the world.
So the ultimate final for many people will be the clash of styles between Teutonic power and athleticism and Latin flair.
For the time being, however, we have two semifinals to get through. Portugal vs. Spain is reviewed elsewhere. Not that many would have chosen Germany to meet Italy at this stage of the competition.
France were unbeaten in over 20 matches before they failed to turn up against Spain. In any case, they were favourites to win their group, with many Englishmen not expecting their team to progress to the quarterfinals, let alone finish top.
And even Croatia would have been more fancied than Italy by some people, with Luka Modric arguably the hottest transfer property after Robin van Persie.
Germany vs. Italy history
The last time these two teams met, they shared two goals. The biggest differences, however, were Giuseppe Rossi leading the Azzurri and Giorgio Chiellini at the back. They will be sweating on the fitness of their centre-back to stifle Gomez or Klose.
Mario Balotelli always looked dangerous against England, despite his inability to score from a dozen attempts. Even his work rate was infinitely better than at City. He is one of the few players at the tournament with the out and out ability to turn a match with one moment of brilliance; Ronaldo is another.
That match between Germany and Italy in 2011 wasn't exactly inspiring, but when you match up two of the world's most organised teams, that must be your worst fear. Afterwards, coach Prandelli "admitted his team are still a long way behind their German opponents."
In 2003, Italy emerged 1-0 winners, but they no longer have Cannavaro, Zambrotta, Vieri, Totti and Del Piero to call upon.
The most significant and memorable recent matchup between the two sides was, of course, at the same stage of the 2006 World Cup finals. Germany were favourites to progress, but two last-minute goals by Italy in extra time sent them to the final instead.
Both teams have undergone massive surgery and rebuilding since then, and although either could give the likely finalists Spain a game, Germany seem to be further ahead with developing the next generation.
It could, however, be the last time we see Miroslav Klose or the incomparable Andrea Pirlo at a major tournament. Pity Scholes and Pirlo never played together...
Germany's Likely Lineup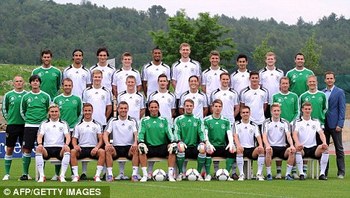 Wouldn't Roy Hodgson have loved the problem Joachim Low now has in deciding which of his best players he has to leave out?
Having watched the demolition of Greece, despite their two consolation goals (which infuriated Low), we can readily conclude at least nine, if not all 11 of the starting team for both Italy and, inevitably, probably also Spain in the final, injuries permitting.
The unflappable Manuel Neuer is arguably one of the top three keepers in the world. Time will tell whether Bayern's 'steal' or Sir Alex Ferguson's gamble on the raw talent of De Gea will in five years be the world No. 1. For now, Neuer is a certainty for Germany.
So for that matter are Lahm, Hummels, Schweinsteiger, Ozil, Boateng and Gomez. And who would bet against Badstuber, Khedira, Podolski and Muller to complete the lineup?.
The Greece match showed, however, the depth of talent knocking on the coach's door. While the up-and-coming Gotze features on many people's transfer wish-list and FIFA 2012 rosters, he only had time for a cameo appearance.
Reus already has Arsene Wenger purring, Schurrle and Kroos are also scary good and Miroslav Klose will make it hard for Low to leave him out. Even at 34 he makes Andy Carroll look like an amateur in comparison.
Predicted Starting Team
Neuer
Lahm
Hummels
Badstuber
Boateng
Schweinsteiger
Khedira
Podolski
Gomez
Muller
Ozil
It is no coincidence that this is the same team that started against Netherlands, who were originally one of the tournament favourites and, once again, disappeared into self-destruct.
That is something that, unlike Bayern Munich in the latter stages against Manchester United in 1999 and Chelsea in 2012, you cannot see this German team doing.
Italy's Likely Lineup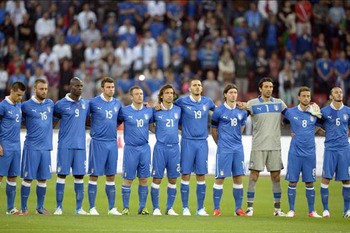 Is this the lineup that Prandelli would like to field, to take on the mighty Germans?
Last night was one of Italy's best 0-0 wins ever. If Balotelli had shown one iota of the talent that makes him delight and infuriate in the same breath, the Azzurri would have been 'home and hosed' by halftime.
While it is to the credit of both Roy Hodgson and his charges that they took the match to extra time and penalties—and they were much more dangerous and impressive than the woeful French—Italy oozed skill, flair and quality across the park.
The problem is that they also picked up injuries. Chiellini is already a major doubt and, therefore blow, to Italy's ultimate chances, to which De Rossi and Abate may be added after last night's abrasive encounter.
Luckily for them, that doesn't include Andrea Pirlo (except for probable sheer exhaustion). If Italy go on to become unlikely winners of Euro 2012, he will surely be the man of the tournament—even if they don't, he must make the team of the tournament.
So Pirlo is a certainty, as is Buffon and probably De Rossi, if fit, together with Marchisio and Cassano. Surely Balotelli cannot be left out despite his catalogue of misses against England, because he can produce one moment of brilliance to turn or win a match.
No doubt the Germans will try to frustrate 'Super Mario,' but he has been extraordinarily well-disciplined so far for him.
Montolivo managed to miss the penalty that gave England brief hope, but otherwise had a stand-out game. Missing last night was Thiago Motta, who will surely come into contention.
Coach Prandelli says they will "play football" against Germany. But that will depend entirely on who is fit and how fit they are.
The team he sent out against Spain in the first match of Euro 2012 was a fairly pragmatic one, designed to do a job and who can say he got it wrong, achieving a 1-1 draw against most people's tournament favourites and the No. 1 team in the world.
However, if he believes he can play football against the Germans, and dependent on injuries, the team that is likely to start on Thursday could be quite different. As the tournament has developed, several players have been given the chance to shine and some have capitalised on their colleagues' misfortune in injuries. That could be the case now.
The enforced changes due to suspension or injury, during the match gave a couple of players the chance to grab a place for the semifinal, most notably Balzaretti. He was a constant 'stand-out' all evening against England but no doubt the Germans will seek to neutralise this, either by marking or, more likely, by occupying him in defence.
Predicted Starting Team
Assuming Italy's injured players recover in time, this is their predicted lineup (with alternates if neither De Rossi nor Abate is fit).
Buffon
Abate (Ogbonna)
Barzagli
Bonucci
Balzaretti
Pirlo
Marchisio
Motta
De Rossi (Montolivo)
Cassano
Balotelli
Maggio is suspended, but Diamanti and Nocerino showed that they will not let the Italians down if called upon.
Nevertheless—and despite Italy's history of organisation and defence that goes back to the famous Catenaccio—Germany are likely to dominate all over the park and, with no room for sentiment, overpower their historic allies.
Keep Reading

Italy (National Football): Like this team?