Josesito Lopez: The Mexican Rocky Balboa
June 26, 2012

Jeff Gross/Getty Images
Jose Lopez had no chance. The last minute replacement was handpicked to be the classic tune-up fight. His opponent, Victor Ortiz, had already agreed to a super clash against the sport's future, Saul "El Canelo" Alvarez for a PPV blockbuster bout. That was the real fight; this was a mere formality.
Josesito had never defeated a "named opponent" and the only time he had faced one, he lost (Jesse Vargas). Lopez had never fought at welterweight (147 pounds) and in the most unforgiving sport on the planet, had suffered four losses to obscure fighters, tarnishing his name.
Four losses and no big wins at 27 is a death sentence condemning one from ever being a marketable fighter.
Going into this fight, boxing was on rubber legs receiving a hard eight count.
Pacquiao had inexplicably lost a split decision to Timothy Bradley. Amir Khan had lost a dubious decision in Lamont Peterson's hometown of Washington D.C. The Rios-Abril result was not satisfactory to many. Floyd Mayweather and Manny had come further than ever from ever fighting and Money was in jail where he remains today. And yet, the sport faced even more tribulations.
Performance enhancing drugs have been dropping more fighters than Tyson in his prime. 
Andre Berto had been scheduled to fight Ortiz in a potentially very exciting rematch, but his failed drug test (nandrolone) gave rise to the Lopez opportunity which nobody wanted to see. Lamont's failed test (synthetic testosterone) further tainted his disputed decision win over Amir Khan—the heir apparent to the Pacquiao throne.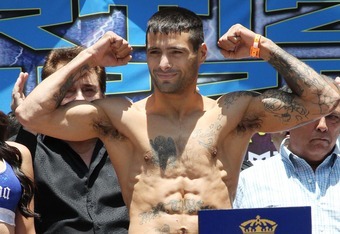 It also quashed the Khan-Peterson rematch that was highly anticipated. Tarver's electric and improbable knockout of Roy Jones was one of sport's most thrilling moments. After he too tested positive for anabolic steroids, fans were left doubting the source of the Magic Man's sorcery and left fans pleading, "Say it ain't so Antonio?"  
The boxing world was reeling from depression, confusion and frustration. No Superman was scheduled to fight on the June 23 card at the Staples Center. No salvation could possibly  have been cryptically written in the stars above the City of Angels. There was an exciting fight scheduled to salvage the evening but it did not have the power to resuscitate the sport.
Lucas Matthysse (31-2: with an asterisk on both losses) and Humberto Soto (58-8-2) were scheduled as the undercard to Ortiz-Lopez. In reality, this was the true main event—a very promising matchup.
Matthysse is an amazingly exciting fighter who would surely reward the fans in this compelling challenge against the legendary Soto who was on a 15 fight win streak. This was a fight not to be missed, but far from boxing's potential redemption. Matthysse and Soto delivered as promised and Ortiz was prepared to deliver on the foregone certainty of a win.
In the feature bout, Ortiz would stroll through the lighter, unknown, local fighter en route to his lucrative, explosive showdown with Alvarez. This was a banal certainty. The date had been set: September 15. A classic boxing weekend to celebrate Mexico's Independence Day.
Ortiz was coming off a very highly publicized bout with the sport's best, Floyd Mayweather.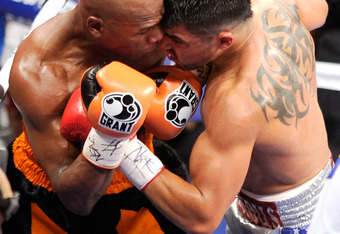 Ethan Miller/Getty Images
While the outcome was horribly anti-climatic, his marketability was at its apex.
The Mexican-American Ortiz against the undefeated Mexican darling Alvarez would be an easy fight to sell. But, wait. Lopez had never been knocked out in 34 fights and the Riverside native was fighting in his hometown of greater LA. Could there be some Hollywood magic for this classic anti-hero?
When Mac Lee Green injured his hand, another local fighter was used as a replacement to fight Apollo Creed. That fighter had a meager record of 44-20. When Andre Berto failed his drug test, the legend of Josesito was born.
The skinny, baby-faced fighter who had never won a major fight shocked the world.
He took the best Ortiz could deliver and called him on for more. The lighter fighter answered with hard shots whenever he was rocked by the powerful Ortiz. 22 of Victor's 29 wins had come via KO, yet he was losing in the power exchanges. While the sport has been suffering from controversial and ambiguous finishes, this was more definitive and impressive than a fan could ever wish.
How was it obvious that the nobody was proving himself? Ortiz was scared enough to get dirty.
In what was the ugliest boxing foul since, well, since the illegal head butt in Victor's last fight, "Vicious" got uber nasty in the fifth. The southpaw took his right hand to frame the bent-over head of Lopez and used his powerful left to punch him right in the lower part of the back of his head. Victor was looking for an easy way, but Rocky doesn't give easy ways out.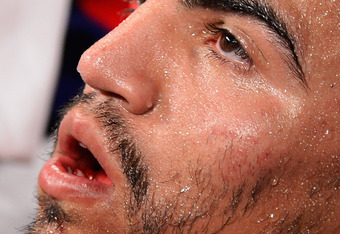 Kevork Djansezian/Getty Images
He passed on the DQ win and went out and broke Ortiz physically and emotionally. When Ortiz quit on his stool after the ninth round, Josesito became the Mexican Rocky. The underdog who was undersized and undervalued made boxing relevant again. His heroic antics and self-belief reminded the universe why boxing is its greatest sport.
Thank you to young Mister Lopez for using his discounted opportunity on June 23 as a defibrillator to jump start the sweet science back into action again. While Douglas-Tyson and Brewster-Klitschko were better fights and for greater glory, this triumph was more important to the sport.
Boxing  regained enough respect to breathe again.
Who knows if the Mexican Rocky has a storied future awaiting him. Enticing opportunities are there for the 30-4 (18 KO's) fighter. The 140 division is loaded with talent and the potential for epic clashes for the next several years. 
Khan is fighting undefeated Danny Garcia on July 14. Matthysse, Rios, Abril, Marquez and Maidana make this the most dynamic division in boxing. This category is even more promising as young fighters like Adrien Broner, who is fighting Vincente Escobedo at 130 on July 21, might move up along with future stars such as Gary Russel Jr. and Yuriorkis Gamboa. Many of the eleven mentioned fighters in this paragraph have the potential to reach Canastota, New York.
Chad Dawson vs. Andre Ward is probably the best fight out there next to PacMan vs. Mayweather and that will happen on September 8 in Oakland. 
So, thanks to Lopez's emergency CPR, boxing is back swinging again.