Pacquiao Could Face Mayweather on 45-45 Split with Remaining 10% to Winner
June 25, 2012

Jeff Bottari/Getty Images
Manny Pacquiao could face Floyd Mayweather possibly in December on a 45-45 sharing of the fight purse with the remaining 10 percent going to the winner.
In a Philstar report by Abac Cordero, Pacquiao's lawyer Franklin Gacal said they should give the Mayweather fight another try.
"I think the fight with Floyd Mayweather should be on top of the agenda when he meets with Bob Arum next week," said Pacquiao's legal counsel, Franklin Gacal.
"It's still the fight that has to be made," he added.
Arum is meeting with Pacquiao within the week to discuss his future fights, which include a possible fourth encounter with Juan Manuel Marquez
Last month, via Philstar.com, Arum said during the HBO series with Jim Lampley, he doesn't believe Mayweather can beat Pacquiao but if he thinks he can, he will even get more than 50 percent, which is what he really wants.
"Manny Pacquiao has now taken the position, which I endorse, if Floyd Mayweather thinks that he is the greatest fighter of all time, let's do it 45 percent to Mayweather, 45 percent to Pacquiao, and 10 percent to the winner," Arum said.
"But we got to have parity here. If Mayweather really believes he can beat Pacquiao, which I don't think he believes, he'll pick up more than 50 percent that way. But it's up to Floyd," he added.
But Richard Schaefer of Golden Boy Promotions, who represents Mayweather in promoting his fights, said Mayweather should get the lion's share of the purse.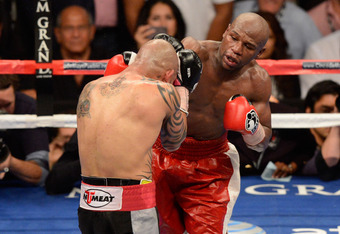 Ethan Miller/Getty Images
"I think (Floyd) should get the lion's share. I think fair is fair. I think what we should do is have one of the big three accounting firms account the last fights going back to, let's say, 2007, since we've been involved with Floyd Mayweather.
"Account the pay-per-view numbers, account the live gates. Accumulate all of these numbers, we can do the same with Pacquiao, and then we can see what kind of ratio it is," he said.
"If in fact they're the same, they produce the same amount of pay-per-views, the same amount of live gate revenues, then you know what? Yes, it should be a 50-50 split. But if they don't, why should it?" he added.
In his report for Sports Illustrated, writer Chris Mannix said Mayweather and Pacquiao's PPV numbers are similar—citing the case of Pacquiao with a total of 9.9 million buys (15 fights) and an estimated $525 million in revenue while Mayweather  has fought on pay-per-view nine times, generating 9.6 million buys and $540 million in revenue.
Mayweather has not reacted to the 45-45 split as he may not be personally aware of the offer due to his incarceration, but Schaefer has already said Mayweather should get the lion's share on account of his higher PPV numbers.