6 NFL Teams That Could Look for Quarterback Help in the 2013 NFL Draft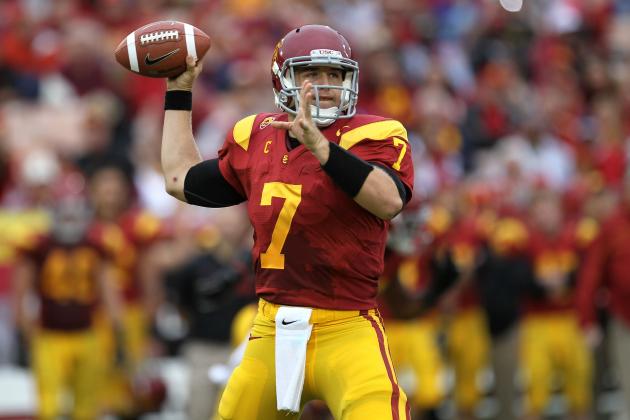 Stephen Dunn/Getty Images
Matt Barkley, No. 1 quarterback prospect in the 2013 NFL draft class
The quarterback class in the 2013 NFL draft will have a difficult challenge to live up to the position's strength in the 2012 draft class, which was led by two bona fide franchise quarterbacks with superstar potential in Andrew Luck and Robert Griffin III.

Nonetheless, the class should be led by its own superstar quarterback prospect, USC's Matt Barkley. It also features another very talented senior in Arkansas' Tyler Wilson and could be bolstered by a number of talented juniors potentially including Tennessee's Tyler Bray, TCU's Casey Pachall and Virginia Tech's Logan Thomas.

When top quarterbacks are in the mix near the top of the draft, it is tough to rule any team out from drafting them, but usually, quarterback problems are a big factor for the teams who end up at the top of the draft, leading them to look for help at the position.

It is difficult to project this early which teams will need quarterback help next April, as there are a considerable number of teams who are led by young quarterbacks still trying to prove themselves, or older quarterbacks who could be set to drop off in upcoming seasons.
Nonetheless, this slideshow looks at six teams who are most likely to re-assess their quarterback situations and draft a signal-caller in the early rounds in 2013.
Begin Slideshow

»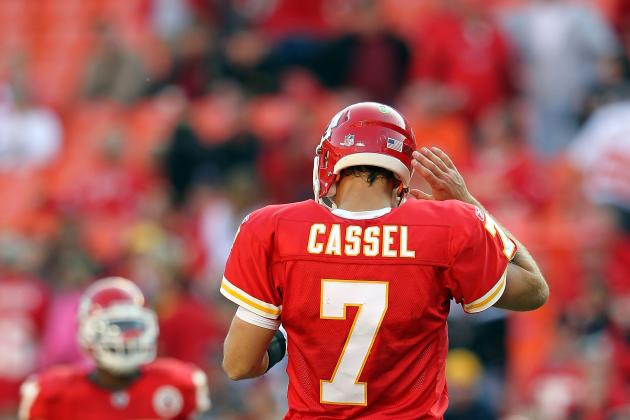 Jamie Squire/Getty Images

Chiefs starting quarterback Matt Cassel is entering a critical season. He must prove that he is the right man for the Chiefs' starting job, or he is likely to be replaced by a 2013 first-round draft pick.

After acquiring him from the New England Patriots, the Chiefs made a big investment in Cassel by signing him to a six-year, $63 million deal with $28 million guaranteed. His results in his first three years with the Chiefs, however, have been somewhat disappointing.

Cassel had his best season in 2010, in which he threw for 3,116 yards and 27 touchdowns while leading the Chiefs to an AFC West division title.
However, in nine games prior to a season-ending injury last season, he performed poorly, throwing for more interceptions (9) than in his 15-game season in 2010 (7).

Cassel showed promise in 2010, and if he can return to that form, then the Chiefs should be content to stick with him as the starting quarterback through the end of his contract. But even so, the Chiefs may still look for an heir apparent at the position.

Backup quarterback Brady Quinn was only signed to a one-year contract, so even if the Chiefs are not looking for an immediate replacement for Cassel next season, they may still draft a quarterback early that they can groom as the future franchise quarterback.
Cassel will be 33 at the end of his contract, so the Chiefs should be looking for a new quarterback by then, and that process could very well begin with the 2013 draft.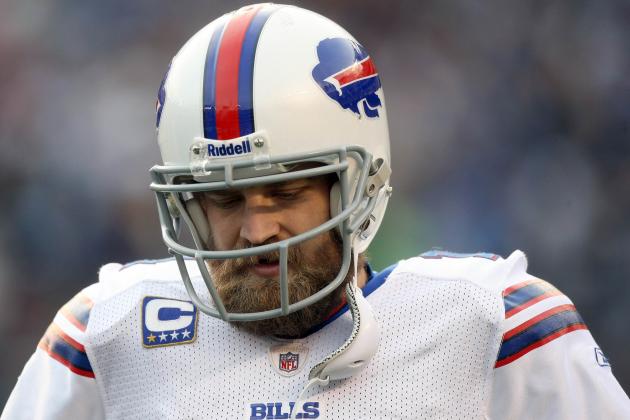 Donald Miralle/Getty Images
Ryan Fitzpatrick
Ryan Fitzpatrick is coming off of a mistake-prone 2011 season, in which he threw 23 interceptions, the most of any NFL quarterback.
There are many things that Fitzpatrick does well, but if the Bills are ever to become serious contenders in the AFC East, they have to determine this season whether Fitzpatrick is a quarterback who can lead them to playoff success.

While Fitzpatrick did make way too many mistakes last season, he also had career-best numbers in completion percentage, passing yards and touchdowns.
However, while Fitzpatrick is an intelligent quarterback with solid physical tools, he has yet to prove himself as a game-changing playmaker or a signal-caller who can lead his team to a winning season.

As long as Fitzpatrick can lower his interception rate in 2012, the Bills are unlikely to find themselves desperately seeking a replacement. Additionally, the Bills invested heavily in Fitzpatrick by signing him to a six-year, $59 million contract last season.

Nonetheless, the Bills have room to upgrade over him, and if the 2012 season ends in another disappointing result for the Bills, they could go ahead with an early quarterback selection in the 2013 draft.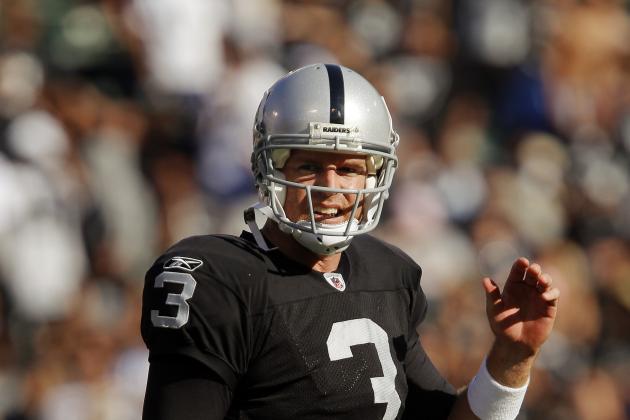 Brian Bahr/Getty Images
Carson Palmer
The Oakland Raiders already made a huge investment via draft picks in their current starting quarterback, Carson Palmer, by trading a 2012 first-round pick and 2013 conditional second-round pick to acquire him.
However, if Palmer's performance does not improve from his first 10 games as a Raider, the team may be prompted to look for a new quarterback in the 2013 NFL draft.

Palmer, who had been unofficially retired prior to his trade away from the Cincinnati Bengals, struggled upon his return to the NFL. Even though he only played in 10 games, he threw 16 interceptions.
Additionally, the Raiders only went 4-6 in games that he played, as opposed to a 4-2 start prior to Jason Campbell's season-ending injury.

Even if the Raiders stick with Palmer after next season, they would be smart to start grooming a quarterback of the future. Palmer's contract will end after the 2014 season, and he will be 35 at that time.

Unless the Raiders lose total confidence in Palmer, it is unlikely they will draft a first-round quarterback next year, considering that their 2012 first-, third- and fourth-round picks, as well as their 2013 second-round pick, have all been invested into quarterbacks.
The Raiders also have a young quarterback with developmental potential in Terrelle Pryor. Nevertheless, it would make sense for the Raiders to use a mid-round selection on a developmental quarterback next season.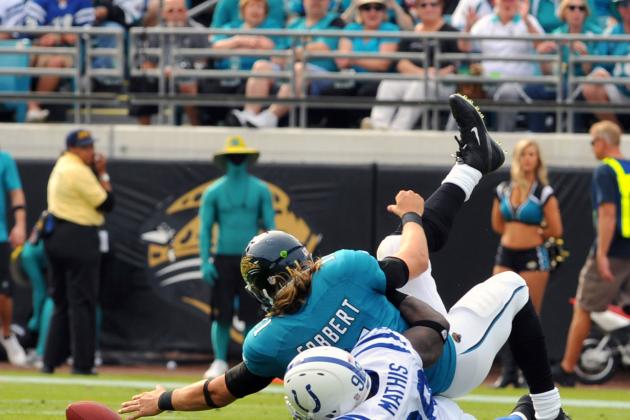 Al Messerschmidt/Getty Images

Given that Blaine Gabbert has only played one NFL season, it is much too early to label him as a failed starting quarterback. That said, if Gabbert does not make significant strides in his sophomore season, the Jaguars may be looking for a new franchise quarterback in the 2013 draft.

Gabbert was overdrafted as the No. 10 overall pick in the 2011 NFL draft, but he has the potential to be a quality starting quarterback. Unfortunately, Gabbert's ability rarely showed in his rookie season.
Among the 34 quarterbacks with at least 240 passing attempts last season, Gabbert had the worst passing yards per attempt (5.36), the worst passer rating (65.4), and the second-worst yards per game (148) and completion percentage (50.8).

Gabbert consistently looked shaky under center last season while struggling with his decision-making and accuracy. He has the physical tools to be a quality NFL starter, but must overcome his game's deficiencies to do so.

If all goes well, Gabbert will establish himself as the Jaguars' long-term option at quarterback, and they will not need to draft a quarterback, aside from possibly in the later rounds for a backup.
However, if Gabbert struggles again, and the Jaguars end up selecting near the top of the draft as a result, I would expect the team to make a change with a new first-round quarterback.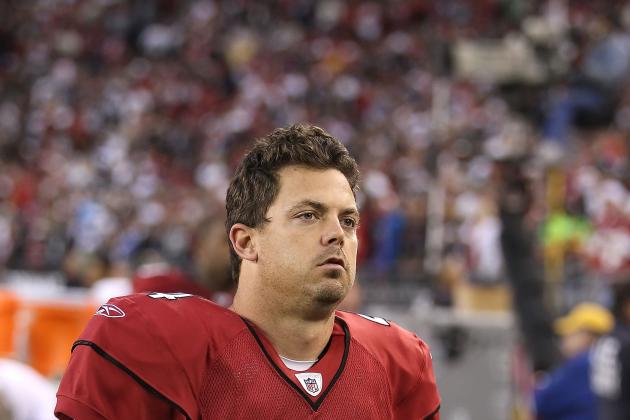 Christian Petersen/Getty Images
Kevin Kolb
Last July, the Arizona Cardinals made a big investment in Kevin Kolb, who they foresaw as the team's new franchise quarterback.
But while the Cardinals traded a second-round pick and Dominique Rodgers-Cromartie to acquire him, then signed him to a five-year, $63.5 million contract with $21 million guaranteed, it has become clear that his future as the Cardinals' starting quarterback is far from safe.

The Cardinals made a strong play in March to sign free-agent quarterback Peyton Manning, who would have replaced Kolb as the starter.
Kolb's starting job is still up for grabs; head coach Ken Whisenhunt told Jim Rome (via CBSSports.com) that the quarterback competition is open between Kolb and John Skelton.

Kolb had a disappointing first season for the Cardinals that ended in injury, but if he can step up his game and establish himself as the starting-caliber quarterback that the team thought he was last summer, the team will have no need to draft a quarterback in 2013.
However, if Kolb loses the battle to Skelton, the Cardinals are unlikely to anoint Skelton as the long-term quarterback, and would likely look for a replacement in a 2013 first-round draft selection.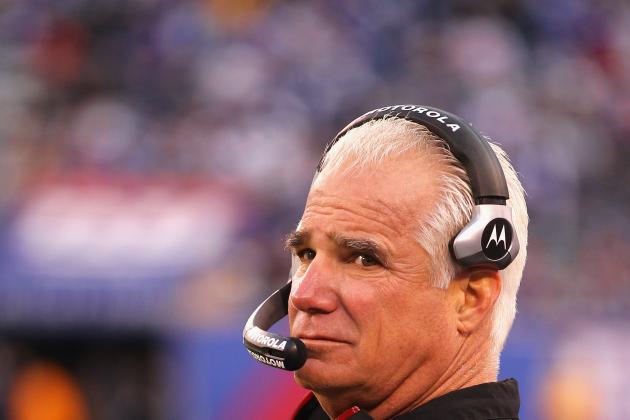 Al Bello/Getty Images
Falcons head coach Mike Smith
Unlike the first five teams listed here, the Atlanta Falcons should certainly be in no position to look for a new starting quarterback in the 2013 NFL draft.
However, while the Falcons have a talented, long-term starting quarterback in Matt Ryan, they are likely to be in the market for a backup quarterback in next year's draft.

The Falcons re-signed Chris Redman this offseason to a one-year deal to be the backup quarterback, but he is 34 years old.
While the Falcons may want to keep Redman around even beyond the 2012 season for his experience and intelligence, they would be smart to look for a young backup who can eventually be the No. 2 quarterback on the depth chart and an upgrade over John Parker Wilson and Dominique Davis, who are competing for the No. 3 quarterback spot.

Quarterback certainly does not look like a pressing need for the Falcons, but of any team who could look to draft a quarterback in the third or fourth round of the 2013 draft to strictly play a backup role, they are a likely target.

Thanks for reading!

Follow me on Twitter @Dan_Hope.