England vs. Italy Euro 2012: Why England Crashed out of Another Major Tournament
June 25, 2012

Christopher Lee/Getty Images
England's defeat to Italy in Euro 2012 was crushing, but also proved what an excellent job Roy Hodgson has done with a side that he took over just over a month ago.
It has also highlighted the one key attribute that England must now find in order to progress to the next level.
Talent.
It may seem harsh, but reality always is. England is not good enough, right now, to win major tournaments. 
It's a fact that many have avoided talking about for a number of years.
In France 98 David Beckham's red card was used as the scapegoat, and in Japan and South Korea 2002 Ronaldinho's "lucky" free kick gave the squad a little breathing room in the press.
From sendings off to penalty shootouts, we've heard everything there is, when in fact, we should have just looked at the truth.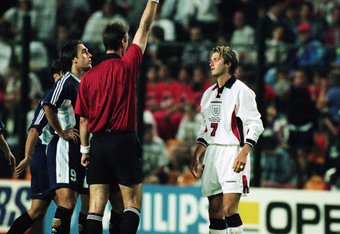 Ross Kinnaird/Getty Images
The golden generation was not good enough, and neither is the new one.
Not yet at least.
Hodgson managed to do what very few before him have done. He brought order and methodology to their play—tactical smarts, passion, pride for the shirt and he created a dressing room, seemingly, without egos.
The abysmal affair that was the South Africa World Cup seemed a distant memory this summer, and that dismal night at Green Point stadium against Algeria is one that can now be banished from every England fans mind for a long time.
The work rate of Steven Gerrard, Scott Parker, John Terry, Joleon Lescott and the rest has been phenomenal throughout Euro 2012, and there is no doubt in the public's mind that this 23-man squad, and its manager, did all it could.
There were problems though.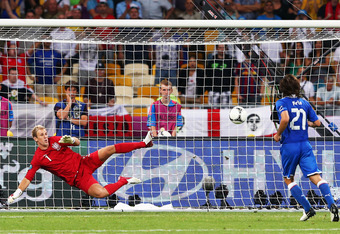 Alex Livesey/Getty Images
Parker was too slow in possession, Danny Welbeck looked isolated at times, Ashley Young and James Milner never looked confident going forward, and while the City man did well to help out right-back Glenn Johnson, Young faded into obscurity.
Terry stumbled against Sweden, as did Glenn Johnson, while Wayne Rooney looked out of tune with a side he's barely played in.
The ability of an Italian squad, who have perfected the style of football England tried to play, was plain to see as Andrea Pirlo and Claudio Marchisio bossed a midfield and kept the Azzurri in control of much of the tie.
The stats speak for themselves.  England saw only 32 percent of the possession and managed just six efforts at goal. Italy had 23. 
Until Hodgson can find players of the same caliber as the Germany, Spain, Italy or even Portugal, England will not be good enough to win a major tournament.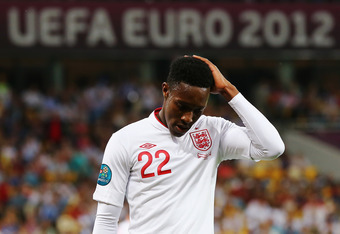 Martin Rose/Getty Images
These players may never appear, as their natural grace and skill is kicked out of them on the playgrounds of schoolyards across the country, as is the "English game", and if they don't then something else must be done.
Tweaks and modifications to the current crops' playing styles could be enough, but old habits die hard. If Parker could be quicker on the ball, Milner could leave a man for dead as he heads to the bye-line, or Walcott could cross like Gerrard, then maybe fortunes could change.
England at Euro 2012 did the best they could do right now, and it wasn't enough. The right elements, though, are now in place and the mental battle has been won.
It wasn't the cruel fate of a penalty shootout that lost Euro 2012 for England—it was themselves.
At least the future is looking bright.