NHL Draft 2012: Breaking Down the Draft Trades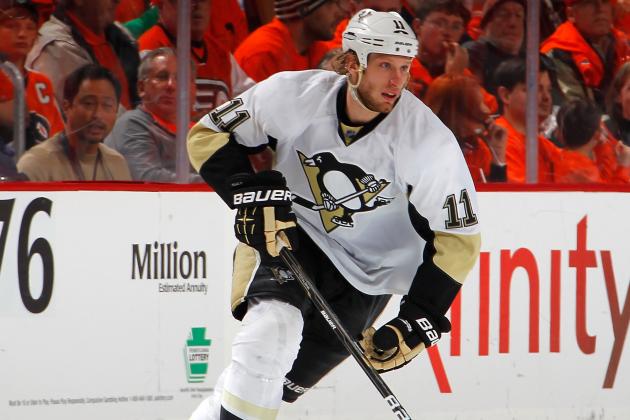 Paul Bereswill/Getty Images

The 2012 NHL Draft didn't have the big trades that many people were expecting.
Superstars Rick Nash, Bobby Ryan and Roberto Luongo were not traded, despite being prevalent in all of kinds of trade rumors leading up to the Draft.
But that's not to say there weren't some big trades at the 2012 NHL Draft. Here is a breakdown of every trade at the Draft, aside from ones that only included draft picks, and what they mean for the teams involved.
Begin Slideshow

»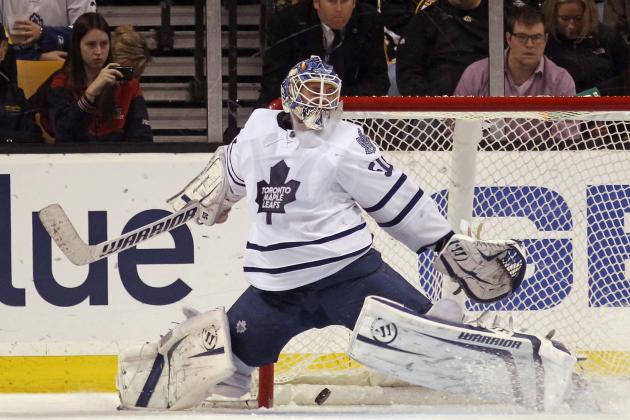 Bruce Bennett/Getty Images

One of the more minor trades of the day, the Toronto Maple Leafs traded the rights to pending unrestricted free agent goalie Jonas Gustavsson to the Winnipeg Jets for a conditional 7th round pick, conditional on his signing with the team.
Gustavsson is a big guy at 6'3 but he's struggled in his limited action in the NHL. In his defense he's battled a serious health problem in a heart condition, but his stats are a little lacking. A career .900 save percentage doesn't scream starting goalie.
But the Jets didn't pay much to get him, only giving up a 7th round pick for him. That's pretty cheap for a solid backup that still has plenty of potential to develop into a strong goalie.
For the Leafs, this was more just maximizing the value of a player they had no intentions or were unable to resign. It's always good to get something instead of nothing.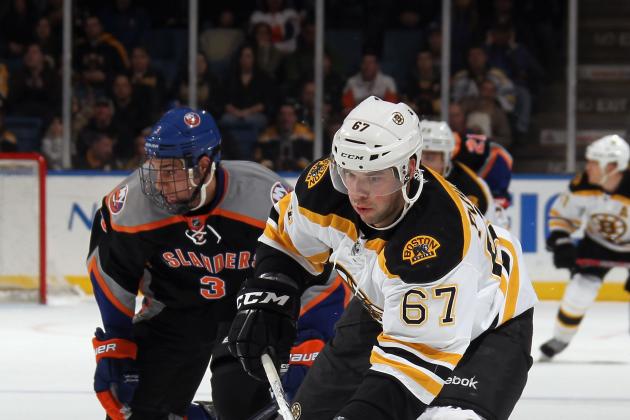 Bruce Bennett/Getty Images

Another seemingly minor deal from the draft, the Boston Bruins sent the rights of Benoit Pouliot to the Tampa Bay Lightning for Michel Ouellet and a fifth-round pick.
Pouliot was due to be a free agent this summer and he wants more ice time than he was getting in Boston. He's put up solid numbers as a third-line forward, scoring 32 points in 74 games last year.
The former fourth overall pick should have a good chance to continue developing his skills. He looks to have the ability to be a valuable contributor for Tampa.
Ouellet was also due to be a free agent this summer. He hasn't seen meaningful time in the NHL since the 07-08 season where he scored 36 points in 64 games. If he can get back to that form he should be able to find a spot on the Bruins this season.
This trade wasn't that major, having basically been a swap of two pending free agents. The Lightning probably got the better player in the deal, but they also had to trade away a fifth-round pick in the process. Overall a solid trade for both sides.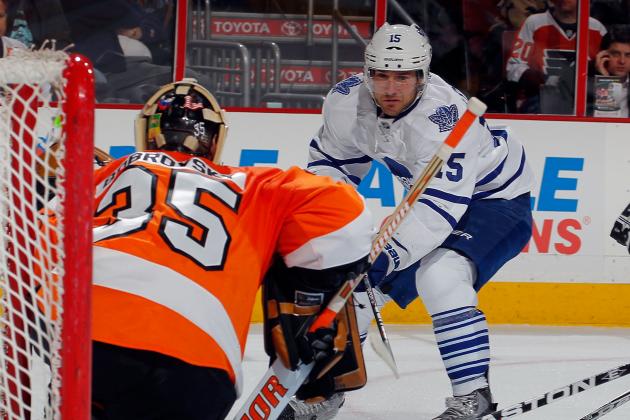 Paul Bereswill/Getty Images

This trade came a little bit before the first round started. It saw the Philadelphia Flyers trade away young goalie Sergei Bobrovsky for a package of draft picks from the Columbus Blue Jackets.
Bobrovsky was expected to be traded this offseason given the monster contract the Flyers gave to their starting goalie Ilya Bryzgalov.
Bobrovsky has a lot of upside and has shown he's capable of carrying the majority of the starts; he started 52 games his rookie year while earning 28 wins and posting a save percentage of .915.
Columbus had been looking for a goalie since before the trade deadline and Bobrovsky has the potential to be a franchise goalie for them. If that's the case they got a great deal by only giving up a second-round pick and two fourths.
Overall a good move for the Flyers, as they turn their backup goalie into three draft picks, and a potential great move for the Blue Jackets as they attempt to grab their goalie of the future.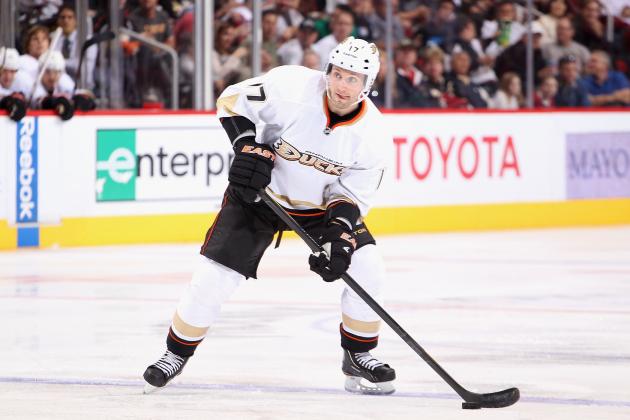 Christian Petersen/Getty Images

Another early trade in the draft, the Anaheim Ducks sent offensive defenseman Lubomir Visnovsky to the New York Islanders for a second-round pick.
Visnovsky is a gifted puck-moving defenseman who should instantly make the Islanders a better team. He won't have a major impact but it's a step towards being competitive sooner rather than later for a team that needed to address its defense.
Visnovsky had a bit of a down year last year while dealing with injuries, but the season before he scored 68 points and had a plus-18 rating. That should help a young Islanders team shore up a weak defense from last year.
On the flip side the Ducks get rid of an older player as they start to accept they need to do a bit of a roster retooling. His cap hit is over $5.5 million, so the Ducks shed a considerable amount of salary. They also grabbed a second-round pick, which is a pretty good value.
This was a good move for the Ducks as they clear cap space and pick up a reasonably high draft pick. I don't quite like this trade as much for the Islanders as I think that's a lot of money to pay an older guy on a team that probably won't challenge for a playoff spot playing in one of the toughest divisions in the NHL.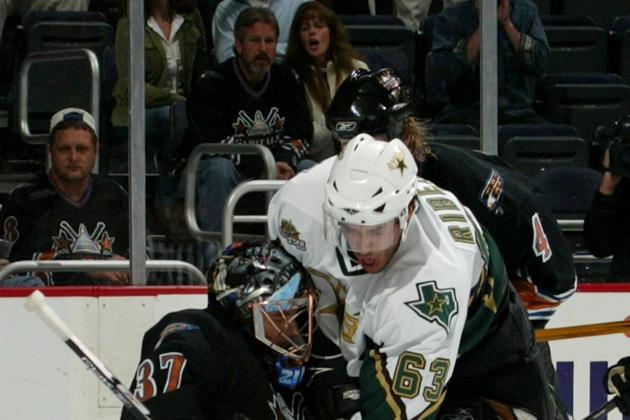 Bruce Bennett/Getty Images

The Washington Capitals were looking to add some talent to their group of forwards and they accomplished that by acquiring playmaking center Mike Ribeiro from the Dallas Stars in exchange for prospect Cody Eakin and a second round pick.
Ribeiro scored 63 points last year for the Stars and those numbers should see a nice increase playing with the talented forwards in Washington. He might not fit into the physical, defense-first style the Capitals displayed in the playoffs, but he should help their offense out. That could be the boost they need to make a serious run in the playoffs next year.
For Dallas, Ribeiro's $5 million cap hit was a bit much and they've decided to build more for the future. They bring back a second-round pick and Eakin, a 5'11 forward who was selected in the third round of the 2009 Draft.
This trade made sense for both teams, as Dallas is in the midst of a rebuild and Washington is looking for some offense, especially if they don't resign talented but troubled winger Alex Semin.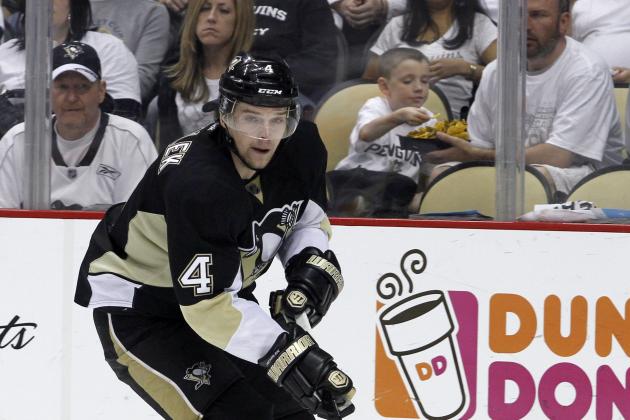 Justin K. Aller/Getty Images

The hometown team of the 2012 NHL Draft was very active on draft day, this being one of the Pittsburgh Penguins' two big trades. The Penguins traded away defenseman Zbynek Michalek to the Phoenix Coyotes for prospects Harrison Ruopp, Marc Cheverie and a third-round pick.
Michalek is a pretty solid stay at home defenseman, but last year he only played in 62 games with a neutral plus/minus rating. That's not quite the production the Penguins wanted from him when they signed him to a five-year, $20 million contract.
The big reason this trade happened was because the Penguins needed to clear cap space in order to chase any big name free agents, such as Zach Parise or Ryan Suter.
In return they received two prospects and a third-round pick. Ruopp, a third-round pick from last year, is a 6'2 defenseman who will need time to develop before he can be assessed. Cheverie is a 6'3 goalie who was drafted in 2006. He is a decent goalie but he's taken a long time to develop. Pittsburgh already has a goalie in Marc-Andre Fleury, so all they need from Cheverie is for him to grow into a solid backup.
Phoenix gets Michalek back, who spent several seasons with them and certainly had his best years there. They're hoping he can reach that form again to help push them over the top after being knocked out of the conference finals in this year's playoffs.
Good move for both teams; Penguins clear some cap space and bring in a few young players while Phoenix strengthens its defense.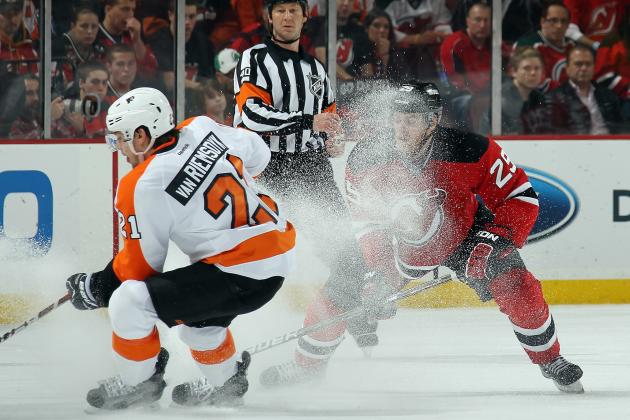 Bruce Bennett/Getty Images

A little after the seventh round had concluded, the Toronto Maple Leafs swapped Luke Schenn for James van Riemsdyk. Both players have under-performed thus far in their career, as both have very high expectations.
JVR is a former second overall pick that should grow into a dominant power forward. He's shown flashes of being unstoppable during his three seasons with the Flyers, but injuries and a lack of ice time have slowed him down.
Schenn goes to the Flyers to be with his brother Brayden and to help fix a defense that sorely misses captain Chris Pronger, who is out indefinitely with post-concussion syndrome. Schenn is a big, stay-at-home defenseman who was expected to grow into a top-pair, shut-down defenseman.
The Flyers have several top defensemen already, so it's more likely that he'll be on the second pairing for now. But being around the Flyers core of defensemen should help his development.
This trade made a lot of sense for both teams, as the Flyers had an excess of forwards but needed to add a defenseman and vice versa for the Leafs. JVR probably has more upside than Schenn, but the Flyers save about half a million in cap space in this deal.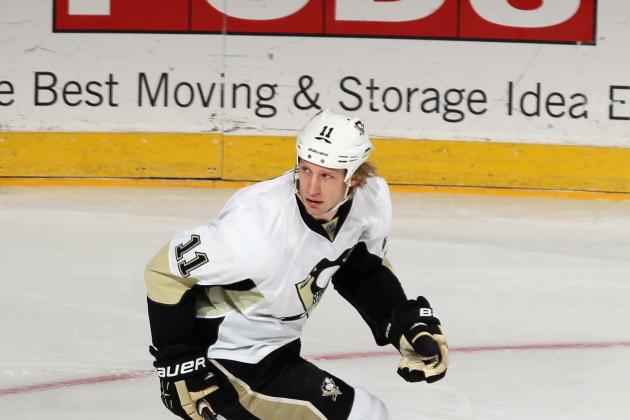 Bruce Bennett/Getty Images

The biggest trade of the draft weekend saw the Pittsburgh Penguins trade center Jordan Staal to the Carolina Hurricanes for Brandon Sutter, Brian Dumoulin and the eighth overall pick in the draft.
Staal is a very talented two-way center who wasn't getting the ice time he deserved in Pittsburgh playing behind superstars Evgeni Malkin and Sidney Crosby. He's a big, physical center who is responsible defensively and had a very impressive showing in the playoffs against the Philadelphia Flyers this year.
He is an instant upgrade to the Hurricanes' offense, probably playing on the second line behind his brother Eric Staal. Having two star centers is great for any team and it should help make the Hurricanes a force in the coming seasons after some of the other talent further develops.
The Penguins say goodbye to their third-line center. Although his role was much more important than that title suggests, they'll be able to make do without him. They should be able to use Brandon Sutter in the same role as Staal, although he probably won't be as effective.
They also grabbed a former second round pick in Dumoulin. A 6'3 defenseman, he should make it to the NHL in a season or two as he continues to develop. That, in combination with the eighth overall pick from this trade that they used on defenseman Derrick Pouliot, should help Pittsburgh's defense down the road.
The Penguins save almost $2 million in cap space through this deal, which should help them in their quest to add a big free agent this offseason.
This trade seems like a better deal for Carolina, at least in the short term, as they get the best player involved. The Penguins acquired two good prospects and a decent checking center, as well as clearing some cap space. If Staal didn't want to play in Pittsburgh, they got a very good deal for a player who didn't want to be there. Win-win for both teams if that was the case.