Updated MLB Power Rankings: Where Does Your Favorite Team Stand?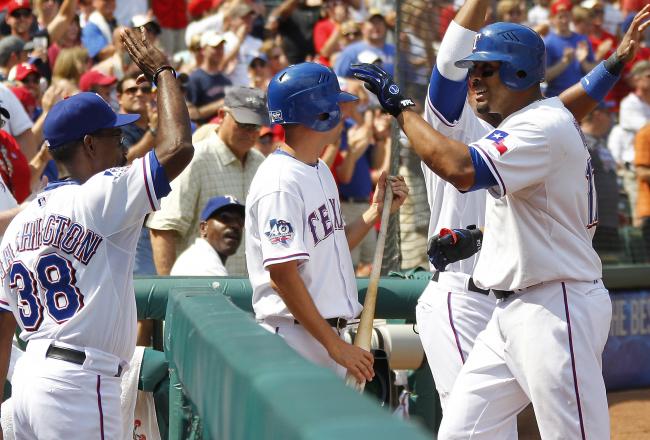 Rick Yeatts/Getty Images
As we enter the final week of June, where does your favorite team stand in this week's MLB power rankings?
1: Texas Rangers (45-28, Previous: 2)
Last Week's Record: 5-1
Teams go on hot streaks to move into the top spot from time to time, but there is no doubt that the Rangers remain the team to beat this season, and after a 5-1 week they move back into the top spot.Roy Oswalt made his Rangers debut (6.2 IP, 9 H, 6 Ks, W) on Friday and he should only get better moving forward.
2: New York Yankees (43-28, Previous: 1)
Last Week's Record: 3-3
The Yankees took care of business against the rival Mets, as they took two of three at Citi Field in what was a playoff atmosphere. They rattled off a 10-game winning streak before dropping a pair of games to the Braves early last week, and they currently hold a 2.5 game lead over the Orioles in the deep AL East.
3: Washington Nationals (41-29, Previous: 5)
Last Week's Record: 3-3
The Nationals continue to play at a consistently high level, and as long as their pitching continues to perform at its current level they'll rank among the class of the National League. Ross Detwiler (16 G, 10 GS, 4-3, 3.09 ERA) has been moved back to the rotation after originally losing his job to Chien-Ming Wang (5 G, 4 GS, 2-3, 6.10 ERA).
4: Los Angeles Angels (40-33, Previous: 7)
Last Week's Record: 4-2
It's hard to believe that this same Angels team was once 18-25, but they've gone 22-8 since and have stormed into the upper tier of teams. Getting Jered Weaver back from injury will only make them that much better, and they have closed the Rangers lead in the division to five games.
5: Tampa Bay Rays (40-32, Previous: 8)
Last Week's Record: 3-3
The Rays offense is almost comically bad at this point, as 38-year-old Hideki Matsui (.169 BA, 2 HR, 6 RBI) has been hitting cleanup for the past two weeks and the team is batting a combined .234. That they are still ranked this high speaks to just how good their pitching is, and how deep. Jeremy Hellickson hit the DL last week and they called up prospect Chris Archer to make his MLB debut where he went six innings, allowed three runs and struck out seven.
6: Los Angeles Dodgers (43-30, Previous: 3)
Last Week's Record: 1-5
The injuries are finally starting to catch up with the Dodgers, as they have gone 4-8 over their last 12 games, while Matt Kemp, Mark Ellis, Ted Lilly and Javy Guerra (among others) are still on the DL. Once those guys come back, and if the team is aggressive at the deadline, this is a team that could make a serious run. For now, though, they are struggling through their worst stretch of the season.
7: San Francisco Giants (40-33, Previous: 9)
Last Week's Record: 3-3
The Giants currently rank ninth in baseball in team batting average, but 22nd in runs scored, as they are currently hitting .222 with runners in scoring position. They have the pitching to be a serious contender, but they need someone to step up alongside Melky Cabrera and Buster Posey on offense.
8: New York Mets (39-34, Previous: 12)
Last Week's Record: 4-2
After sweeping the Orioles to open the week, the Mets dropped two of three to the Yankees at home with R.A. Dickey struggling on Sunday night as his scoreless inning streak was broken at 44.2 and he wound up with a no-decision. The team will finally have shortstop Ruben Tejada (.312 BA) back this coming week, but lost closer Frank Francisco to injury as Bobby Parnell will step into the ninth inning role.
9: Baltimore Orioles (41-31, Previous: 6)
Last Week's Record: 2-4
The Orioles suffered through another tough week after an impressive showing two weeks ago, as they continue to search for answers in the back of their rotation. Tommy Hunter was moved to the bullpen after another rough start, and both Jake Arrieta and Brian Matusz have ERAs over 5.00, and they could look for a low-cost answer on the trade market such as Joe Saunders.
10: Chicago White Sox (38-34, Previous: 10)
Last Week's Record: 3-3
The White Sox won the Kevin Youkilis sweepstakes, sending utility man Brent Lillibridge and pitcher Zach Stewart to the Red Sox. As a bonus they only have to take on $2 million of the $7.5 million he is due the remainder of the season. While Youkilis is hitting just .233, he still marks a significant upgrade over the likes of Orlando Hudson (.170 BA) and Eduardo Escobar (.203 BA), who have been manning the hot corner of late.
11: Pittsburgh Pirates (38-33, Previous: 11)
Last Week's Record: 4-2
The Pirates took advantage of a rough week by the Reds, as they gained three games in the standings and now sit just one game back in the NL Central. They continue to rely on their pitching (3.35 ERA), as the team is hitting just .231, and if you take away Andrew McCutchen (.340 BA, 13 HR, 45 RBI) that number drops to .218.
12: St. Louis Cardinals (38-35, Previous: 13)
Last Week's Record: 4-2
The Cardinals offense has been one of the biggest surprises of the season, as they currently lead the NL in batting average (.278) and runs scored (355). They should be even better moving forward, as they recently got John Jay back. The pitching has regressed a bit from where it was to open the season, but should be good enough to keep them in the thick of things, especially once they get Jaime Garcia back.
13: Boston Red Sox (38-34, Previous: 18)
Last Week's Record: 5-1
What looked like an inevitability for weeks now finally happened, as the Red Sox dealt Kevin Youkilis to the White Sox for utility man Brent Lillibridge and pitching prospect Zach Stewart. That allows the team to move Adrian Gonzalez back to first base and start both Daniel Nava and Ryan Kalish in the outfield. Last week also saw starter Clay Buchholz hit the DL with intestinal bleeding, as Aaron Cook will make his third start of the season this week.
14: Cincinnati Reds (39-32, Previous: 4)
Last Week's Record: 1-5
The Reds continue to struggle with holding the lead in the NL Central, as they followed up a terrific 6-0 week that build their lead in the division to four games with a 1-5 week that saw their lead cut to just a game. Of their five losses last week, four came by one run, and the trio of Joey Votto, Jay Bruce and Brandon Phillips should be able to rectify that issue moving forward.
15: Arizona Diamondbacks (37-35, Previous: 19)
Last Week's Record: 5-1
It has been a trying season so far for the Diamondbacks, as they have gotten little-to-nothing from their offensive stars. Instead, the trio of Jason Kubel, Aaron Hill and Paul Goldschmidt have carried the load, and they've all been hot of late. The news of the week, however, will be the big league debut of last year's first-round pick Trevor Bauer (15 GS, 11-1, 2.19 ERA, 111 Ks, 90.1 IP), who could immediately become the team's best pitcher.
16: Atlanta Braves (38-34, Previous: 14)
Last Week's Record: 3-3
The Braves are 4-9 since rattling off a six-game winning streak a few weeks ago, but they held their own against a pair of good AL East teams this past week in the Yankees and Red Sox. Jair Jurrjens looked terrific (7.2 IP, 3 H, 1 ER) in his first start back from the minors, as he lowered his ERA from 9.37 to 6.75 in the process.
17: Cleveland Indians (37-34, Previous: 20)
Last Week's Record: 4-2
The Indians opened last week with a four-game losing streak that included a sweep of in-state rivals Cincinnati, but dropped a pair to the Astros to finish things out. Their rotation has been shaky, and their offense has a number of holes, but they continue to play just well enough to hang around the top of the AL Central.
18: Toronto Blue Jays (37-35, Previous: 17)
Last Week's Record: 3-3
The Blue Jays have been hit hard by the injury bug, as they currently have three starters and their projected closer on the disabled list. Still, they have managed to play respectably in their absence, thanks in large part to the powerful tandem of Jose Bautista (23 HR, 55 RBI) and Edwin Encarnacion (21 HR, 50 RBI), who are two of just six players who currently have 20-plus HR and 50-plus RBI.
19: Detroit Tigers (35-37, Previous: 26)
Last Week's Record: 3-3
After a 3-3 record this past week, things won't get any easier for the Tigers moving forward, as they play seven games on the road this week against the Rangers and Rays. They are as close to full strength as they've been all season, and a solid showing this week could go a long way toward turning around a disappointing season.
20: Oakland Athletics (35-38, Previous: 21)
Last Week's Record: 4-2
The A's have played terrific baseball of late, winning nine of their last 12, and they swept the NL East-leading Dodgers to open last week. They have hit just enough to back a pitching staff that has been inconsistent top to bottom but solid as a unit with a 3.60 ERA. Rookie Jarrod Parker (11 GS, 2.70 ERA) has made a significant impact in the rotation.
21: Miami Marlins (34-38, Previous: 15)
Last Week's Record: 1-5
The woes continued in Miami, as the Marlins have now dropped 15 of their last 18 games, falling from first to last in the NL East in the process. Their pitching staff has been the biggest reason for the slide, with the team allowing just over seven runs per game over that span. They'll need to turn things around quick to stay competitive in a tough NL East.
22: Philadelphia Phillies (34-40, Previous: 23)
Last Week's Record: 3-3
The Phillies continue to keep their heads above water despite their significant injuries, and Jim Thome stepped up big on Saturday with a walk-off home run to bail out closer Jonathan Papelbon after he blew his first save. Reinforcements could be on the way, as second baseman Chase Utley is expected to make his season debut on Wednesday.
23: Milwaukee Brewers (33-39, Previous: 22)
Last Week's Record: 3-3
The Brewers shook things up in their lineup this past week, moving Corey Hart out of the lead-off spot, and time will tell if that makes a difference. They'll need to find a replacement for starter Shaun Marcum, who was shelved with tightness in his elbow. It could be veteran Livan Hernandez, who was signed on Friday.
24: Kansas City Royals (31-39, Previous: 24)
Last Week's Record: 2-4
After taking two of three from the Astros, the Royals were swept at home by the Cardinals, as they were unable to build off of their 5-1 performance two weeks ago. Despite their disappointing start, the Royals not only have hosting the All-Star game to look forward to, but also the inevitable call-up of top prospect Wil Myers (.328 BA, 24 HR, 63 RBI at Double-A and Triple-A).
25: Houston Astros (30-42, Previous: 26)
Last Week's Record: 3-3
The Astros bats went silent during a three-game skid last week, as they managed just one run over a three-game span, but they rallied to win their weekend series against the Indians. Jed Lowrie (13 HR, 31 RBI) continues to be a pleasant surprise offensively, and rookie Dallas Keuchel (14 IP, 1.29 ERA) has looked terrific over his first two starts.
26: Seattle Mariners (31-43, Previous: 25)
Last Week's Record: 2-4
The weak Mariners offense piled up 33 runs on the week, but surrendered 42 and dropped their weekend series to the lowly Padres. Third baseman Kyle Seager (.262 BA, 10 HR, 45 RBI) is making a solid case to be the Mariners' All-Star representative, as he has been the lineup's lone bright spot.
27: Minnesota Twins (29-42, Previous: 28)
Last Week's Record: 3-3
The Twins spent their week in the NL Central facing off against the Pirates and Reds, and they managed to win their weekend series against Cincinnati. The Twins have the worst pitching staff in the AL (5.02 ERA) and a lineup that ranks near the bottom in most categories, so a 3-3 week against a pair of solid teams is not easy to come by.
28: Colorado Rockies (27-44, Previous: 29)
Last Week's Record: 2-4
Pitching continues to be the Rockies' biggest issue (5.40 ERA), although that is closely followed by everything else outside of Carlos Gonzalez (.330 BA, 17 HR, 51 RBI). Looking to shake things up, manager Jim Tracy has moved struggling starter Jeremy Guthrie to the bullpen and will implement a four-man rotation moving forward, with each starter limited to 75 pitches per start.
29: San Diego Padres (24-43, Previous: 27)
Last Week's Record: 2-4
After being swept by the Rangers, the Padres salvaged their week by taking two of three from the Mariners at home. The team's injury woes and rotation troubles continued as Anthony Bass hit the DL on Sunday, although Jason Marquis has been a solid pickup with a 2.05 ERA in four starts despite a 1-3 record.
30: Chicago Cubs (24-48, Previous: 30)
Last Week's Record: 2-4
The Cubs opened last week with a pair of wins against the crosstown rival White Sox, but they have dropped four straight since then, as they were swept by the Diamondbacks in Arizona. As the deadline grows ever closer, Alfonso Soriano continues to produce, as he leads the team with 14 HR and 44 RBI. But will that be enough for someone to take him off the Cubs' hands?
This article is
What is the duplicate article?
Why is this article offensive?
Where is this article plagiarized from?
Why is this article poorly edited?