Wimbledon 2012: 7 Things Necessary for Roger Federer to Win Another Grand Slam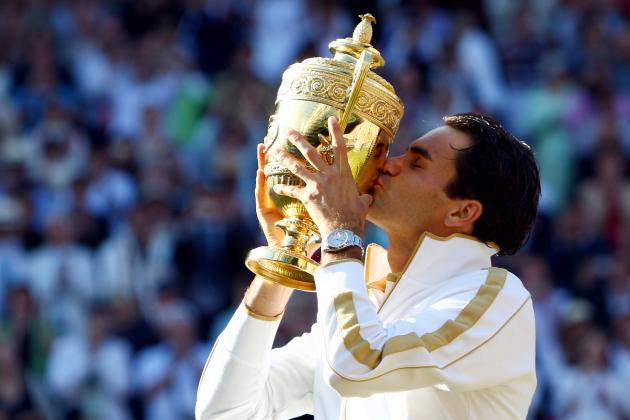 Clive Brunskill/Getty Images

The French Open has come and gone this year, and Roger Federer has left Paris empty-handed yet again.
With his last win at a Grand Slam tournament coming at the Australian Open in 2010, Roger is 0-for-9 in his last nine major tournaments.
Novak Djokovic and Rafael Nadal have dominated the Grand Slams since Federer's last triumph, leaving many Federer fans wondering (more and more as each Grand Slam tournament comes and goes) if their man can add a 17th title to his record 16-title tally.
Luckily for Fed, the end of the French Open means the beginning of his most successful major tournament—Wimbledon.
Here's a list of seven things that need to happen for the Federer Express to win another Grand Slam singles title.
Begin Slideshow

»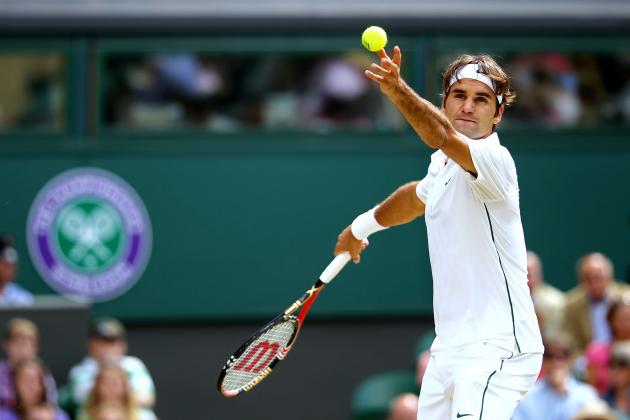 Julian Finney/Getty Images

How many times have we seen Roger's clutch serve bail him out of a tight situation?
Roger's serve is key to his game as it wins him free points and sets him up to fire off winners.
In Roger's loss to Novak Djokovic at Roland Garros this year, he mustered a measly 55 percent first-serve percentage and won only 56 percent of those first serve points. In his famous win over Djokovic at last year's French Open, Federer got 64 percent of his first serves in and won 76 percent of those first-serve points.
While those weren't the best service numbers Federer has ever put up, it did give him an edge that he didn't have in this year's edition of their encounter.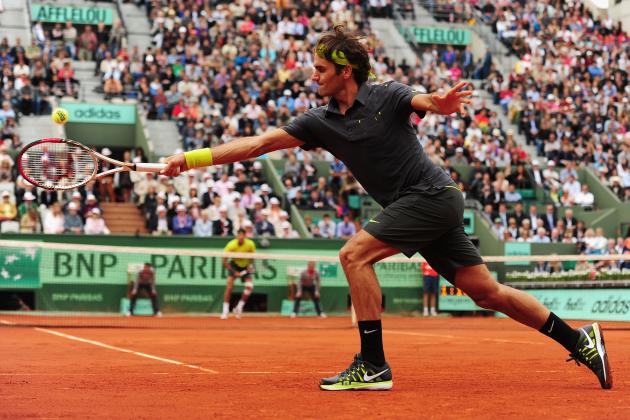 Mike Hewitt/Getty Images

Roger has never been known for his return games, but with players playing defense and returning better than ever, Roger needs to get better at returning.
Novak Djokovic and Rafael Nadal are two of the best returners in the game, making it harder for Federer to win matches by simply holding serve and waiting for his opponents to crack on their service games.
When Roger beat Djokovic in 2011, he set up an astonishing 25 break points. Federer did a great job at putting himself into position to win games on Djokovic's serve, but he has to convert more break points when he sets up the opportunities.
Over the last eight months, we have witnessed Roger play some of the best tennis he's ever played. During these eight months, Roger has shown an improvement on his service return. As seen in his match against Tomas Berdych in the Madrid final, Roger has been going after his opponent's serves more often and trying to hit winners off the serve.
Roger needs to elevate his level of play on return games more consistently.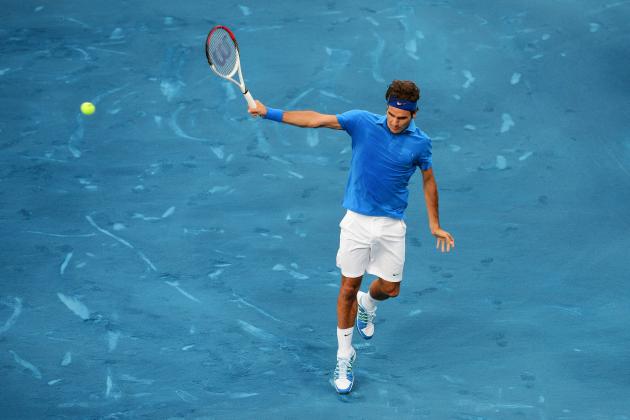 Jasper Juinen/Getty Images

Roger's backhand has long been seen as his weakness.
Year after year, especially on the red clay courts, we've watched arch-nemesis Nadal go after Fed's backhand to force errors. Federer's graceful one-handed backhand does not compare to the powerful backhands of players like Djokovic, Nadal and Andy Murray.
The backhand is no longer just a defensive shot. Players are hitting balls from their backhand side deeper and stronger.
Federer has been fortunate enough to get away with his shallow backhand for many years, but he can not get away with it against Nadal or Djokovic. The top two players will crush Federer if he leaves a backhand return short.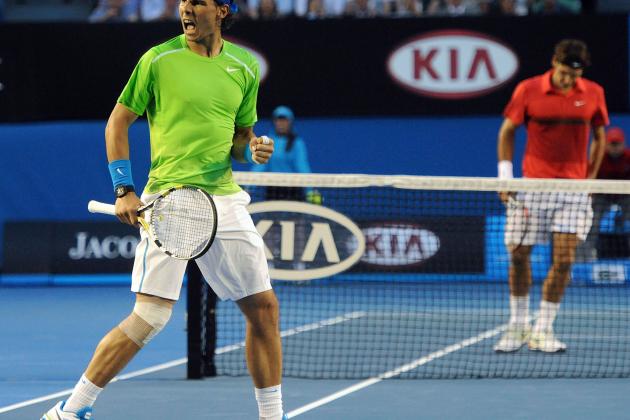 Pool/Getty Images

Federer's recent record against world No. 1 Novak Djokovic and world No. 2 Rafael Nadal leaves his fans wondering if he still has it in him to overcome his two rivals. Many critics wonder if even Roger still believes he can beat them.
Federer seemingly has no shortage of belief against all the other guys. He came back from two sets down against Argentinean Juan Martin Del Potro at the French and only suffered two losses this year on the ATP tour to players outside the top two.
Roger's road to winning another Grand Slam title will not be an easy road, as he will probably have to go through both Rafael Nadal and Novak Djokovic.
Simply put, if he doesn't have the confidence against those guys, he won't win another Grand Slam.
Matthew Stockman/Getty Images

If Roger can regain the No. 1 or No. 2 seed in a Grand Slam tournament, he has a chance to avoid playing both Nadal and Djokovic in the same competition.
Nadal and Djokovic have played each other in the last four Grand Slam finals. If Federer can replace one of the two in the rankings, there's a chance that Nadal and Djokovic would be placed in the same side of the draw. With Federer being on the opposite side of the draw, his road to the final would be much easier.
Things were looking up for Fed when he surpassed Nadal for the No. 2 spot following his victory in Madrid, only for Nadal to reclaim his spot before the French Open after winning the title in Rome.
With Wimbledon having started already, Roger will be unable to gain a higher seed for a Grand Slam until the U.S. Open later this year.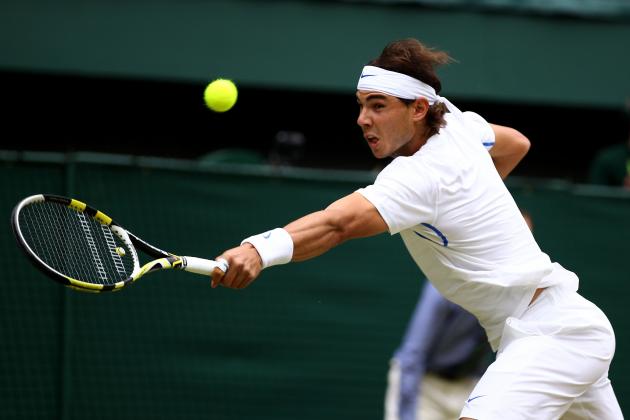 Clive Brunskill/Getty Images

One of Rafael Nadal's greatest legacies will be that he was the man to down Federer at Wimbledon. Nadal has dominated their rivalry, winning 18 of their 28 encounters.
Year after year, Fed fans have watched their man leave the French Open empty-handed after being assaulted by heavy topspin forehands.
Nadal has taken advantage of Federer's backhand in every one of their encounters, so why hasn't Federer gone after Nadal's backhand?
For one, Nadal's backhand is not as glaring a weakness as Federer's backhand. Nadal protects his backhand side by leaving his forehand side wide open, daring opponents to go for the winner on his forehand side.
When they do, Rafa uses his tremendous speed to track down shots, and more often than not, hits a winner with his formidable forehand.
Nadal punishes opponents with his forehand, so Federer should constantly attack Nadal's backhand.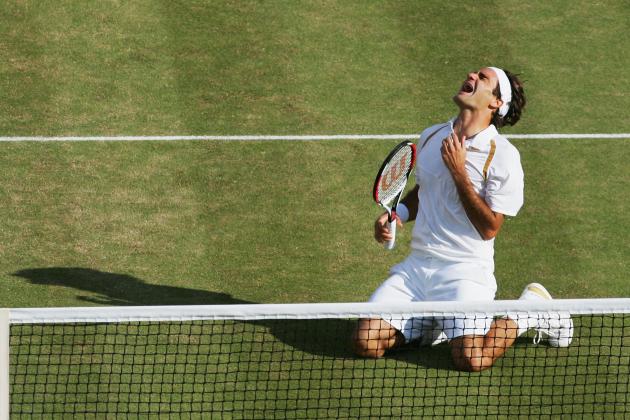 Alex Livesey/Getty Images

In the last decade, the grass of Wimbledon has become a slower surface.
That's not good for Federer.
Roger's beautiful style of play is dependent on fast court conditions that enable him to go after winners rather than being drawn into long, slow rallies that favor the defensive play of his two main rivals.
The conditions at the French Open this year were wet and slow, and Federer struggled to find his form throughout the tournament. Federer will need the conditions to be more favorable if he is to add another trophy to his collection.
Almost 31, Roger's window of opportunity is getting smaller. A win at Wimbledon this year would see Federer extend his Grand Slam record to 17 titles and regain the world No. 1 ranking.
Will Federer be the last man standing at SW19? In a fortnight's time, we'll have the answer.