NBA Free Agency 2012: Phoenix Suns Should Save Cap Space for Next Summer
June 25, 2012

Christian Petersen/Getty Images
All else being equal, the Phoenix Suns should enter the offseason with about $20 million in cap space burning a hole in Robert Sarver's pocket.
Re-signing Steve Nash and/or Grant Hill would certainly take a chunk out of that. More importantly, though, any contracts the Suns take on this summer could impact their flexibility going forward. That's always somewhat of a risk for teams engaged in long-term strategic planning, but it's an especially acute risk for a team like Phoenix.
As currently constructed, the Suns aren't going anywhere at the moment. Steve Nash knows this, and so does the rest of the American Southwest.
Hopefully, general manager Lance Blanks knows it too.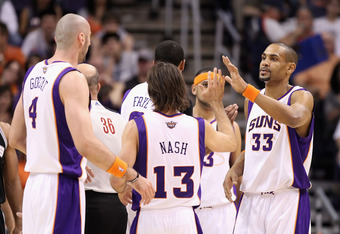 Christian Petersen/Getty Images
The 2011-12 version of this team was better than advertised, but that's not saying terribly much. Improving the roster enough to make it competitive in the Western Conference race for the playoffs would require some significant outside help.
But, calling in reinforcements won't be easy.
There aren't any obvious star free agents with their eyes set on the organization, and the 13th-overall pick in the draft is unlikely to pay immediate dividends. The notion that the Suns could be tinkered into contention is fool's gold at best.
The Nash chapter is over. It was over when the Suns were slowly dismantled in a piece-by-piece dissection that seemed to occupy the better part of a decade.
Now is the time to accept as much and make the best of it. Otherwise, what comes next could be far more painful than this club's already disappointing decline.
The 2013 crop of restricted free agents includes an intriguing bounty of guys whose teams might let them go if the price goes too high: Tyreke Evans, James Harden, Serge Ibaka, Darren Collison, Ty Lawson and even Stephen Curry (though it's hard to imagine Golden State letting him go).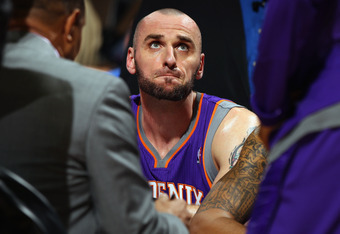 Doug Pensinger/Getty Images
There are intriguing unrestricted options as well, including Josh Smith, Kevin Martin, David West and Al Jefferson. For now, that list would also include Chris Paul, Dwight Howard and Andrew Bynum, but let's not get any hopes up.
According to the new collective bargaining agreement, the Suns will need to spend at least 85 percent of their cap space this summer, but there's no reason those deals need to be any longer than one year in length.
As bad as it sounds, the Suns should mail it in next season and never look back.
Take this summer's 13th pick and add an even better one to the fold next year. With some young talent and Marcin Gortat occupying the paint, the Suns could be a far more attractive free-agent destination a year from now.
It won't be pretty, but nor is the slow death presently at hand. There's something to be said for delayed gratification, but there's even more to be said about putting Suns fans out of their misery and calling this team what it actually is: an organization that's finally ready to rebuild.