Euro 2012 TV Schedule: Power Ranking Potential Finals Matchups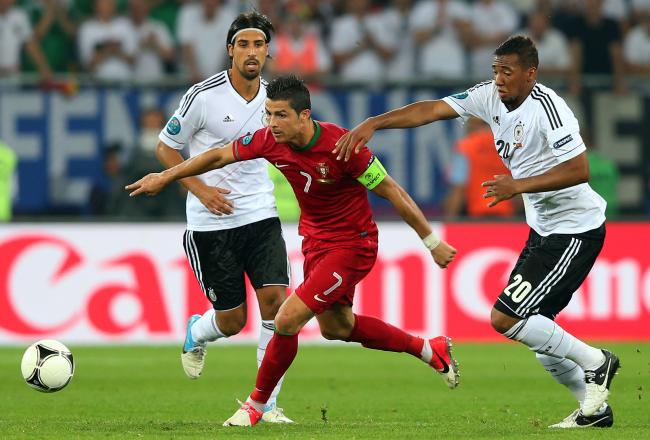 Alex Livesey/Getty Images
Soccer fans are only two games away from the Euro 2012 finals. Between Portugal, Spain, Germany and Italy, two will have a chance to hoist Euro gold and claim the title of "Best in Europe Right Now."
The last four teams left in the tournament all sport different strengths and styles of play that should present some exciting futbol.
Which of the possible championship matchups is best? Let's take a look into the crystal ball and find out.
1. Spain-Germany
The World Cup champions against "The Team Playing the Best Soccer Right Now" is the peanut gallery's matchup of choice. Many thought Germany was going to play Spain in 2010, but the Netherlands had other plans that year.
It would be a fantastic matchup of styles between the Spanish speed and precision passing against the German attacking mentality and toughness.
There aren't enough cameras in the building to keep up with all of the matchups. Some that pique this writer's interest: Miroslav Klose and Mario Gomez vs. Sergio Ramos and how the Spanish midfield plan to attack. It seems that Germany can counter many of the Spaniard's strengths and is now deep enough to take down the champs.
Who really knows? Fingers crossed for this one. Soccer needs this.
2. Spain-Italy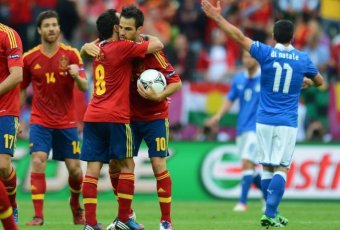 Spain versus Italy. Could we be seeing the rematch in two weeks?
A pairing of the two past World Cup champions would be one of historic proportions, something that has never happened in Euro history.
Except that viewers already saw this matchup in the group stage (a 1-1 draw) so it lacks originality of the matchup below.
Even so, Spain would be chasing history to become one of the best teams ever and would have to beat the best goaltender of this generation, Gianluigi Buffon, to do it.
It would be especially interesting to see how Spain would game plan for Italy because they have not been using the five midfielder lineup as excessively as the group stage matchup. Fernando Torres only played in the final 20 minutes in the 1-1 draw.
Since the Italy game, though, Torres's confidence is at an all-time high and back to his goal scoring ways. This could be a whole different look for the Italian defense to prepare for.
3. Portugal-Germany
The audience has gotten a preview of this matchup as well, a 2-1 German victory in the group stage.
For viewing purposes, though, put Cristiano Ronaldo on one side and it immediately becomes must-see television. He is the best playmaker in this tournament, bar none, and an NBA-esque performance would make compelling theater.
Soccer doesn't really work that way, though; Portugal would have to play a complete game to topple the Germans. If Nani can match Ronaldo's attacking from the opposite side, like he's been doing the entire tournament, the Germans will have a dogfight to the finish.
Which Euro 2012 Finals Matchup Would You Like to See?
4. Portugal-Italy
Even in the worst possible matchup in the final, we're left with Ronaldo and the Portuguese trying to lead his team past Buffon and the Italians. The best scorer in the tournament versus the grizzled keeper. Boo hoo.
The key to the game would be Portugals attacking wings against an Italian defense that has held its own as well as any this tournament (see 1-1 draw with Spain). If Portugal can't covert early, Italy can grind with the best and find a way to take advantage late.
Plus, if this game ever came down to penalties, it could come down to Ronaldo vs. Buffon, man to man.
Talk about a heart-pounding 30 seconds. Sign this guy up.
The moral of this column? Soccer fans can't really lose with any of these matchups. Half may have been already seen in these Euros, but there's enough superstars on each side for gripping reasons to watch.
Follow Mike Shiekman on Twitter @TheRealShiek
This article is
What is the duplicate article?
Why is this article offensive?
Where is this article plagiarized from?
Why is this article poorly edited?