Euro 2012: 25 Best Player Faces of the Tournament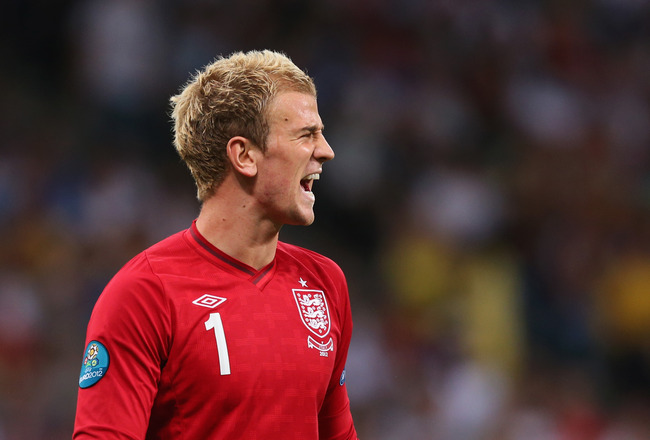 Alex Livesey/Getty Images
There are a million faces that will have been seen during the UEFA European Championship. Many from the stands, but the best from the players themselves.
While the fans have the feelings of frustration, there are few that can feel the complete roaring emotion of triumph or defeat that the players on the pitch are or have experienced.
In the spirit of all the emotions and frustrations, boisterous joys and heart breaking sorrows, here are the best player faces of the European Championship so far.
Antonio Nocerino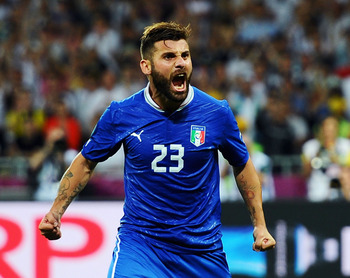 Laurence Griffiths/Getty Images
Italian national team player Antonio Nocerino celebrates beating English goalkeeper Joe Hart in the penalty shootout that ensued following their nation's extra time draw in the quarterfinals.
England and Steven Gerrard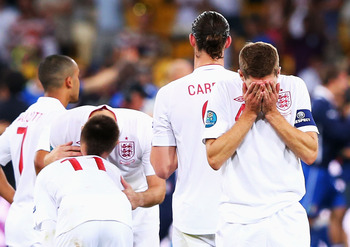 Alex Livesey/Getty Images
Liverpool and England captain Steven Gerrard feels the crushing pain of defeat as England were defeated by Italy on penalties to see the Three Lions sent home without a chance at yet another international trophy.
Wayne Rooney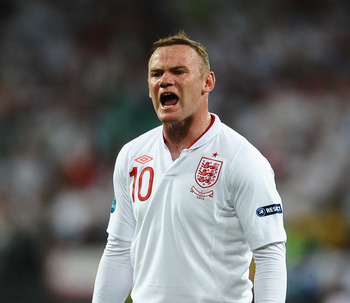 Laurence Griffiths/Getty Images
You can feel the frustration on the face of England striker Wayne Rooney as England were on the ropes for most of the night against Italy in their quarterfinal match.
Robert Lewandowski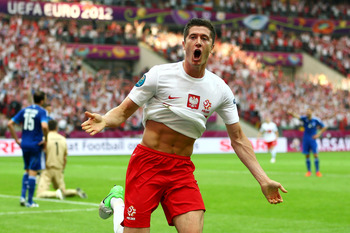 Michael Steele/Getty Images
Polish international Robert Lewandowski bursts with pride and self-satisfaction as he scored the opening goal of the European Championships for his home and host nation as well.
Cristiano Ronaldo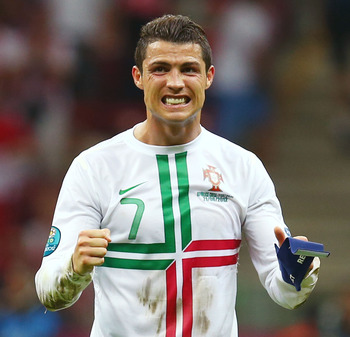 Alex Grimm/Getty Images
Cristiano Ronaldo shines his million Euro grin as he was the hero for Portugal, scoring the only goal of their match against the Czech Republic and firing them into the semifinals.
Luka Modric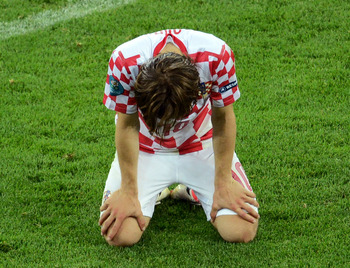 Jasper Juinen/Getty Images
A dejected Luka Modric of Croatia drops his head in defeat after Spain knocked out his nation during the group stages.
Robbie Keane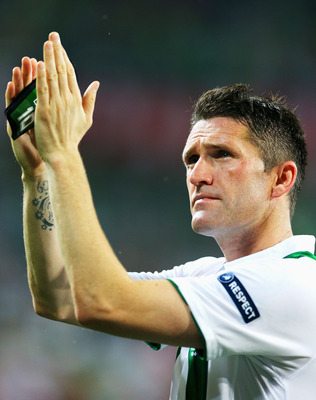 Christof Koepsel/Getty Images
The pain of a three-defeat-and-out exit from the Euros by the Republic of Ireland is complete read on the face of Irish captain Robbie Keane.
Fernando Torres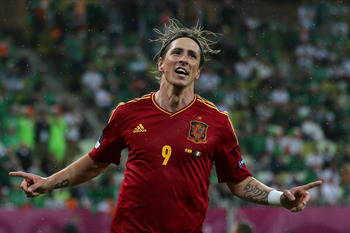 Alex Grimm/Getty Images
Spanish international striker Fernando Torres celebrates a brace against Ireland in Group C as he finally justified his selection in the first team after a long run of poor form.
Miroslav Klose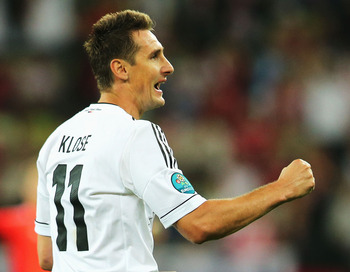 Joern Pollex/Getty Images
German striker Miroslav Klose celebrates scoring his 64th international goal, moving him to within five of the all-time German scoring leader, legend Gerd Muller, who has 68.
Giorgos Karagounis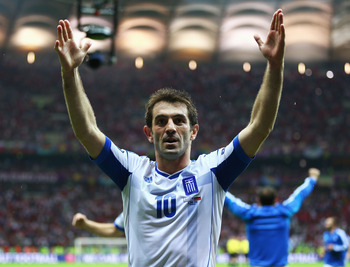 Shaun Botterill/Getty Images
Greek international Giorgos Karagounis celebrates Greece managing a surprise victory over Russia to make their way to the quarterfinals.
Giorgos Tzavelas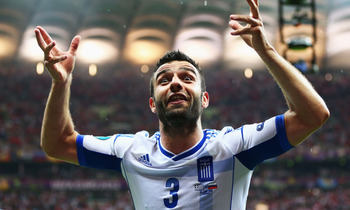 Shaun Botterill/Getty Images
Another great Greek reaction upon upsetting Russia was Giorgos Tzavelas. The player in no way helped to make life easy for the Russians.
Andrei Arshavin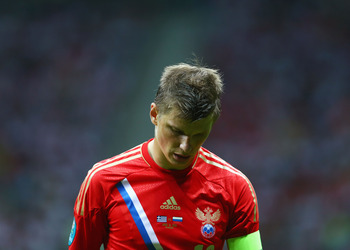 Shaun Botterill/Getty Images
A saddened Andrei Arshavin cannot believe that his nation of Russia were sent home from the Euros after such a promising start in the opening two matches.
Samir Nasri and Cesc Fabregas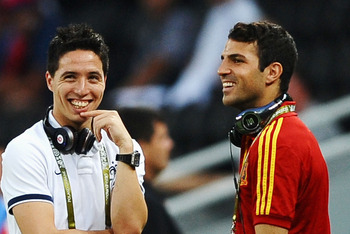 Laurence Griffiths/Getty Images
Former Arsenal teammates Samir Nasri and Cesc Fabregas share a laugh and a few tunes before their nations of France and Spain clash in the Euro quarterfinals.
Wesley Sneijder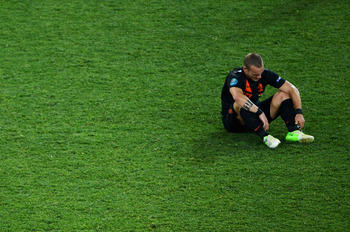 Lars Baron/Getty Images
Wesley Sneijder sits to ponder just what all went wrong for the Netherlands as they suffered their third straight defeat at the hands Denmark, Germany and finally Portugal to sweep the 2010 World Cup runners-up out of the tournament.
Danny Welbeck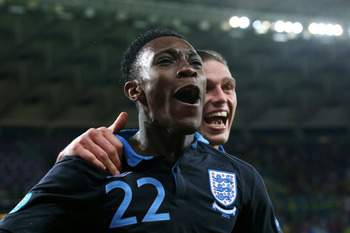 Alex Livesey/Getty Images
Manchester United and England international Danny Welbeck celebrates a fantastic goal to lift England over Sweden in their second match during the group stage.
Daniel Agger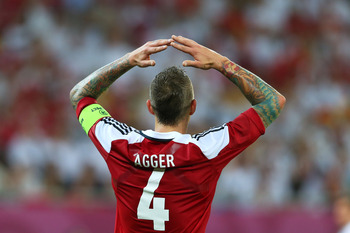 Alex Livesey/Getty Images
Liverpool defender and Danish international team captain Daniel Agger lifts his hands in frustration as Germany complete a 2-1 victory over Denmark to send them home from the Euro group stages.
Sweden vs France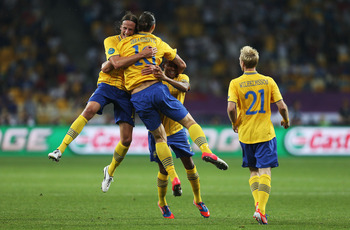 Julian Finney/Getty Images
Zlatan Ibrahimovic is mugged by his teammates as the big Swede led his country to a 3-2 victory over France to prove they had some fight left in them despite being knocked out early from Group D.
Andriy Shevchenko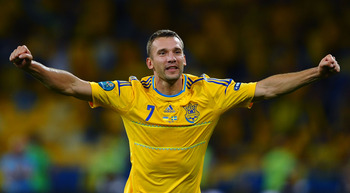 Laurence Griffiths/Getty Images
Ukrainian international and former AC Milan legend Andriy Shevchenko rolled back the years with a brace against Sweden in the opening match of Group D.
Andy Carroll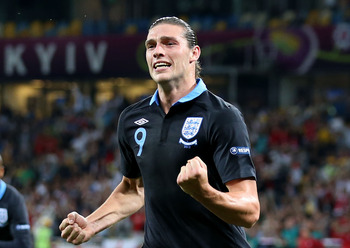 Scott Heavey/Getty Images
Liverpool and England striker Andy Carroll celebrates scoring a brilliant headed effort against Sweden to answer many of his critics during the Euros.
Glen Johnson and Franck Ribery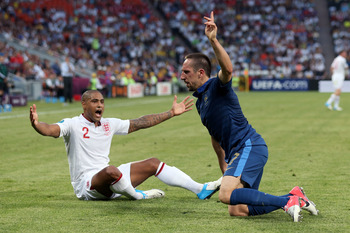 Scott Heavey/Getty Images
England international Glen Johnson and French winger Franck Ribery both plead their case during their two nations opening Group D match.
Antonio Di Natale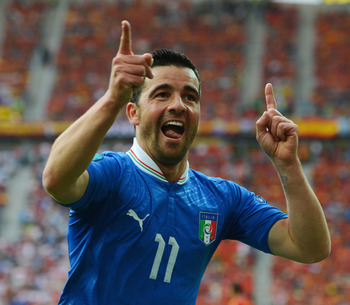 Shaun Botterill/Getty Images
Italy's Antonio Di Natale celebrates in style as the Azzurri took the lead against Spain for a brief time in the opening match of Group C.
Arjen Robben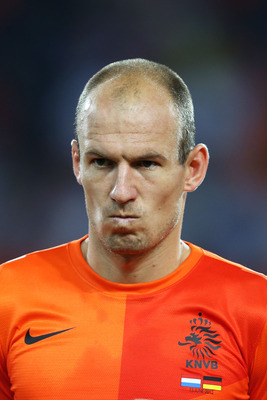 Julian Finney/Getty Images
Netherlands international Arjen Robben puts on a look of pure frustration as he never truly found his feet in the tournament.
Manuel Neuer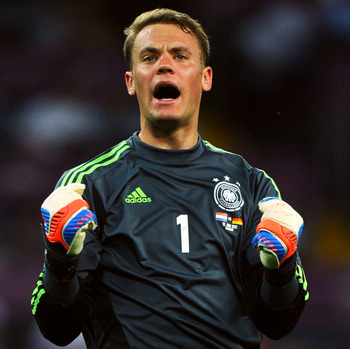 Lars Baron/Getty Images
Germany's Manuel Neuer celebrates his nation defeating Greece and heading to the semifinals to face Italy.
Nani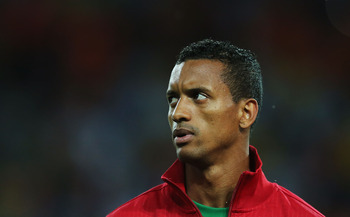 Ian Walton/Getty Images
Manchester United and Portuguese international winger Nani says everything from being pissed off to pumped up with this facial expression taken before Portugal's final Group B match against the Netherlands.
Mario Balotelli
Martin Rose/Getty Images
Manchester City and Italy's "Why Always Me" striker gives his trademark staredown as his nation knockout England on penalties to advance to the semifinals.
Keep Reading