2012 AFC North: Ranking the Division's Top 5 Tight Ends
June 24, 2012

Dilip Vishwanat/Getty Images
The use of the tight end has absolutely exploded in the NFL as of late. No longer are the ends just extensions of the offensive line, they're valued weapons in the passing game as well. 
The same goes for the AFC North teams. 
Over the last few seasons, some young tight ends in the division have stepped up and made names for themselves by the way they've played. 
So let's take a look at the division's top five tight ends heading into 2012. 
5. Evan Moore, Cleveland Browns 
As far as weapons on offense, the Cleveland Browns don't have much to offer. But one exception could be Evan Moore. 
Moore played his first full season for the Browns in three years and started four games in Cleveland. In 2011, he made the most of his time, catching 34 passes and tying a team-high four touchdown receptions. 
At 6'7", 232 pounds, Moore is a big, athletic target for Browns quarterbacks and should become one of the biggest playmakers on a Cleveland offense that is lacking just that. 
I'm not saying Moore will put up Rob Gronkowski numbers, but he's got the ability to be a 60-catch kind of tight end for the Browns.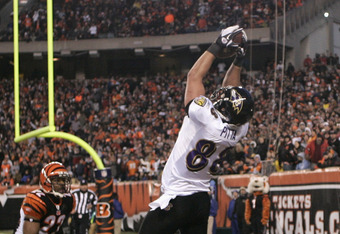 John Grieshop/Getty Images
4. Dennis Pitta, Baltimore Ravens 
After a subpar rookie year, no one benefited more from the Ravens' expanded passing attack then Dennis Pitta. 
Pitta went from one catch for one yard in 2010 to hauling in 40 passes for over 400 yards and three scores last season all while splitting time at the position. 
Baltimore did the best job of any AFC North team in utilizing their tight ends last season and it paid off. Not only did the Ravens throw more last year, they found themselves another weapon on an offense that has threats all over the field. 
Pitta is a very talented player and gives Baltimore the option of using the double-tight set more often than any other team in the division. It's also been stated by many that Pitta might have the best hands on the team.
Even if he doesn't, the 26-year-old has a lot of football left in him and Baltimore could utilize him even more this season.  
3. Ed Dickson, Baltimore Ravens
As I said for Pitta, no team in the division used its tight ends better last season than the Baltimore Ravens. And the guy they went to most often was second-year man Ed Dickson.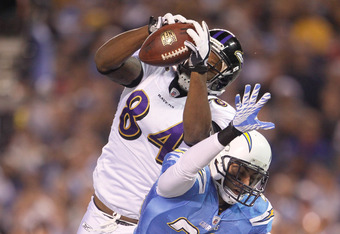 Jeff Gross/Getty Images
In 2011, Dickson finished third on the team with 54 receptions and second with five touchdowns, a major upgrade from his rookie performance of just 11 grabs.
The 2011 Ravens tight-end corps was the poor man's version of the Gronkowski-Hernandez pairing, but Dickson and Pitta accounted for 94 catches, 933 yards and eight touchdowns for Baltimore.
Although I like Pitta, I don't see any way Dickson isn't again a favorite target for quarterback Joe Flacco in 2012. His biggest flaw is his sometimes-ugly blocking style on run plays, but it's something he can definitely work on.    
2. Heath Miller, Pittsburgh Steelers 
There's no doubt that during his seven-year career with the Steelers, Heath Miller has been one of the league's most underrated players at the tight end position. 
Since being taken by the Steelers in the first round of the 2005 draft, Miller has been the mark of consistency. In seven years, Miller has hauled in 337 receptions for 3,864 yards and 31 touchdowns all while being one of the league's best blockers at the position.
Miller is the division's most well-rounded tight end and seems to be only getting better with age. He was third on the team in receptions last season and was a consistent target for quarterback Ben Roethlisberger.
Miller will turn 30 years old during the 2012 season and there's been some talk by people that the Steelers need to start thinking about replacing him with a younger receiver. But if Miller continues to be a great blocker and a consistent receiver, there's really no need for Pittsburgh to look elsewhere.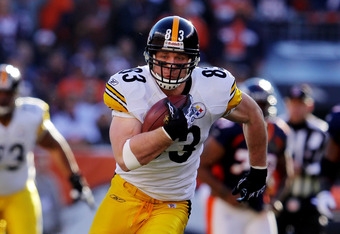 Doug Pensinger/Getty Images
1. Jermaine Gresham, Cincinnati Bengals
The 2010 draft was a big year for tight ends in the AFC North. 
The Ravens added Dickson and Pitta, but before that, in the first round, the Bengals took a big pass-catcher in Jermaine Gresham. 
Gresham missed two games in 2011, yet still managed to have a really solid season. He caught 56 balls for 596 yards and six touchdowns while battling injuries all throughout the year. 
So far in his career, Gresham has been a solid weapon on the Bengals offense, but hasn't lived up to the playmaking potential that made him a first-round pick. He's progressed every year so far, which is a good sign, but the problem is he just can't seem to stay healthy.
He's No. 1 on this list because of the potential he brings and the ability he has combined with the numbers he's already put up.  
With the Bengals' new-look offense and Andy Dalton running the show, Gresham should be a great option next to A.J. Green for a team that looks to be on the rise.